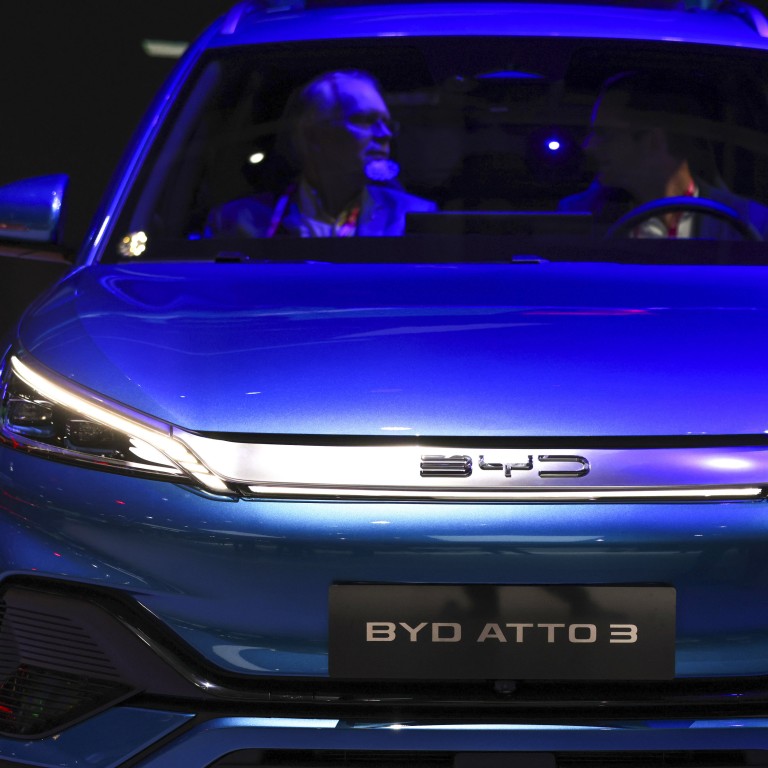 Electric cars: China's BYD extends lead over Tesla after stealing its crown, as Chinese drivers opt for cheaper models
Shenzhen-based firm that recently became the world's biggest EV maker sees record-breaking third-quarter sales thrash its US rival's by 57 per cent
Unlike Tesla and most Chinese rivals, which sell premium cars costing above 300,000 yuan (US$41,500), most of BYD's models are priced below 200,000 yuan
BYD, the Chinese carmaker backed by Warren Buffett's Berkshire Hathaway, has extended its
sales lead over Tesla
as a growing number of Chinese drivers make the switch to battery-powered vehicles at the lower end of the price spectrum.
The Shenzhen-based carmaker
that dethroned Tesla as the world's largest electric vehicle (EV) assembler in the second quarter of this year, went on to sell 538,704 pure electric and plug-in hybrid cars between July and September, almost triple the figure from a year ago, it reported earlier this month.
The third-quarter sales number, an all-time high, was 56.7 per cent higher than Tesla's deliveries in the same period, according to the US carmaker's quarterly earnings report released on Wednesday.
That was almost 40 per cent more than Tesla shifted in the same quarter.
Unlike Tesla and its Chinese rivals – smart EV builders like Nio and Xpeng – which assemble and sell premium cars priced above 300,000 yuan, most of BYD's models are priced between 100,000 yuan and 200,000 yuan.
By 2030, three out of every five new vehicles sold in China will be powered by batteries, the Swiss Bank predicted in 2021.
Nio, a Chinese smart EV start-up, said earlier this year it would create a new brand, different from its premium namesake marque, to help it compete against global carmakers such as Toyota and Volkswagen.
Berkshire Hathaway paid US$232 million for 225 million BYD shares, equivalent to 20.5 per cent of its Hong Kong-listed stock, during the global financial crisis of 2008, which it held onto until this year.
On August 24, Berkshire sold 1.33 million shares at an average of HK$277.10 (US$35.30) apiece, valuing the sale at HK$369 million, according to a regulatory filing to the Hong Kong stock exchange.
Founded by Chinese billionaire Wang Chuanfu in 1995 as a battery producer, BYD has been making vehicles since 2003.
It mainly sells cars in mainland China but is looking to become a global player with plans to expand to a clutch of overseas markets.
Last week, BYD launched its first passenger car in India, the Atto 3 electric sport utility vehicle.
It is also selling its cars in countries including Norway, Singapore and Brazil.