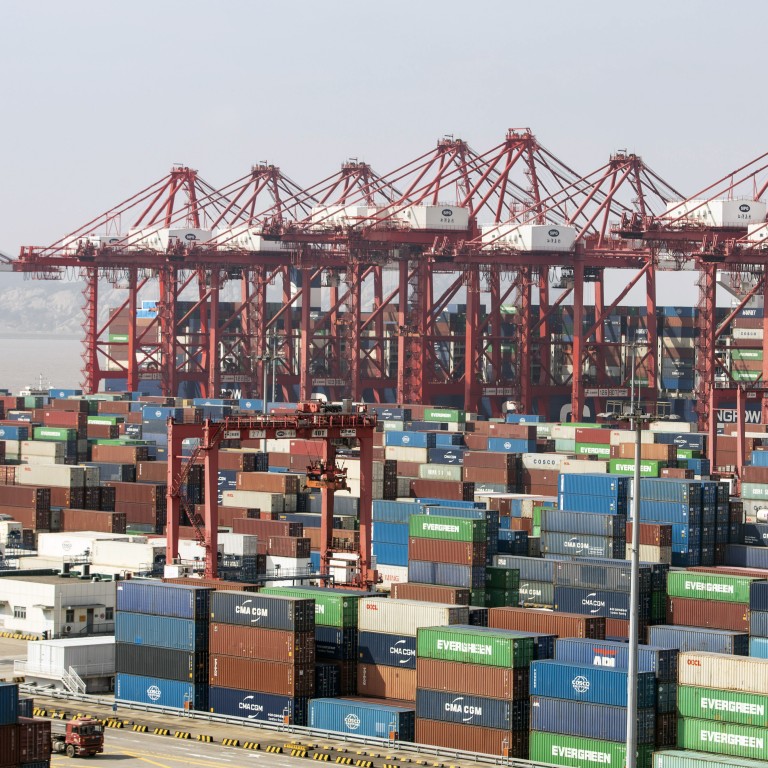 Shanghai's ocean freight rates stuck in free fall from Covid-19 highs as weakened global economy exacerbates gloomy outlook
Shippers in Shanghai now charge about US$2,000 to transport a 20-foot equivalent container to the US west coast, down from US$20,000 in the summer of 2021
Shipping industry officials described the lofty freight rates between 2020 and early this year as a 'windfall' brought about by the Covid-19 pandemic
Ocean shipping rates for containers leaving Shanghai have
continued their downward spiral
from record highs last summer when the pandemic disrupted the supply of Chinese-made goods in high demand from abroad.
A reversal of the supply-demand balance since than has
caused freight rates to come down
by as much as 90 per cent, though analysts predicted worse to come because of the bleak economic outlook.
Shippers in Shanghai now charge about US$2,000 to transport a 20-foot equivalent container to the west coast of the United States, compared to as much as US$20,000 in the summer of 2021, according to local freight companies.
"It has become a buyers' market as ocean carriers now have to work hard to attract cargo owners," said Lu Ming, an agent at the Shanghai Ocean Shipping Agency. "The
shipping industry in Shanghai
has been so volatile since 2020 and industry officials are worried about the prospects for the market."
The current rate is still roughly double what it was before the Covid-19 pandemic first struck, but is as much as 80 per cent down from April this year when congestion at Shanghai's ports caused by a citywide lockdown strangled the global supply chain.
"What one hand gives, the other can take away," said Xiong Hao, assistant general manager at Shanghai Jump International Shipping. "Shippers made a killing over the past three years, but they may not be able to make a profit given the current freight rates."
Shipping industry officials described the lofty freight rates between 2020 and early this year as a "windfall" brought about by the Covid-19 pandemic.
In June 2020, China became the world's first major economy to emerge from coronavirus lockdown, quickly regaining its place as the world's factory, churning out goods at full tilt to meet pent-up global demand.
But an uneven distribution of containers at major ports around the world was causing a headache for exporters. They either had to pay thousands of extra dollars to book shipping space instantly or wait several weeks before their goods could be transported.
In August 2021, a peak season for ocean transport with Chinese-made goods bound for the US and Europe ahead of Christmas, container slots were often fought over by dozens of exporters who were willing to pay as much as 10 times the normal freight rates to ship their cargo abroad.
The index, published once a week, tracks the ocean freight prices of containers departing from China.
The mainland's zero-Covid policy has remained a stumbling block to the free cross-border flow of goods and capital.
In September, China's exports grew by an annual 5.7 per cent to US$322.8 billion, custom data showed, way down from the rise of 20 per cent recorded in the same period a year ago.
China's imports rose a scant 0.3 per cent year on year in September.
"The outlook is gloomy," said Chen Hongyu, owner of a small freight-forwarding firm in Shanghai. "The ocean freights will keep falling, and we do not know where the bottom is."