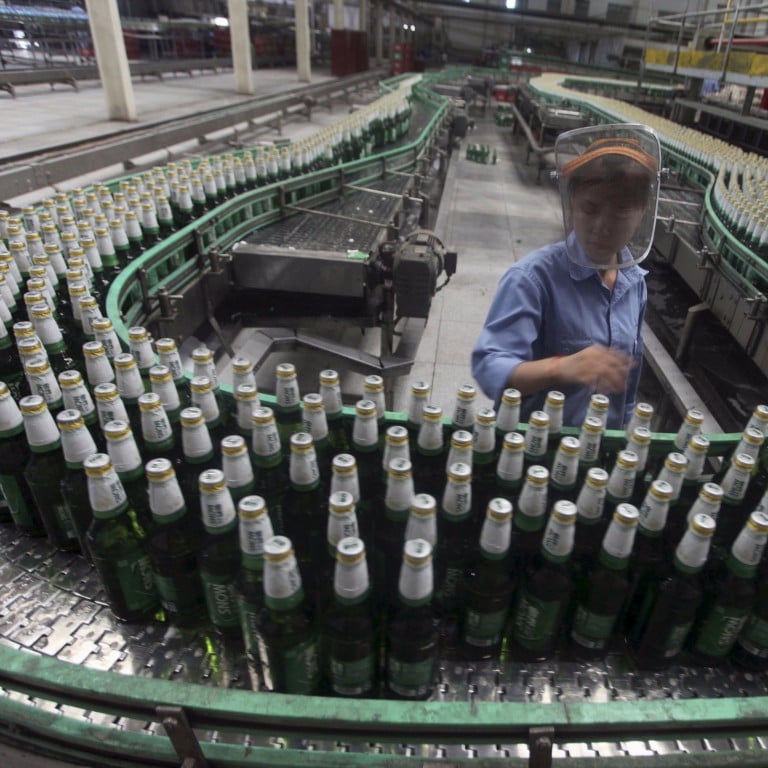 China Resources Beer, country's biggest brewer, buys 55 per cent stake in local baijiu brand for US$1.6 billion
The maker of the world's bestselling beer, Snow, is buying a stake in Guizhou Jinsha Jiaojiu Winery as it seeks to diversify its drinks portfolio
The company sees the market for baijiu – a colourless liquor with a strong aroma and high alcohol volume – as holding huge potential
China Resources Beer Holdings (CR Beer),
maker of the world's bestselling beer
, Snow, is paying 12.3 billion yuan (US$1.57 billion) for a 55 per cent stake in a baijiu manufacturer based in Guizhou province, as the brewer seeks to diversify its alcoholic drinks portfolio.
The Hong Kong-listed company announced on Tuesday via a filing to the stock exchange that its subsidiary CRWH has entered into an agreement with Yichang Caiyuan and Hubei Yihua, the two biggest shareholders of
Guizhou Jinsha Jiaojiu Winery
, to take their 4.61 per cent equity interest in the brand, for a total of 1.02 billion yuan.
CRWH agreed to buy another 50.58 per cent stake from two shareholders, worth 11.27 billion yuan, taking its shareholding in Guizhou Jinsha to 55.19 per cent upon completion.
"The acquisition represents the group's continuous effort in seeking potential subsequent business development and diversification of product mix of alcoholic beverages and source of revenue of the group," said CR Beer in the filing.
The acquisition is now pending government regulatory approval.
CR Beer has been exploring opportunities to expand of its alcoholic drinks business. It first tapped into the baijiu market in China last August when it entered into an investment in Shandong Jingzhi Baijiu, it said.
The beer company sees the market for baijiu – the grain-based, colourless liquor with a strong aroma and high alcohol volume – as holding huge potential.
The market size in China was about 603 billion yuan in 2021, having increased at an annual clip of 8.7 per cent since 2010, according to the Boston Consulting Group.
Sauce-flavoured baijiu accounted for 31.5 per cent of that, with a market size of 190 billion yuan in 2021, with its high profitability.
CR Beer will remain primarily committed to the beer brewing business in China, it said.
Founded in 1951, Guizhou Jinsha is principally engaged in the design, production, and distribution of Chinese liquor products in China.