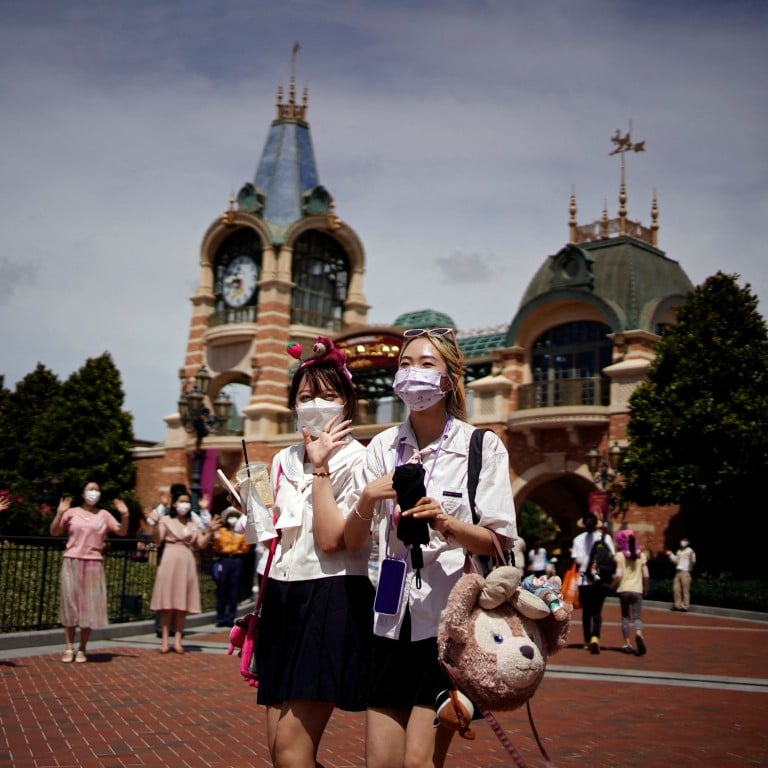 China's zero-Covid policy closes Shanghai Disney Resort for second time this year in advance of major trade exhibition
Officials are guarding against an outbreak in advance of the upcoming China International Import Expo, which is set to draw 480,000 visitors, observer says
Shanghai officials found 568 Covid-19 cases in October, prompting lockdowns for tens of thousands of residents in more than 20 ­residential areas
China's zero-Covid policy has slammed shut the gates at Shanghai Disney Resort for the second time this year and the third time since the pandemic started, dealing another blow to the city's beleaguered tourism sector as officials guard against an Omicron outbreak in advance of a major trade exhibition.
The resort, which comprises Disneyland, Disneytown, two themed hotels, Wishing Star Park and the Blue Sky Boulevard, will be temporarily closed to comply with the city's virus control rules, the company said in a statement on Monday. It did not say when the resort would reopen.
The closure follows the
shutdown of Universal Beijing Resort
on October 26 – also for the second time this year – as Covid-19 cases rose in the Chinese capital. The Universal resort reopened on Monday.
"A temporary close-down implies that local authorities are wary of a severe outbreak in the coming days," said Meng Tianying, a senior ­executive at Shanghai-based ­consultancy Domo Medical. "Officials are anxious to put the outbreak under control soon because they want to ensure a smooth running of the upcoming China International Import Expo [CIIE]."
Disney did not elaborate on whether any positive cases were spotted inside the resort.
Visitors who had already bought tickets to enjoy the resort's attractions, based on entertainment franchises such as The Pirates of the Caribbean, Avatar and Peter Pan, can either get refunds or reschedule their visits when the resort reopens.
Shanghai health authorities discovered a total of 568 Covid-19 cases in October, prompting seven-day lockdowns for tens of thousands of residents in more than 20 ­residential areas.
CIIE, slated for November 5 to 10, is an annual trade fair proposed by President Xi Jinping to bolster China's purchase of foreign goods and services. It will be held in the southeastern district of Qingpu, which is about an hour's drive from the Disney resort in the eastern district of Chuansha.
The fair could draw 480,000 visitors from Shanghai and other parts of the mainland, as well as thousands of exhibitors from around the country.
City officials are determined to keep the highly transmissible Omicron variant at bay during the event, requiring all participants to be fully vaccinated and provide records of negative nucleic acid tests taken within 24 hours of entering the venue, the National Exhibition and Convention Center.
Shanghai Disney Resort, which first opened in June 2016, closed for the first time from January until May 2020.
City officials have been striving to draw more domestic tourists after the lockdown ended on June 1. A
cruise service on the once-stinking Suzhou Creek
, known as the mother river of the city, will be launched in November to attract tourists.