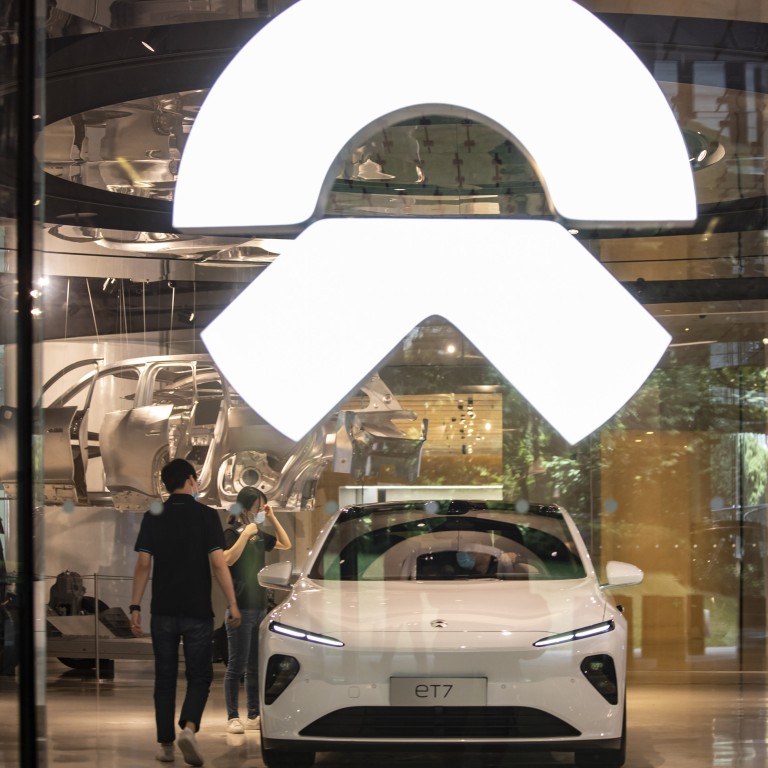 Electric cars: Nio, Xpeng and Li Auto see sales drop as China's Covid-19 curbs hit production, Tesla cuts prices
China's biggest EV makers suffered a sales setback in October after production was disrupted by the pandemic for the second time this year
Their performance was further undermined by the decision by Tesla to slash the prices of its Shanghai-made vehicles
China's
biggest electric-car makers
suffered a sales setback in October after production was disrupted by the Covid-19 pandemic for the second time this year.
Their performance was further undermined by the decision by Tesla, the
runaway leader
in the mainland's premium electric vehicle (EV) segment, to slash the prices of its Shanghai-made vehicles.
The popularity of the American giant's cars means the three main Chinese EV start-ups – Nio, Xpeng and Li Auto – face an uphill struggle to maintain their market share in
the highly competitive market
, according to some analysts.
Shanghai-based Nio delivered 10,059 units in October, down 7.5 per cent from a month earlier, while Beijing-headquartered Li Auto sold 10,052 vehicles, down 13 per cent.
Xpeng, in Guangzhou, suffered the biggest decline, delivering 5,101 cars, a 40 per cent tumble from September.
"Virus control affected their manufacturing and sales last month," said Gao Shen, an independent analyst in Shanghai. "Tesla's price cuts have also siphoned off buying interest from Chinese-branded vehicles."
Dozens of cities across the mainland doubled down on
their pandemic curbs
in October as they battled to keep the Omicron variant of the coronavirus at bay. These included Guangzhou, the capital of southern China's Guangdong province, and Hefei, in east China's Anhui province, home to Nio's production base.
The virus prevention measures strained supply chains and slowed down manufacturing at the carmakers' factories.
The trio of smart EV builders, known as Tesla's Chinese rivals, had already fallen victim to lockdowns in Shanghai and northeastern Jilin province, the country's two major carmaking hubs, between March and May.
Tesla does not report its monthly delivery volume in China.
Last week, its entry-level Model 3 was marked down by 5 per cent to 265,900 yuan (US36,555), while the starting price of the Model Y sports-utility vehicle (SUV) was cut by 8.8 per cent to 316,900 yuan.
The discounts, the
first by Tesla in mainland China this year
, came hot on the heels of the expansion of the carmaker's production line at its Shanghai factory. Capacity at the plant in the Lingang Free-Trade Area was increased by 30 per cent to 1 million vehicles a year.
Tesla's sales in the mainland rose 8 per cent to a record 83,135 units in September, according to the China Passenger Car Association (CPCA).
The price cuts made the US carmaker's bestselling models more attractive to drivers in the mainland market, where some 30 per cent of new cars taking to streets this year are powered by batteries.
A clutch of new models are expected to hit the market in the next couple of years as technology firms such as smartphone maker Xiaomi and artificial intelligence company Baidu ramp up the development of next-generation EVs to tap the fast-growing sector.
China, the world's largest EV market, could see sales of new-energy vehicles – a term encompassing pure electric, plug-in hybrid and fuel-cell cars – more than double to 6 million units this year, according to UBS analyst Paul Gong.
By 2030, three out of every five new vehicles sold in the country will be powered by batteries, the Swiss bank predicted last year.