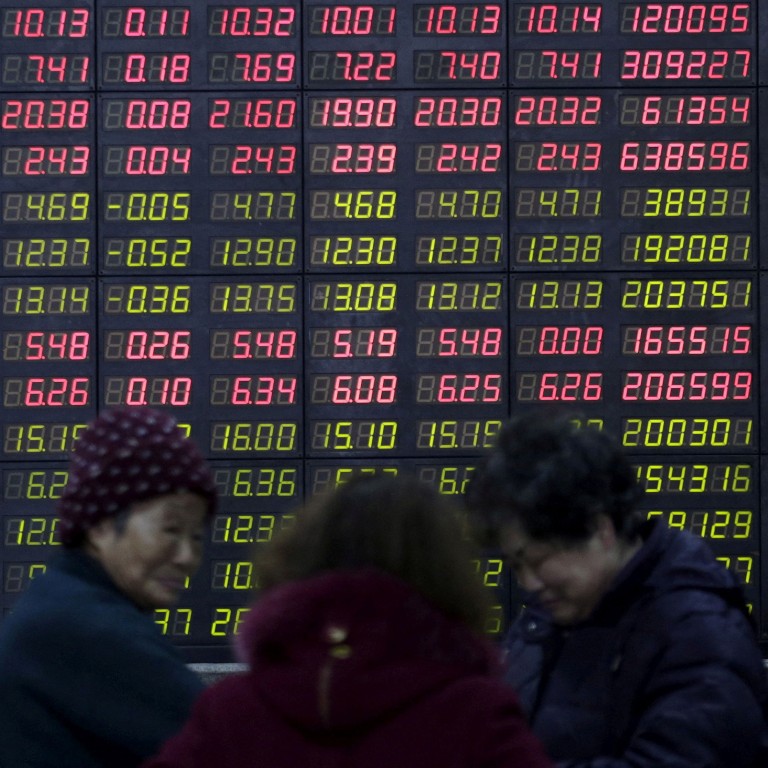 Rumours of an end to China's zero-Covid policy could send stocks on a roller-coaster ride, analysts say
The CSI 300 rose 1.2 per cent, extending a 3.6 per cent gain on Tuesday that was the steepest in seven months, as new rumours about Covid loosening emerged
US research firm Morningstar reaffirms view that China will not scrap zero-Covid policy soon
A rally spurred by speculation about China reassessing its zero-Covid approach signals that investors have to be prepared for wild swings ahead, analysts said.
The 10-day realised volatility of the CSI 300 Index jumped to its highest level since May on Wednesday, according to Bloomberg data. The swing coincided with a surge in stock prices fuelled by social-media posts that top policymakers would set up a reopening committee and aim to phase out zero-Covid by March.
The episode snapped weeks of calm in China's US$9.3 trillion onshore market, reigniting trading interest and turning around cautious sentiment after President Xi Jinping's tightened grip on power sent investors to the sidelines. Trade was brisk on Wednesday even after a foreign ministry spokesman said he was unaware of any such plan.
The CSI 300 rose 1.2 per cent, extending a 3.6 per cent gain on Tuesday that was the steepest in seven months, as new social-media posts about Covid loosening emerged. The rumours included shortening of mandatory quarantine periods to five days from seven, reclassification of risk areas where Covid cases are found and the suspension of the circuit breaker system for international flights.
"There is strong speculation about reopening and the pandemic has turned into one of the core factors that holds sway over the economy," said Zheng Xiaoxia, an analyst at Hua An Securities. "But such a big event that will boost risk appetite significantly needs to be officially confirmed."
Bets on policy loosening have already proved to be risky in China. The easing of the regulatory crackdown on big technology companies has proved unfounded every time over the past year. Tencent Holdings and Alibaba Group Holding have lost at least 60 per cent of their value after successive rounds of short-lived rebounds.
Even optimists expect the exit from zero-Covid to happen gradually.
"The worst of the lockdowns is over and the economy gradually improves from here," said Wang Qi, CEO of MegaTrust Investment in Hong Kong. "I still believe China prioritises the economy over other things. However, don't expect things to normalise quickly."
US research firm Morningstar reaffirmed its view that China will not scrap the zero-Covid policy soon, given the official rhetoric in the state media after the party congress. While the number of international flights has increased recently, the seat capacity is capped at only 10 per cent of the pre-pandemic level, and a full recovery is expected only in 2025, it said.
In the latest sign of China's pursuit of zero-Covid, the
Disney resort in Shanghai was shut
this week while the Universal Resort in Beijing was closed for five days late last month. Foxconn's plant in the central city of Zhengzhou, the world's biggest iPhone assembling factory, had to operate under a "closed loop" and suspend canteens last month, leading workers to flee on foot.
Unravelling of the reopening trade will fuel volatility in stocks that are already facing headwinds such as the interest-rate increases by the Federal Reserve and frayed ties between China and the US. It will also challenge fund managers' ability to navigate a volatile market, as data shows that
99 per cent of China-domiciled mutual funds had lost money
in the first three quarters of this year.
To steer clear of policy uncertainty, some money managers raised holdings of property developers in the third quarter, one of the few sectors that has policy support, even as profits tumbled more than 70 per cent in the third quarter. Some of the supportive measures include a cut in the mortgage rates on first home purchases and refunds on income taxes for some homebuyers.
"There's no big opportunity now," said Xue Jun, an analyst at Orient Securities. "Investors should focus on companies with fundamental visibility and reasonable valuations amid poor expectations about the economy."