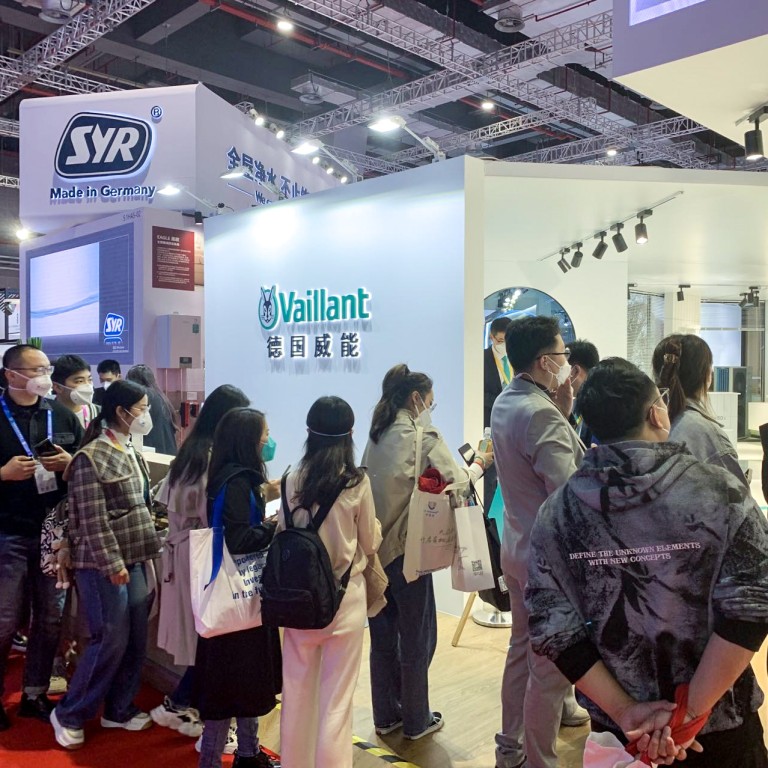 German exhibitors at import trade fair expect business ties with China to improve after Chancellor Scholz's Beijing visit
About 200 German exhibitors are attending this year's show, which will run through Thursday
China is now Germany's largest trading partner, with total trade value between the two countries hitting US$235 billion last year
German exhibitors at China's largest import trade fair said they expect Chancellor Olaf Scholz's visit to Beijing to bolster trade between the two countries.
The rising optimism comes after Scholz's one-day visit last Friday, along with a delegation that included representatives from major German companies including BioNTech, Volkswagen, BMW and Deutsche Bank. Scholz's first to China as leader took place just one day before the opening of the annual China International Import Expo (CIIE) in Shanghai.
About 200 German exhibitors are attending this year's show, which will run through Thursday. China inaugurated the CIIE in 2018 to encourage more domestic businesses to purchase foreign-made goods and services. It had been speculated that Scholz would take part in the CIIE to promote German goods and services, but he eventually abandoned the plan.
"The chancellor's visit will stabilise trade and business relations between the two countries," said Zhang Hui, China project manager of Wilhelmshaven Container Terminal. "Stability is much needed because the bilateral economic relation is of great importance to both countries."
The container terminal operator is aiming to consolidate a tie-up with businesses in China, encouraging more stops in future at the deep water port of Wilhelmshaven, a coastal town in Lower Saxony, Germany.
This year's expo takes place against the backdrop of rising geopolitical tensions between China and the West on a range of issues from Russia's invasion of Ukraine to rising tensions across the Taiwan Strait. The global economy has also been slowed by Covid-19 lockdowns and supply chain disruption, exacerbating concerns over trade volumes and declining cross-border investment.
However, some executives at the trade fair struck an optimistic note.
"We feel comfortable in dealing with business partners in Germany," said Han Haifeng, chief executive of Shanghai New Era Printing, which makes packaging materials. "They are the most trusted business partners [for us]."
The executive added that the company would continue to seek more potential partners on the CIIE.
Scholz's visit to Beijing has not been without its critics though, especially back home. Euro­pean Green Party politician Rein­hard Butikofer called it "the most controversially debated visit in the country for the last 50 years". Thierry Breton, EU commissioner for the internal market, said that EU nations "should not be naive whenever they approve Chinese investment," according to a Reuters report.
The visit was the first by a leader from a major developed economy after Chinese President Xi Jinping secured an unprecedented third term as the Communist Party's general secretary.
"I believe it's a very important sign [for Scholz] to come here, it shows the appreciation," said Rainer Kern, vice general manager and chief financial officer of German clean solution provider Kärcher China. "I think when these two countries work together and focus on the right things, they can solve a lot of problems together."
German-made products from home appliances to passenger cars have traditionally been viewed as high-quality and premium products by mainlanders since Beijing embarked on a major opening-up of its economy in early 1980s.
China is now Germany's largest trading partner, with total trade value between the two countries hitting US$235 billion last year, accounting for nearly a fifth of China's total trade value with Europe.
"The visit [by the German Chancellor] signifies the importance of China-Germany cooperation," said Hao Ye, senior marketing manager of piano maker Steinway & Sons APAC. "We will increase our investment in China, opening more showrooms and expanding our footprint in China."
Alexander Dony, head of Bosch Siemens Household Goods (BSH) China operations, said China remained attractive to the home appliance maker.
"We are very bullish about the Chinese market," he said. "We are here to stay for the long term and to disproportionately invest in China.
Last Friday, President Xi pledged in his televised speech to CIIE that China would open the country's markets further so as to offer big opportunities for the world economy.