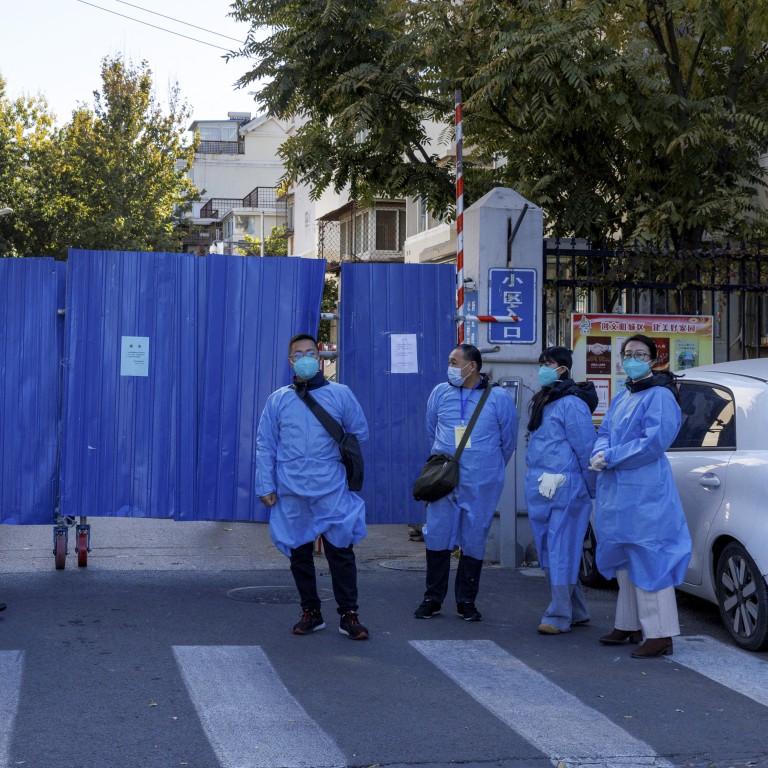 Hopes of China easing Covid restrictions further take hold as market observers detect a delicate shift in tone
While Beijing is committed to a zero-Covid policy, there are signs that a full reopening of the economy is on the cards amid a subtle shift in official tone
Authorities have asked local governments to be 'more precise' in pandemic prevention and have tolerated some social media posts questioning the restrictive policies
Traders and analysts have noticed subtle hints of relaxation to China's official zero-Covid approach that underpinned a US$1.2 trillion rally in Chinese stocks in both onshore and offshore markets over the past week.
Market participants have been reading between the lines from top health officials' comments on pandemic prevention at a press conference over the weekend. While Beijing has maintained that it would uphold its zero-Covid policy, that has barely cooled buying interest.
Financial institutions from Citic Securities to Growth Investment Group and researchers at Alpine Macro say that signs are now pointing to a full reopening of the economy, citing a subtle shift in the government's stance on Covid curbs.
Top health officials at the conference said that local governments would be required to be "more precise" in pandemic prevention and stressed that they would be penalised for doubling down on quarantine measures. Several cities that put in place excessive restrictions were singled out for criticism, including Zhengzhou in central Henan province. The city was in the spotlight for its measures to contain a recent flare-up in cases. Workers were seen fleeing the world's biggest iPhone assembling plant after authorities imposed severe restrictions.
That is a sign to some investors and analysts that Beijing has begun softening its tough stance on zero-Covid.
"The recalibration of the pandemic prevention measures is actually going on," said Qiu Xiang, a Beijing-based analyst at Citic Securities, China's biggest publicly traded brokerage. "The negative impact of the pandemic on the economy will fade and a recovery of the economy is expected."
That authorities have tolerated some recent social-media posts questioning the excessive restrictive policies and the damage caused to the economy, is further evidence of the delicate pivot from zero-Covid, according to Hong Hao, chief economist at Grow Investment.
Still, China International Capital Corp (CICC) was among those that remain cautious, saying that the rebound would hinge on a meaningful policy shift.
"The market rally was a recalibration after sentiment had dropped to extreme levels," the investment bank said in a report on Sunday. "It remains to be seen whether there will be substantive policies, and that holds the key to the sustainability of the rebound."
The Shanghai Composite Index dropped 0.4 per cent on Tuesday, giving up some of the 6.4 per cent gain this month, while the Hang Seng Index slipped 0.2 per cent after rising 13 per cent in November up to Monday.
Chinese stocks have been rattled this year after pandemic containment took precedence over the economy. The two-month lockdown of Shanghai that disrupted production at factories and logistics supply was proof of the government's priority.
The sell-offs accelerated after the Communist Party congress last month, after President Xi Jinping tightened his grip on power, stoking concerns about how he would steer the world's second-largest economy.
"As the zero-Covid policy has been politically enshrined, an abrupt turn is unlikely any time soon," said Yan Wang, a strategist at Montreal-based Alpine Macro. "Rather, any change will be marginal and gradual. In this vein, some changes are already under way, and further liberalisation is likely inevitable. We still see high odds of loosening in the coming months."