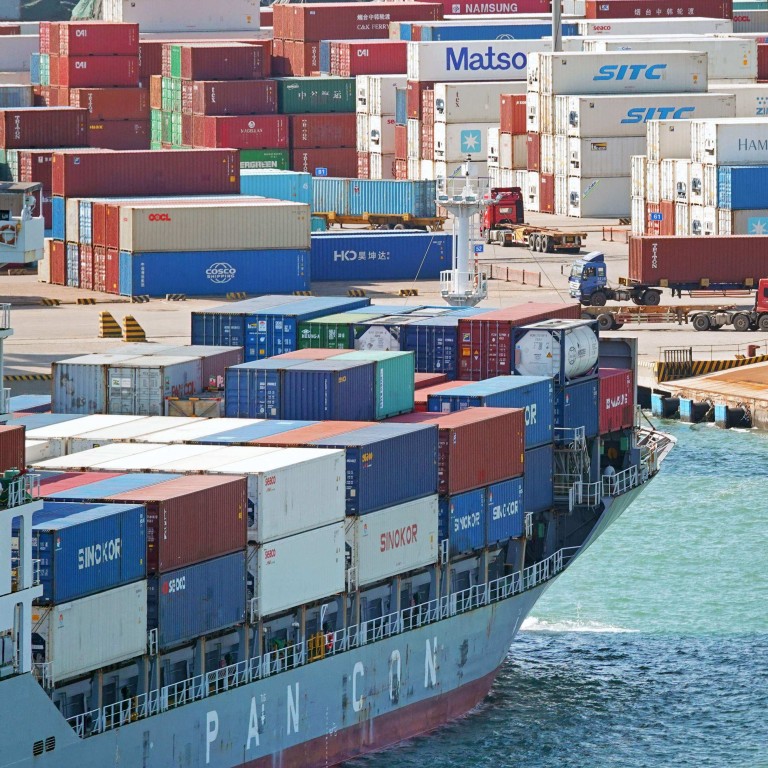 Chinese freight carriers fear further price declines when new container ships take to the seas next year
Shipping rates are likely to fall next year when freight operators take delivery of new vessels, say carriers at a major trade fair in Shanghai
Freight rates have plunged by as much as 90 per cent in the last year from unprecedented highs when the pandemic disrupted supply
Ocean
shipping rates
for goods leaving China are likely to fall next year when new container vessels take to the seas, according to carriers at a major trade fair in Shanghai.
Freight rates have plunged
by as much as 90 per cent in the last year from the unprecedented highs they enjoyed during the pandemic, and are expected to stabilise in the short term.
More than 200 new ships are due to be delivered to freight operators in each of the next two years. Vessels with a total capacity of 2.34 million 20-foot equivalent units (TEUs) will be delivered in 2023, and another 2.83 million TEUs will be added in 2024.
That compares with 1.1 million TEUs this year.
"The shipping industry is wary of a further drop [in shipping rates]," said Kevin Gao, senior sales manager with Hapag-Lloyd (China) Shipping, an exhibitor at the China International Import Expo (CIIE). "Delivery of new vessels will probably exacerbate an overcapacity issue."
Some of the cargo operators attending the CIIE, the world's largest import trade fair, are pinning their hopes on an increase in trade volume if China shrugs off its soured relationship with the West and buys more foreign goods.
Beijing's Belt and Road Initiative, which was introduced by President Xi Jinping in 2013 to bolster China's trade ties with 65 countries, is creating demand overseas for machinery and equipment such as solar panels, said Simon Sun, general manager of Pacific International Lines' Shanghai branch.
This could help support freight prices as they come under pressure from the added capacity.
"We predict shipping rates [for containers] will keep stable for the coming months," he said. "The present level is acceptable and ocean carriers should be able to maintain profitability."
The Singaporean carrier is
taking advantage of the CIIE
, which ends on Thursday, to enhance its brand awareness, build relationships with new customers and increase sales.
The price of shipping a 20-foot equivalent container from Asia to the US west coast stood at US$2,479 last week, down 87 per cent from the same period in 2021, according to data from Freightos, a global freight booking platform.
In June 2020, China became the world's first major economy to emerge from coronavirus lockdown, quickly regaining its place as the world's factory and churning out goods at full tilt to meet pent-up global demand.
In August 2021, a peak season for ocean transport with Chinese-made goods bound for the US and Europe ahead of Christmas, container slots were often fought over by dozens of exporters who were willing to pay as much as 10 times the normal freight rates to ship their cargo abroad.
Albeit they have come down sharply in price,
the current rate
is still roughly double what it was before the Covid-19 pandemic.
"The biggest concern still lies in China's trade with foreign countries," said Xiong Hao, assistant general manager at Shanghai Jump International Shipping. "Shippers are doubling their efforts to lure more cargo owners, and they also need to prevent a vicious price war so as to keep the rates stable."
Sun said sound cost management, including efficient use of fuel, would be important for carriers to maintain profitability if shipping rates fall.
About 3,000 exhibitors are displaying their goods and services at the CIIE, which was launched in 2018 to bolster Chinese companies' purchases of foreign goods and demonstrate the country's willingness to open up its vast market.