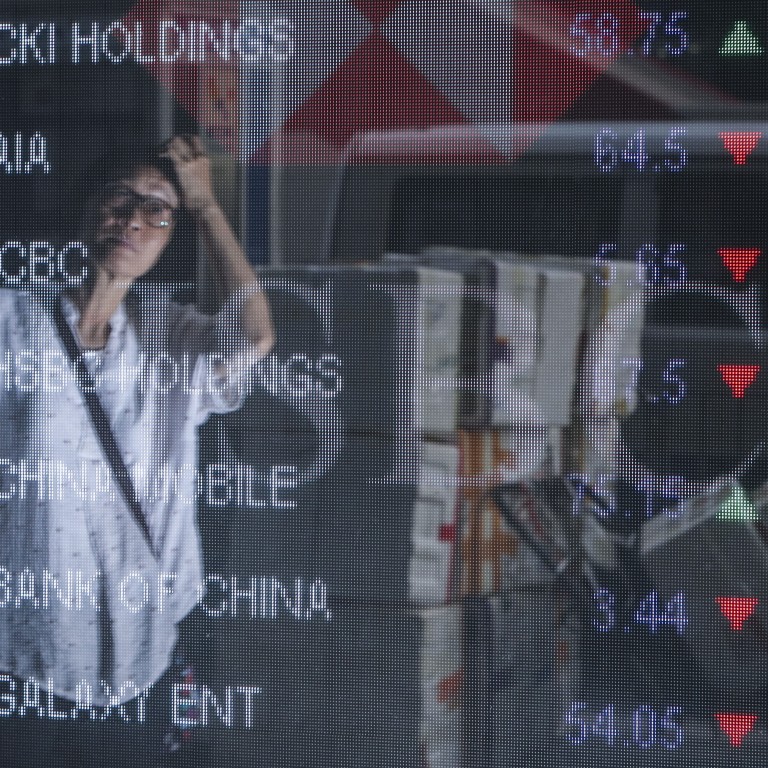 Hong Kong stocks slide before Alibaba's report amid tech weakness while NetEase sinks after Blizzard ends gaming deal
Stocks fell for a second day after Tencent's report card shows underlying weakness in tech sector while China's central bank warned about faster inflation
Meituan slumped on stock overhang risk as Tencent gives away its stake in the food-delivery platform as interim dividend to shareholders
Hong Kong
stocks
fell for a second day after Tencent Holdings' earnings report showed weakness in the broader tech sector while NetEase crashed. China's central bank warned about inflation risk, stoking concerns that policymakers will temper stimulus measures.
The Hang Seng Index slid 1.2 per cent to 18,045.66 at the closing of Thursday trading, the most in a week. The Tech Index declined 2.2 per cent while the Shanghai Composite Index lost 0.2 per cent.
Tencent slipped 0.8 per cent to HK$292 after the WeChat operator said revenue fell in
the third quarter
and net income climbed 1 per cent. Alibaba Group, which will report later today, lost 0.7 per cent to HK$78.25. Meituan plunged 5.7 per cent to HK$153 on stock overhang worries, after Tencent decided to
give away US$20.3 billion
of its stake in the food-delivery platform as dividend.
NetEase crashed 9 per cent to HK$103.50. US gaming giant Blizzard Entertainment ended a 14-year online gaming
partnership
. The decision will deprive the Chinese firm of a major revenue source and end service for some of the most popular mobile games.
"The [Meituan] divestment is a signal that Tencent is downsizing its business, either because of the antitrust law or the weakness in the internet sector," said Wang Chen, a partner at Xufunds Investment Management in Shanghai. "Tencent will focus on the fintech and online game operations and that will cut off some revenue sources."
Baidu, Bilibili and Alibaba Health tumbled by 2.2 to 4.5 per cent, as
Tencent's report card unmasked weak sales
and profitability following months of sector clampdown while Beijing pushed the "common prosperity" agenda.
The stake cut in Meituan makes the market worried that Tencent could also divest other tech stocks [such as Kuaishou and Bilibili], triggering a sell-off, according to Kenny Ng Lai-yin, a strategist at Everbright Securities International.
Alibaba Group, the owner of this newspaper, is expected to report a 4 per cent rise in revenue in the quarter to September 30 from a year earlier. In the preceding quarter, the firm did not grow its revenue and saw profit slump 50 per cent.
Stocks lost momentum after a Goldman Sachs report showed
foreign investors pulled about US$21 billion
of portfolio capital from China's stock and bond markets in October, on top of a US$16 billion withdrawal in September.
Elsewhere, the People's Bank of China said that it "will pay serious attention to the underlying possibility of rising inflation, especially changes in the demand side", in its quarterly report released on Wednesday.
Government reports this month showed activity weakened in October, partly because of tighter Covid-19 controls. Retail sales fell more than expected, while industrial production grew at a slower pace and property sales saw a deeper 23 per cent slump. Growth momentum in the first two weeks of November remained weak, UBS said.
Elsewhere, US retail sales climbed 1.3 per cent in October compared with September, the biggest jump in eight months. Analysts said the solid growth gives the Federal Reserve more room to keep raising interest rates to combat high inflation, undermining recent bets for a Fed pivot away from its tightening path.
Markets in Asia-Pacific also traded lower. Benchmarks in Japan and South Korea slipped 0.4 per cent and 1.4 per cent each, while equities in Australia added 0.2 per cent.