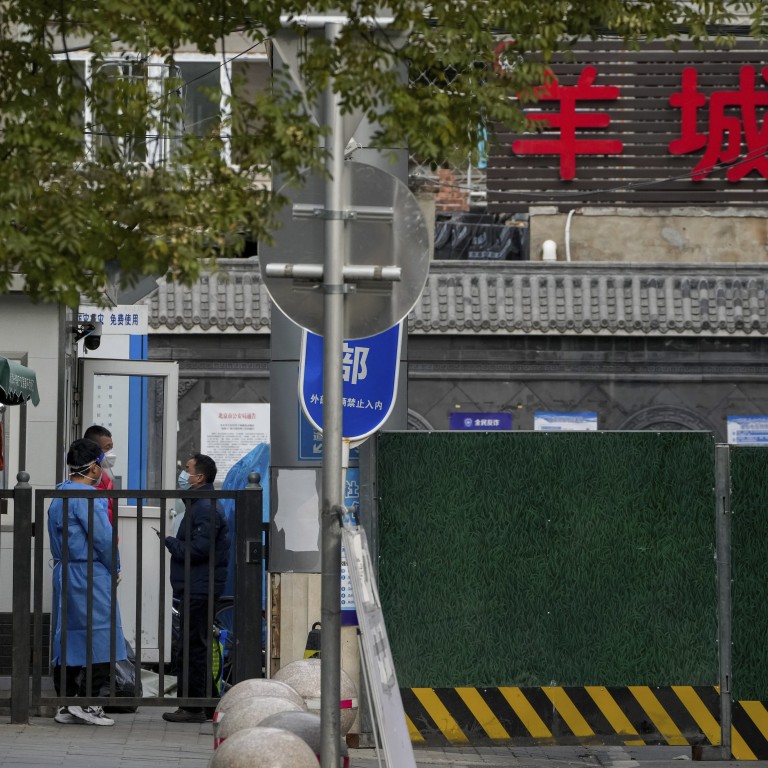 Hong Kong stocks slide for fifth day as China faces near-record Covid-19 cases in blow to policy-pivot market bulls
Covid-19 cases on Monday approached their highest daily tally on record in mainland China in a blow to market bulls betting on an imminent reopening of the economy
Stocks reported fifth day of losses, their longest losing run in a month
Hong Kong
stocks
declined for a fifth day on Monday as coronavirus cases in mainland China approached their highest level on record since the Wuhan outbreak, hitting investors who have called for an exit from Beijing's zero-Covid policy.
The Hang Seng Index fell 1.3 per cent to 17,424.41 at the close, completing a 5 per cent slide over the five-day streak. The five-day loss is the longest such streak in almost a month. The Hang Seng Tech Index dropped 3.2 per cent and the Shanghai Composite Index gained 0.1 per cent.
Alibaba Group Holding lost 4 per cent to HK$73.10 and JD.com retreated 4.4 per cent to HK$197.60, while carmaker BYD tumbled 3.4 per cent to HK$178.20. Meituan slumped 8.3 per cent to HK$139.90 before its
quarterly earnings
report on Friday. Li Ning slipped 4.9 per cent to HK$53.85 and Baidu shed 2 per cent to HK$89.90, as the Chinese search-engine operator is expected to say later on Tuesday that its third-quarter profit increased 8.2 per cent from a year ago.
China reported 27,307 new daily infections on Monday, near the record 29,317 cases recorded amid the Shanghai outbreak on April 13, according to health authorities. That has undermined recent China reopening bets, triggering a 3.6 per cent sell-off in Chinese stocks in New York overnight, the most in about a week.
"China's reopening will be laced with fits and starts," said Stephen Innes, a managing partner at SPI Asset Management in Bangkok. "Bears also fear a prolonged property downturn and an inability to kick start growth as in the past, given debt levels."
The southern Chinese city of Guangzhou is the epicentre of the flare-up with 8,210 new infections on Monday, while the southwest metropolis of Chongqing logged 6,297 infections. Nomura estimated that 48 cities are subject to movement curbs, affecting about a fifth of China's economy.
Reopening bets have also soured after the State Council last week warned against
"irresponsible loosening"
of China's Covid-19 policy, following steps to ease quarantine and travel curbs. That is challenging the stock rally in Hong Kong, which has recouped US$642 billion of value so far this month.
Elsewhere, Lifestyle International, which operates the popular Sogo department stores in Hong Kong, added 1.4 per cent to HK$4.97 after independent shareholders voted in favour of tycoon Thomas Lau Luen-hung's HK$1.88 billion (US$239 million) offer to take the retailer
private
and delist the stock from December 20.
Guangdong Dtech Technology, which makes industrial machinery, jumped 48 per cent to 33.78 yuan on its Shenzhen debut, while interior designer Matrix Design lost 2.1 per cent to 33.99 yuan.
Other major Asian markets were mixed. Japan's Nikkei 225 and Australia's S&P/ASX 200 both climbed 0.6 per cent, while South Korea's Kospi Index retreated 0.6 per cent.
Additional reporting by Jiaxing Li