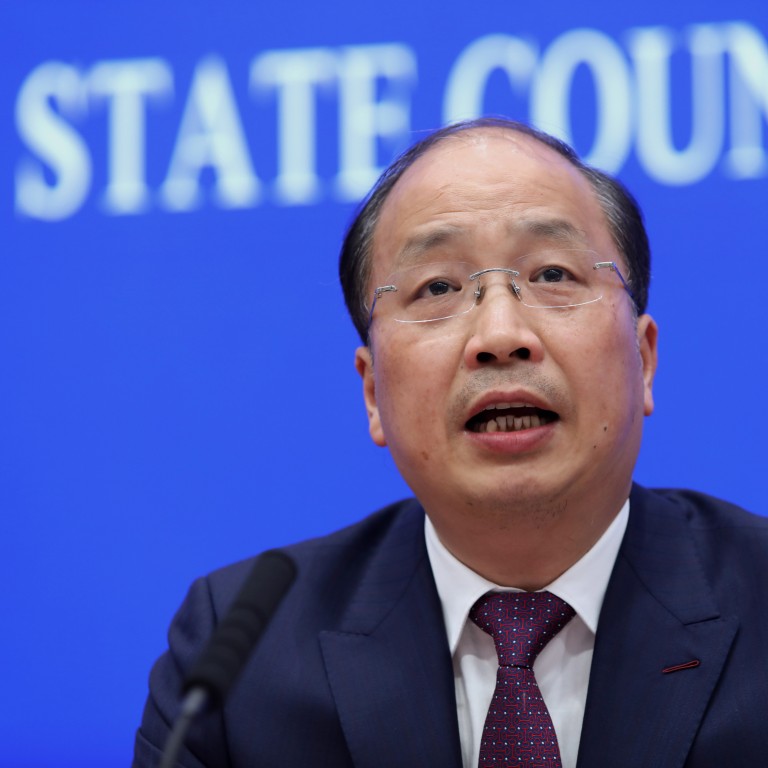 State-owned companies surge as China's top regulator pledges to build 'capital market with Chinese characteristics'
New system will better reflect the valuation of listed companies, said Yi Huiman, chairman of the China Securities Regulatory Commission
China Railway Construction Corporation, China Communications Construction Company and China Haisum Engineering all jumped by the daily limit
Shares of Chinese state-owned companies surged on Tuesday after the
country's most senior financial regulator
pledged to build "a capital market with Chinese characteristics" to better reflect the valuation of listed companies.
"Valuation directly reflects the market recognition of a listed company," Yi Huiman, chairman of the China Securities Regulatory Commission, said in a keynote speech in Beijing on Monday. "We will build a capital market with Chinese characteristics so the market can allocate resources effectively."
The new system will cater for
listed state-owned companies
and help reverse their losing trend, the state-run China Securities Journal said in an article on Tuesday.
Most state-owned companies jumped in the mainland stock market, with at least three of them – China Railway Construction Corporation, China Communications Construction Company and China Haisum Engineering – reaching the daily price limit.
In Hong Kong, Metallurgical Corporation of China jumped 13 per cent to HK$1.57, its biggest single-day advance since August 2021, and China Aluminum International Engineering surged 25.5 per cent to HK$1.82, its largest jump since January this year.
The valuations of state-owned companies have been sliding since 2020. The price to earnings ratio now averages eight, significantly lower than the 14 times A-shares are trading at, the newspaper said.
"The valuations of banks and state-owned companies are now at a historic low, and that cannot reflect their resilient fundamentals," analysts including Wang Hanfeng at China International Capital Corp (CICC) said in a research note on Tuesday. Revamping the valuation system will improve market sentiment in the sector, CICC said.
As the stringent Covid-19 control measures and the ailing housing market continued to weigh on China's economy, the government has been ramping up supportive measures to bolster growth.
China will pay close attention to the difficulties facing property developers, and help improve the balance sheet of "good quality" companies, Yi said during his speech on Monday.
His comments came after the government rolled out 16 measures including loosening down payment requirements for first-time homebuyers earlier this month.