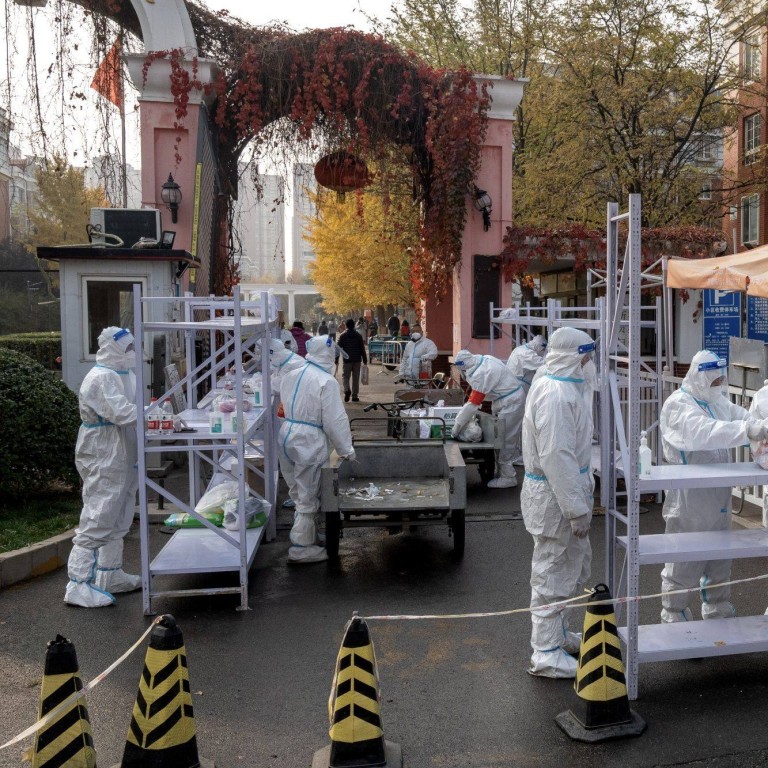 Hong Kong stocks gain on tech earnings boost while BYD slides after Buffett's Berkshire sells EV maker again
Report cards from Kuaishou and Baidu buoyed optimism about tech sector's earnings outlook
A flare-up in Covid-19 cases in mainland China caused investors to reassess 'reopening bets' after recent market pullback
Hong Kong
stocks
climbed from near a two-week low as traders cheered better-than-expected tech earnings from industry bellwethers. Rising Covid-19 cases, however, tempered optimism about imminent tweaks to Beijing's zero-Covid policy.
The Hang Seng Index advanced 0.6 per cent higher at 17,523.81 at the close of Wednesday trading. The benchmark slipped 5 per cent over the past five days. The Hang Seng Tech Index gained 1.1 per cent while the Shanghai Composite Index added 0.3 per cent.
Kuaishou Technology surged 5.7 per cent to HK$53.10 and Baidu appreciated 3.4 per cent to HK$92.95. Alibaba Group Holding climbed 3.2 per cent to HK$75.40 and Tencent Holdings gained 1.7 per cent to HK$282. Limiting gains, BYD slumped 1.8 per cent to HK$175 after Berkshire Hathaway trimmed its stake again.
Meituan fell 1.1 per cent to HK$138.40 after Naspers, a Tencent shareholder, said it would sell stock in the Chinese company once it receives Meituan shares as a special dividend distributed by Tencent.
Kuaishou reported a third-quarter loss of 2.7 billion yuan (US$378 million), or 28 per cent lower than market consensus. Baidu's revenue climbed 2 per cent, topping analysts' estimates, while underlying profit jumped 16 per cent.
"The rebound in Hong Kong stocks has gained traction and will continue to be driven by an improvement in corporate earnings [in the tech sector]," said Zhang Xinyuan, an analyst at Huatai Securities. "Even after the run-up [recently], valuations are still attractive."
The Hang Seng Index has risen 19 per cent so far this month, the best performer among major global indices, after China loosened its Covid-19 curbs and US inflation cooled. The Hang Seng Index is now valued at 6.5 times earnings, the second cheapest among the world's major markets only after Brazil.
A sudden surge in Covid-19 cases is challenging market bulls. New infections rose to 28,183 on Tuesday, near the pandemic record of 29,137 cases detected on April 13. Some of the biggest mainland cities have tightened restrictions, with Shanghai barring new arrivals from entering public places from Thursday.
Mainland traders sold HK$200.9 million (U$$25.7 million) worth of Hong Kong stocks through the Stock Connect on Wednesday, a second straight day of net selling, according to stock exchange data. They offloaded HK$5.8 billion of local stocks a day earlier, the biggest selling since August 2021.
Elsewhere, BYD tumbled after Warren Buffett's Berkshire sold 3.23 million shares on November 17 at an average price of HK$195.42 each or HK$630.3 million, according to
an exchange filing
on Tuesday. The sale reduced its stake in the Chinese carmaker to 15.99 per cent from 16.28 per cent.
Other major Asian markets all rose. Japan's Nikkei 225 gained 0.6 per cent and Australia's S&P/ASX 200 both climbed 0.7 per cent, while South Korea's Kospi added 0.5 per cent.