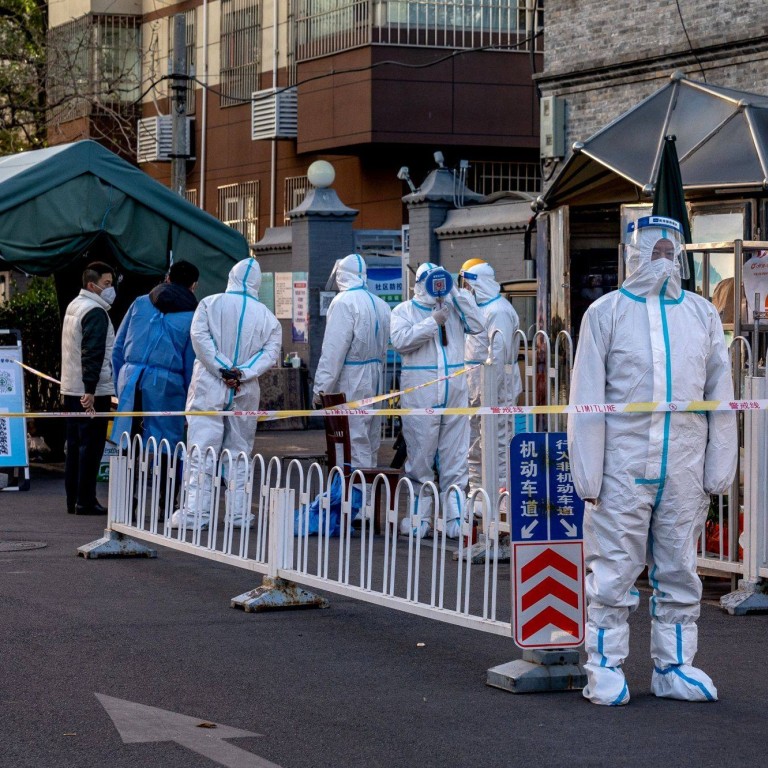 Goldman's top picks in China reopening playbook face rocky path amid Covid-19 surge, new lockdowns and protests
Goldman Sachs' top picks as China reopening plays have suffered a 4 per cent loss on average since the list was published on November 6
'I'm pretty confident that six months from now, a lot of these consumer stocks will be higher', strategist Timothy Moe said in briefing last week
In Goldman Sachs' playbook,
stocks
represented in the MSCI China Index will produce a 22 per cent gain for investors over a 12-month horizon. If anything, several events in the past week showed the path will be littered with challenges.
Successive days of record Covid-19 cases, widening lockdowns in Beijing and elsewhere, and workers' unrest within Foxconn's "iPhone City" in Zhengzhou contributed to a market fatigue last week. They served as a reminder that China's economic reopening targets remain guesswork for now.
The MSCI China Index, a gauge tracking
US$2.3 trillion yuan worth of stocks
listed at home and in offshore markets, fell 3 per cent last week, while the Hang Seng Index slipped 2.3 per cent for its first weekly loss in November. Goldman's pick of 30 mostly consumer-related stocks fell by 4 per cent on average since the US bank rejigged its list on November 6, the Post calculated.
"The entire process of China's easing of Covid-19 restrictions will be gradual, which may disappoint foreign investors hoping for a rapid reopening," Credit Suisse said in its 2023 outlook report last week. "Turning positive on China equities will require a more substantive easing of the zero-Covid policy and substantially more support for the property sector."
The National Health Commission reported 31,444 local infections on Thursday, surpassing 30,000 for a third straight day. Before the latest flare-up, the 29,137 cases on April 13 stood as the all-time high since the Wuhan outbreak in early 2020.
Several locations in and around Beijing have been placed under various levels of movement restrictions. In Zhengzhou where Apple contractor Foxconn operates the biggest iPhone plant in central China, violent protests against work conditions and Covid-19 curbs have jolted frontline officials.
"It is premature to conclude that the marginal easing of Covid containment measures will lead to reopening this winter," strategists at BCA Research said on November 23. "The authorities are not prepared to allow an increase in the death rate."
Overall, 19 of Goldman's picks fell over the three-week period, while 11 gained. Shanghai Jinjiang International Hotels lost 16 per cent while Xi'an International Medical Investment advanced 20 per cent. Half of Goldman's picks with buy ratings, including China Tourism Group Duty Free and Galaxy Entertainment, fell by 4.4 per cent.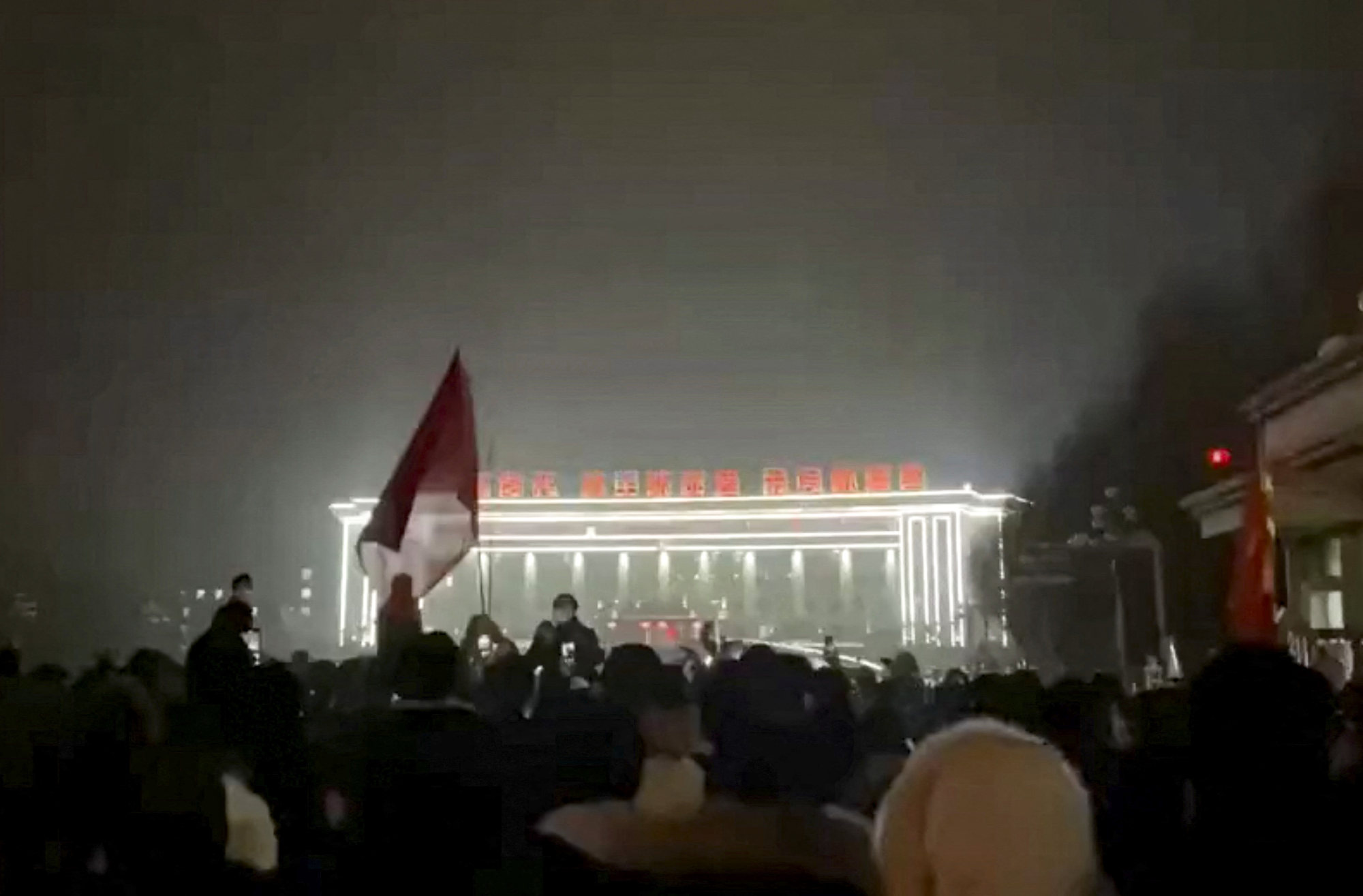 "In the short run, we will see ups and downs as people get more optimistic than pessimistic, and back and forth," Andrew Tilton, chief economist for Asia-Pacific, said at a media briefing in Hong Kong last week. "The stocks will perform well in six months and one year."
The central government may soon need to choose between more lockdowns and more Covid outbreaks, Goldman said in a report on Sunday. The current situation "imposes further downside risk to our below-consensus fourth-quarter [growth] forecast," it said. "Our 30 per cent subjective probability of reopening before Q2 next year includes some chance of a forced and disorderly exit."
The firm had earlier suggested China could start to reopen in the second quarter of next year on political and public health considerations, with stocks seen gaining 20 per cent upon full reopening, based on history and sensitivity analysis.
In an earlier report on November 26, equity strategists including Kinger Lau and Timothy Moe forecast the CSI 300 Index to climb 19 per cent. They also expect MSCI Hong Kong to rise 31 per cent and MSCI China to advance 22 per cent over the next 12 months.
While the prospect of reopening has somewhat dimmed, market bulls can take comfort in other redeeming factors. China's central bank will cut banks' reserve requirement ratio by 25 basis points on December 5, unleashing 500 billion yuan (US$70 billion) of liquidity into the system to boost lending.
The nation's biggest commercial banks have separately agreed to provide 1 trillion yuan of fresh funding to "high-quality" developers as part of the 16-point plan to help ease a liquidity crunch and restore confidence in the industry after a rapid plunge in home sales.
Traders, however, are increasingly wary that local governments will impose more stringent curbs than prescribed by authorities in Beijing. Zhengzhou began a five-day lockdown from Friday while Shanghai, the nation's biggest commercial city, has banned arrivals from entering public venues. Residents in the southwest metropolis of Chongqing must obtain state approvals to leave town.
Nomura estimates that at least 48 cities are subject to movement curbs, affecting about a fifth of China's economic capacity. Goldman estimated cities with high-risk districts account for 65 per cent of national gross domestic product.
"Now, we are seeing the reversal of some of that enthusiasm with stocks selling off," Singapore-based Moe said at a briefing on November 24. "But if we're right about the fundamentals of reopening, it may be one or two quarters from now, I think the stocks will start to trend up. I'm pretty confident that six months from now, a lot of these consumer stocks will be higher."
Additional reporting by Enoch Yiu.