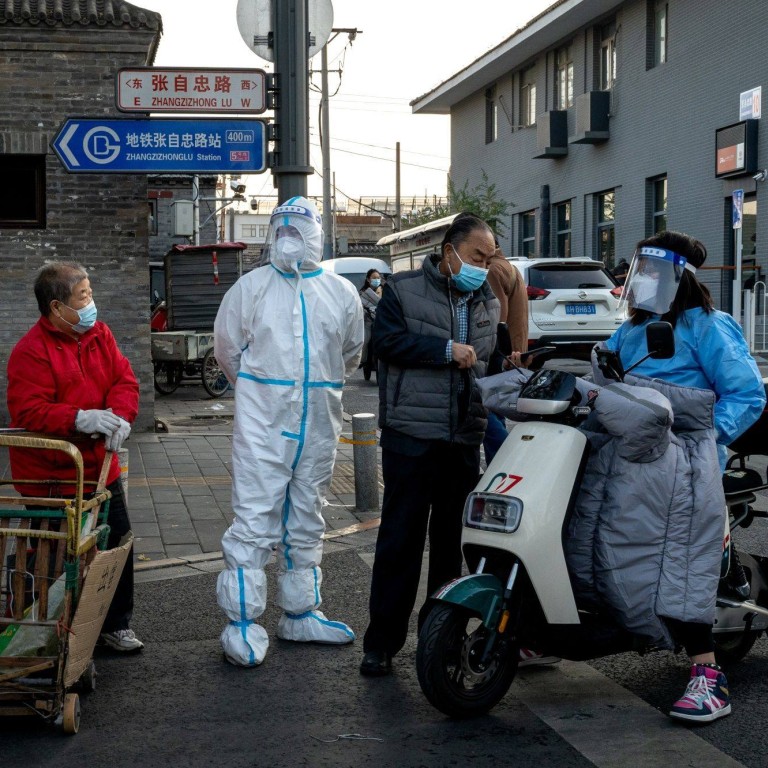 Morgan Stanley turns bullish on Chinese stocks with 13-14 per cent upside as Beijing quickens zero-Covid exit
Morgan Stanley predicts MSCI China to rise 14 per cent by end-2023 and Hang Seng Index to advance 13 per cent in base-case scenario
Since its downgrade to equal-weight in January 2021, MSCI China index members have lost US$3.2 trillion in market value
Morgan Stanley has called a buy on
Chinese stocks
amid signs of growing momentum in economic reopening and fading geopolitical risks, ending nearly two years of staying "neutral" while market value crashed by US$3.2 trillion.
It upgraded its recommendation on MSCI China to overweight from equal-weight within its emerging-market allocation strategy, strategists including Laura Wang and Jonathan Garner wrote on Sunday. The US investment bank last reduced Chinese stocks from overweight in January 2021.
"A confirmed path towards final post-Covid reopening, along with more affirmative and concerted efforts to stabilise the property market, suggest improved chances of re-rating and earnings delivery," they said. Signs of improvement on the US-China geopolitical front and wrapping up of regulatory reset should also lower risk premium, they added.
The MSCI China Index, which tracks about 723 stocks worth almost US$2 trillion, has slumped 26 per cent this year after a 22 per cent loss in 2021. The index lost US$3.2 trillion in capitalisation since the bank's January 2021 downgrade, according to Bloomberg data, abetted by regulatory clampdown on tech companies.
It has been a different story for the past month. Stocks in Hong Kong and mainland bourses have recouped US$560 billion in value since Beijing rolled out a 20-point guide on easing pandemic rules on November 11. Anti-lockdown protests have prompted Beijing to rethink its approach to stem record infections.
In its base-case scenario, Morgan Stanley expects MSCI China to gain 14 per cent from the close of December 1 to 70 points through the end of 2023, and the Hang Seng Index to advance 13 per cent to 21,200 points over the same period, according to the report. The CSI 300 Index of yuan shares is forecast to rise 12 per cent to 4,350 points.
"Our China evaluation framework finally shows the majority of factors improving concurrently with the latest acceleration of Covid relaxation, property market stabilisation, regulatory reset wrapping up, as well as early signs of US-China bilateral communications accelerating," the report said.
The return-on-equity ratio for companies on the MSCI China Index will rise to 11.1 per cent by the end of 2023 from 9.4 currently, it said. The stock valuations will also get a boost from the falling risk premium on China stocks, with the geopolitical risk fading after the 20th Party Congress and the US midterm elections.
Morgan Stanley recommends buying into consumer stocks that are set to benefit most from the reopening.
While back-pedalling on reopening of the economy seems unlikely, a spike in cases in the post-zero Covid era will cause more market swings and weigh on sentiment, according to Hong Hao, chief economist at Grow Investment.
"After three years of the pandemic, the market should cope better than before, especially when valuation is so depressed," he said. "Nevertheless, investors should be prepared for market volatility ahead."
The gains in stocks will be mainly built on a turnaround in extreme pessimism, though the run will be accompanied by some challenge such as earnings pressure that will continue into early next year and swaying sentiment, according to Morgan Stanley.
"We see a steep climb from here following the underperformance of the last two years and disengagement of certain segments of the global investor base," the bank's analysts added.