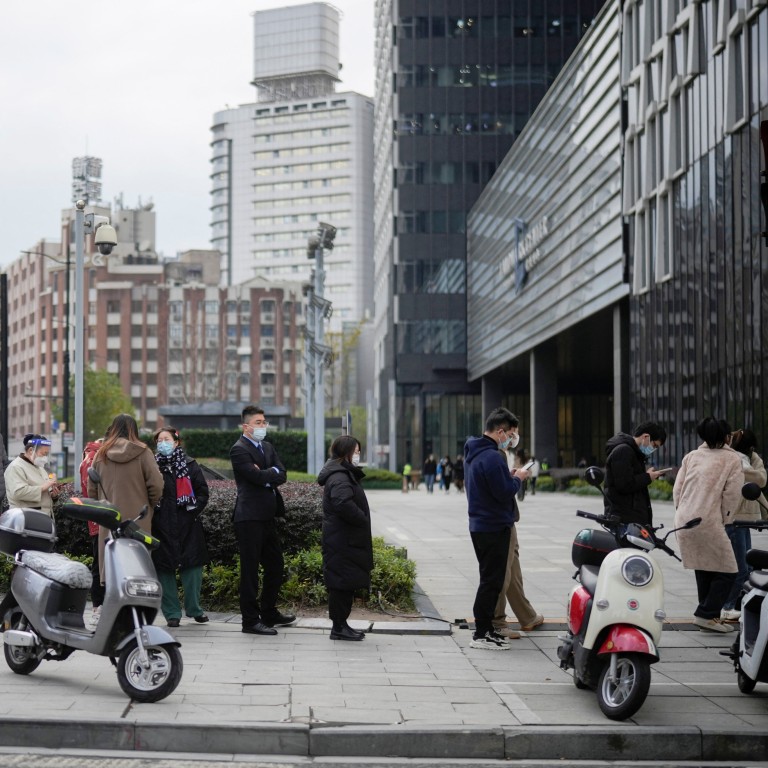 Hong Kong stocks snap rally as analysts warn of 'zigzags' in China economy, reopening exuberance
Local stocks halted a rally as analysts caution about deepening slowdown in China's economy amid reopening pressure
Tech bellwethers including Alibaba, Tencent and NetEase lead losses as rally over the past month drives prices closer to overbought zone
Hong Kong
stocks
fell, snapping a rally built on an imminent end to Beijing's zero-Covid policy, as some analysts warned China will struggle to balance demand for economic reopening against surging infections and pressure on its healthcare system.
The Hang Seng Index weakened 0.4 per cent to 19,441.18 at the close of Tuesday trading, retreating from a three-month high. The Tech Index declined 1.8 per cent while the Shanghai Composite Index was little changed.
Alibaba Group Holding tumbled 3.9 per cent to HK$89, and Tencent Holdings declined 0.4 per cent to HK$312.80 while NetEase and JD.com retreated 6.5 per cent and 2.7 per cent, respectively. WuXi Biologics and Hansoh Pharma both slumped by 3 to 4.3 per cent.
"Beware of zigzags and roundabouts" in China's reopening, strategists at BCA Research said in a report to clients. "Global and Chinese stocks have positive momentum. However, the rally will be seriously challenged in Q1 2023 as growth conditions continue worsening."
China's economy is likely to
remain murky
for the coming months despite a loosening of coronavirus controls, as the resurgence of infections will impact production and supply chain sectors, analysts said. Government reports showed manufacturing cooled further in November while retail sales soured.
Today's setback followed a powerful rally that helped restore more than US$1 trillion of equity wealth in Hong Kong and mainland stock exchanges since November 11, when Beijing issued a 20-point guideline to soften its zero-Covid regime.
Anti-lockdown protests have also prompted a rethink of its approach, as top-tier cities including Shanghai, Beijing and Guangzhou rolled back curbs.
Almost 200 cities have high-risk districts, covering 75 per cent of China's gross domestic product, Goldman Sachs said in a report on Monday. Mobility metrics such as subway ridership and domestic flights also dropped in the last week of November due to surging coronavirus cases, it added.
Trading in mainland stocks was halted for three minutes this morning as a mark of respect for former President Jiang Zemin, who died last week.
Asian markets were mixed on Tuesday. The Nikkei 225 index in Japan gained 0.2 per cent while benchmarks in South Korea and Australia retreated 1.2 and 0.5 per cent, respectively.