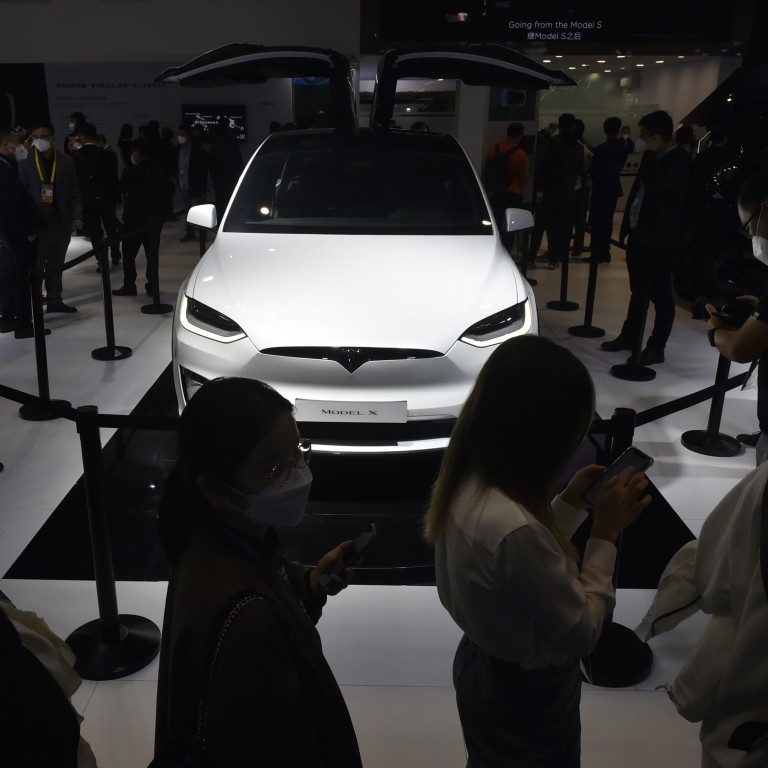 Tesla offers US$859 discount to Chinese buyers to drum up sales amid a slowing economy
Weak sentiment is piling pressure on premium EV companies, industry insider says
Latest discounts come after Tesla's Shanghai Gigafactory delivered a record 100,291 vehicles in November
Tesla
is offering Chinese customers another discount of 6,000 yuan (US$859) to bolster sales of its Shanghai-made vehicles, six weeks after it cut prices by up to 9.4 per cent.
The US carmaker hopes to clear inventory by the year-end and maintain its leading position in mainland China's premium electric vehicle (EV) segment amid a slowing economy and weak demand, according to two Tesla sales managers in Shanghai, who asked not to be identified.
"There are initial signs that middle-class drivers are shunning expensive smart EVs and are buying cheaper models," said Tian Maowei, a sales manager at Yiyou Auto Service in Shanghai. "Weak market sentiment is currently piling the pressure on premium EV companies."
Tesla
slashed the prices of its Shanghai-made Model 3s and Model Ys by up to 9.4 per cent in late October, the first time it offered discounts to mainland customers this year, after it boosted its local production by 30 per cent.
Following the price cuts, the basic editions of the Model 3 and the Model Y are priced below 300,000 yuan and are eligible for a cash subsidy of 11,088 yuan granted by the Chinese government. EVs that cost more than 300,000 yuan do not qualify for the subsidy, which Beijing plans to scrap from January 1, 2023.
The Shanghai municipal government also offers motorists 10,000 yuan if they replace their petrol cars with a new battery-powered car. Tesla offers a 4,000 yuan subsidy to customers if they buy insurance from the company's insurance partners for their Model 3s and Model Ys.
Tesla's Shanghai factory has an annual capacity of about 1 million units. In the first 11 months of this year, the carmaker delivered a total of 655,069 vehicles, a 62.86 per cent increase year on year, according to China Passenger Car Association (CPCA) data.
Coronavirus disruptions and lockdowns last month and earlier this year have adversely affected economic activity in Shanghai and across the country. For instance, China's official manufacturing purchasing managers' index last month fell to 48, its lowest level since April, after remaining below the 50 mark that separates growth from contraction for a second consecutive month.
As a result, some Chinese buyers have cancelled their orders for smart EVs amid concerns about job losses and lower wages, said Yiyou Auto Service's Tian.
BYD, the Shenzhen-based carmaker backed by Warren Buffett's Berkshire Hathaway, is the top beneficiary of this consumption downgrade, with consumers reluctant to splurge because of a slowing economy.
Unlike Tesla and Chinese rivals Nio and Xpeng, which assemble and sell premium cars priced above 300,000 yuan, most of BYD's models are priced between 100,000 yuan and 200,000 yuan.
The carmaker delivered 230,427 pure electric and plug-in hybrid cars in November, an increase of 5.8 per cent over October's 217,816 units, posting a monthly sales record for the ninth consecutive month.