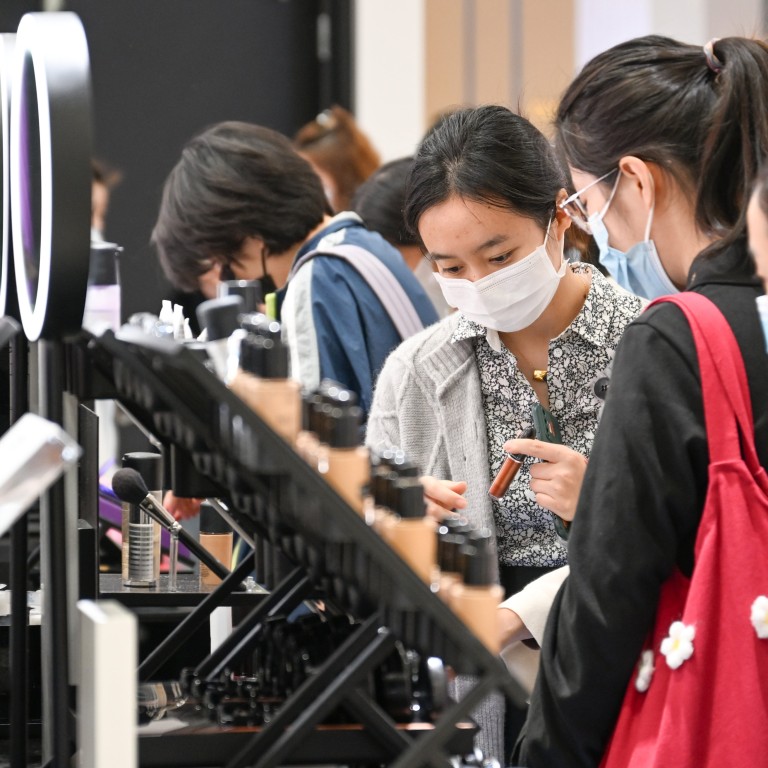 China's Gen-Z consumers prep for flurry of 'revenge' spending, with pent-up demand set to benefit personal-care brands
Consumers will increase purchases of cosmetics and skincare, categories that saw prices decline in the first three quarters of the year, a report says
Personal-care brands will be able to raise retail prices to offset cost inflation, says the report from Bain & Company and Kantar Worldpanel
Makers of personal-care products will be top beneficiaries of China's post-Covid reopening thanks to pent-up demand, according to a joint study by global consultancy Bain & Company and market research firm Kantar Worldpanel.
Members of Gen Z, those born in the mid to late 1990s, will increase purchases of cosmetics in a flurry of "revenge spending", driving retail prices up as mainland health authorities shift their strategy from the zero-Covid policy to
living with the coronavirus
, the study said.
The cosmetics industry, once a bright spot in the mainland's fast-moving consumer goods (FMCG) sector, grappled with falling retail prices in the first three quarters of this year as lockdowns and pandemic restrictions deterred Chinese people from buying items such as L'Oreal's lipsticks, Clinique's moisturisers and SK-II's facial treatment masks.
Average selling prices for skincare products slumped 2.5 per cent, said the study, released on Thursday.
"Those brands were unable to raise [retail] prices even though they were the victims of higher costs amid an inflationary spiral," said Derek Deng, a Bain partner. "Weak buying interest due to the virus-control measures made it difficult to raise prices."
Consumer avoidance of social gatherings hurt the personal-care segment overall. Between January and September, total transaction value tumbled 1.9 per cent after gaining 4 per cent a year earlier, ending a four-year winning streak, the study showed.
The two consultancies provided no absolute numbers on transaction value.
"The reopening will also fuel economic growth and increase middle-class consumers' income, enabling cosmetics brands to raise retail prices to offset cost inflation," he added.
China's cabinet published a
10-point guideline
on Wednesday, pledging to relax pandemic curbs including dropping mass testing, health codes and centralised quarantine requirements for most cases.
The eased virus-prevention measures pave the way for the world's second-biggest economy to exit its three-year-long zero-Covid strategy, under which mass lockdowns and harsh standstill orders severely disrupted manufacturing and commercial activities.
"It will take some time for consumers to adapt to the new environment," said Jason Yu, general manager at Kantar. "There will be some uncertainties in the next one or two months, and a recovery can be expected afterwards."
The overall FMCG sector in China reported a 3.6 per cent year-on-year rise in transaction value during the first three quarters, driven by pandemic stockpiling, according to the study.
Packaged food and home-care products led the growth. Packaged food saw a 7.4 per cent jump in transaction value and a 2.6 per cent rise in average selling prices. Home-care products reported a 6 per cent rise in transaction value and a 0.6 per cent increase in average selling prices.
"China's FMCG market demonstrated some buoyancy in rough waters, signalling there is hope for the months and years ahead," said Bruno Lannes, another Bain partner.