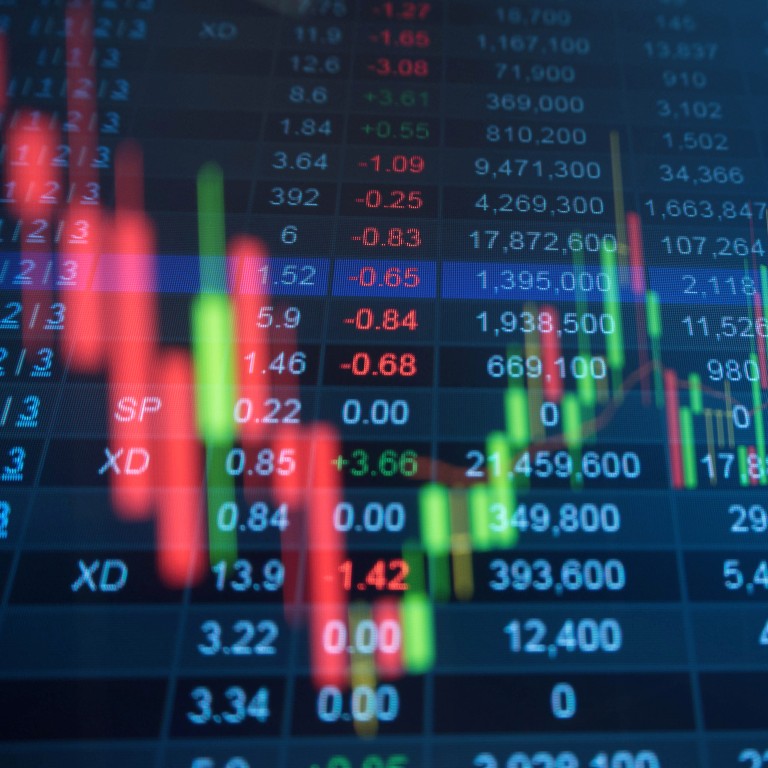 Hong Kong stocks tumble as Fed makes hawkish policy downshift and China's November data trails market consensus
The Federal Reserve says it has a 'ways to go' in fighting inflation, adding that it is premature to expect a rate cut
China's retail sales, industrial production both missed market consensus as slowdown deepened in November
Hong Kong
stocks
fell, halting a two-day advance, after the Federal Reserve stayed hawkish on policy outlook despite slowing its rate increase overnight, saying the central bank has a "ways to go" in fighting inflation. China's November economic data trailed estimates.
The Hang Seng Index dropped 1.6 per cent to 19,368.59 at the close, keeping the market near a three-month high as the city's monetary authority raised its base rate in lockstep with the Fed. The Tech Index slumped 2.4 per cent while the Shanghai Composite Index retreated 0.3 per cent.
Interest rate-sensitive stocks led losses. Country Garden Services slid 1.5 per cent to HK$18.68, and developer Longfor Group fell 0.6 per cent to HK$25.30. HSBC fell 1.8 per cent to HK$47.20, and its subsidiary Hang Seng Bank slipped 0.4 per cent to HK$127.70. Alibaba Group retreated 4 per cent to HK$85.90, and Meituan lost 3.3 per cent to HK$176.80.
The Fed
raised its key rate by 50 basis points
to between 4.25 per cent and 4.5 per cent, ending a string of four successive jumbo hikes of 75 basis points. Chairman Jerome Powell said higher rates are still needed to "fully tame" the worst inflation in four decades and it was "too soon" to talk about cutting rates.
"The comments indicate that there is more work to do on inflation and rates are expected to still move higher and [stay] above their long-term target for longer," said Raf Choudhury, investment director of multi-asset solutions at UK money manager Abrdn in Sydney. "We expect a slump in demand for goods as economic growth contracts as financial conditions tighten even further."
The Hong Kong Monetary Authority (HKMA) also
raised its base rate by 50 basis points to 4.75 per cent
, taking it closer to the all-time high of 5 per cent seen in January 2008. HSBC, the largest among Hong Kong's three currency-issuing banks, became the first lender to
follow suit
, raising its prime rate by a quarter point to a 15-year high.
Elsewhere,
retail sales in China fell
5.9 per cent in November from a year earlier, the statistics bureau said on Thursday, versus consensus forecast for a 4 per cent drop. Industrial production rose 2.2 per cent, slower than the 3.5 per cent forecast.
"China's economy is rolling with the last punches from Covid and getting through tough times," said Bruce Pang, chief economist at Jones Lang LaSalle in Hong Kong. "With a faster pace of relaxation, we expect only a short-lived exit wave and associated disruption on production and consumption in the coming months. Policymakers are expected to prioritise economic growth on all fronts."
Seven companies started trading in Hong Kong and the mainland. In the city, biopharmaceutical firm 3D Medicines surged 26 per cent to HK$31.45, while snack maker Weilong Delicious Global Holdings slipped 5.1 per cent to HK$10.02 and autopart maker Buyang International slumped 40 per cent to HK$0.30.
Mechanical part maker Zhejiang FORE Intelligent Technology jumped 20 per cent to 26.78 yuan in Shenzhen, and Ningbo Sinyuan ZM Technology, which makes casting products, also gained 20 per cent to 41.14 yuan. Fujian Guohang Ocean Shipping sank 7.1 per cent to 4.83 yuan in Beijing, and Beijing Competitor Sports Science Technology, which makes sports nutrition foods, fell 2 per cent to 7.84 yuan.
Other major Asian markets all declined. Japan's Nikkei 225 slipped 0.4 per cent per cent, while South Korea's Kospi retreated 1.6 per cent and Australia's S&P/ASX 200 lost 0.6 per cent.