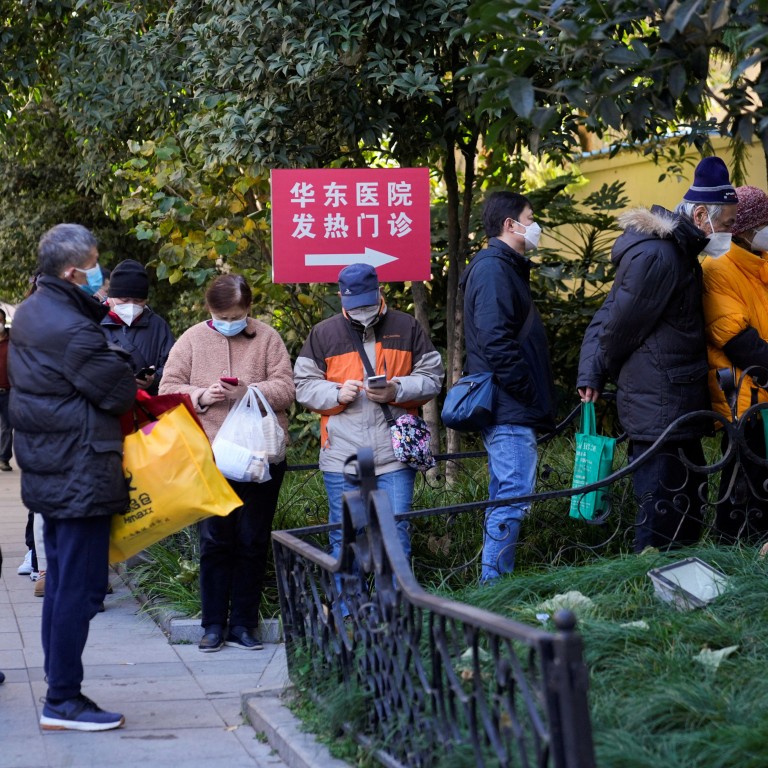 Hong Kong stocks drop to trim weekly gain as surging Covid-19 cases cloud China's growth outlook
Tech majors JD.com, NetEase and Alibaba weighed on the Hang Seng Tech Index
Resilient US economic data stoked fears that the Federal Reserve will continue to raise interest rates to curb inflation
Hong Kong
stocks
fell as concerns mounted that China's unprecedented Covid-19 outbreaks will dent the nation's growth outlook.
The Hang Seng Index dropped 0.4 per cent to 19,593.06 at the close, trimming the gain for the week to 0.7 per cent. The Hang Seng Tech Index lost 2.1 per cent while the Shanghai Composite Index slipped 0.3 per cent. The city's financial markets will be closed on Monday and Tuesday for the Christmas break, while the mainland's markets will be open.
Electric-vehicle maker BYD shed 3.7 per cent to HK$194.10, and JD.com lost 2.1 per cent to HK$227.80. NetEase lost 2 per cent to HK$113.30, and Alibaba Group Holding slipped 1.6 per cent to HK$86.50. Alibaba Health slid 5 per cent to HK$7.09 after posting a loss for the six-month period ended in September.
China's biggest cities, including Beijing and Shanghai, are seeing massive spikes in Covid-19 cases since the nation abruptly ended its pandemic restrictions. Subway passenger numbers in Beijing are about 80 per cent below the same period in 2019, while subway riders in Shanghai have almost halved, according to local media. Shandong and Jiangsu provinces have sent about 500 doctors to the capital city to help ease the strain on the medical system as hospitals are overrun by patients.
Sentiment was also cautious as strong US economic data reignited fears that the Federal Reserve will continue to raise borrowing costs to cool inflation. Initial jobless claims were less than expected for the week ended December 17.
Still, Hong Kong stocks have rebounded more than 30 per cent from a 13-year low set on October 31 after China dismantled its rigid Covid containment policy and rolled out a flurry of measures to reverse a downturn in the property market.
"Stocks will become more volatile against the backdrop of the pandemic and economic uncertainty overseas," said Song Yiwei, an analyst at Bohai Securities. "But the pullback may offer a buying opportunity for those who missed out on the earlier rally."
Six companies started trading in Hong Kong and the mainland. Sipai Health Technology, a medical technology and health management company, jumped 34 per cent to HK$25 in the city, while OrbusNeich Medical Group, a specialist medical-device maker, added 4 per cent to HK$9.15.
In Shanghai, JoulWatt Technology, an integrated-circuit maker, surged 33 per cent to 50.74 yuan, while Jiangsu Leadmicro Nano Technology rose 13 per cent to 27.45 yuan.
Qingdao Thunderobot Technology tumbled 12 per cent to 22 yuan in Beijing, while Hebei Huami New Material Technology slumped 6.3 per cent to 7.50 yuan.
Other major Asian markets all fell. Japan's Nikkei 225 slipped 1 per cent, while South Korea's Kospi retreated 1.8 per cent and Australia's S&P/ASX 200 lost 0.6 per cent.