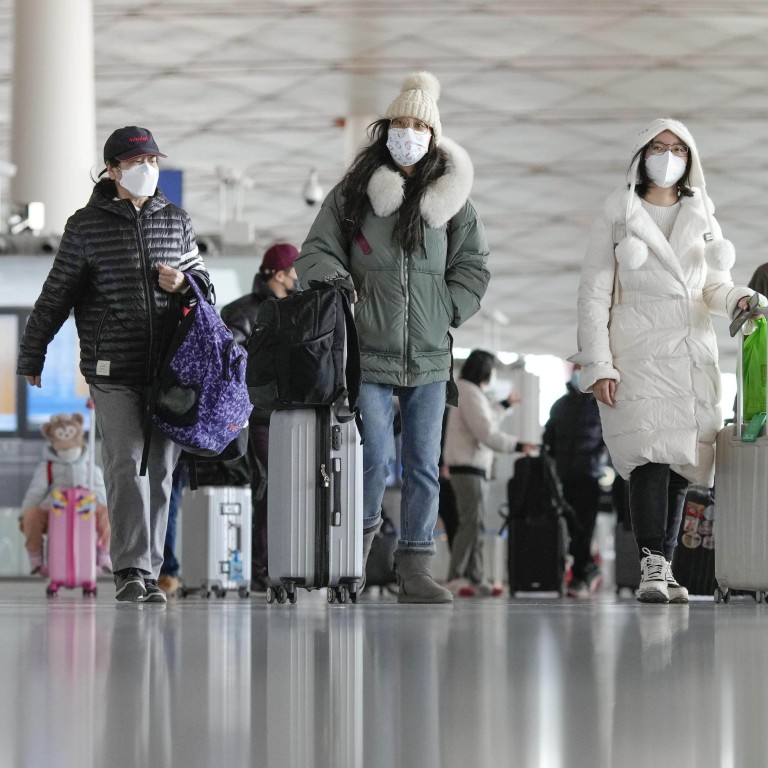 Hong Kong stocks jump as traders catch up with 2 days of onshore gains after China announces end of Covid-19 curbs
Hong Kong stocks matched a rally on mainland China exchanges over the last two days when Hong Kong's bourse was closed
Consumer stocks lead the gains as investors expect the end of pandemic controls to be a catalyst despite surging infections
Hong Kong
stocks
rose on the first day of trading following the Christmas break, as the market played catch-up to reflect gains in onshore markets following China's exit from its rigid Covid-19 restrictions.
The Hang Seng Index climbed 1.6 per cent to 19,898.91 at the close. The Hang Seng Tech Index advanced 2.1 per cent, and the Shanghai Composite Index retreated 0.3 per cent, falling for the first time this week.
Consumer stocks led the gain on the broader market. Hotpot restaurant operator Haidilao advanced 4.8 per cent to HK$22.80, and sportswear brand Li Ning climbed 1.9 per cent to HK$68.90. Alibaba Group Holding added 1.4 per cent to HK$87.70, and Tencent Holdings climbed 1.9 per cent to HK$326.20.
The gain on local stocks was largely in line with a rally on mainland China exchanges over the past two days, which was spurred by the official announcement that the nation will scrap all curbs on international travel and drop its quarantine requirements for arrivals starting January 8.
The mainland's benchmarks from the Shanghai Composite Index to the CSI 300 Index gained 1.6 per cent in the Monday-to-Tuesday period. The Dow Jones Industrial Average added 0.1 per cent overnight as trading resumed.
A consensus view says that China's economy will be back on the growth track early next year after the end of the zero-Covid approach. However, surging infections have already damaged growth, at least in the short term. In the big cities including Beijing and Shanghai, the healthcare system is under immense pressure, and factories have been forced to suspend production.
"In the short term, when the pandemic will peak will decide the market performance," said Wang Chengjin, an analyst at Guosheng Securities. "But in the long run, easing of the pandemic controls is for sure a catalyst for the economy, particularly the consumer sector."
Four companies started trading on the mainland. Shijiazhuang Shangtai Technology, a maker of materials for lithium-ion batteries, jumped by the 44 per cent daily limit to 48.79 yuan in Shenzhen. Suzhou Qingyue Optoelectronics Technology advanced 8.8 per cent to 9.97 yuan in Shanghai. Meanwhile, Hangzhou Ezviz Network lost 12 per cent to 25.25 yuan in Shanghai, and software developer Hangzhou Meideng Technology slumped 14 per cent to 21.50 yuan.
Other major Asian markets all dropped. Japan's Nikkei 225 slipped 0.4 per cent, while South Korea's Kospi retreated 2.2 per cent and Australia's S&P/ASX 200 lost 0.3 per cent.