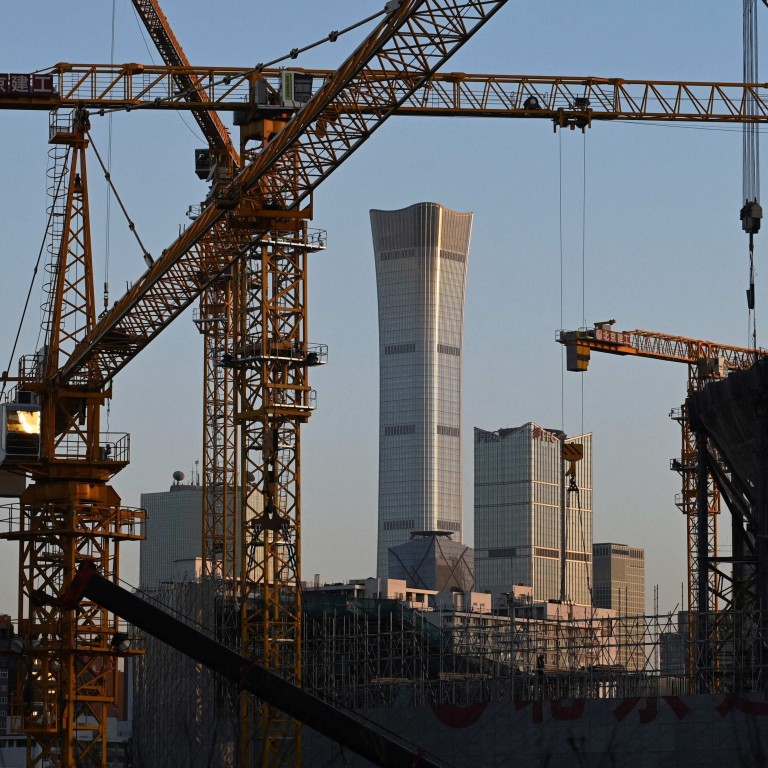 Chinese property stocks rally may soon run out of steam as home sales slump outweighs financing boost
Contracted sales at major Chinese property developers will probably drop by 20 per cent this year, according to CCB International
The rally late last year came after regulators lifted a six-year ban on refinancing, and commercial banks ramped up lending
A rally in the shares of Chinese developers in the last few months of 2022 may soon grind to a halt, as a
further decline in home sales
begins to outweigh a recent financing boost in the minds of investors.
Contracted sales at major Chinese property developers will probably drop by 20 per cent this year, according to CCB International, the investment banking unit of China Construction Bank.
Financially healthy, privately-owned developers are likely to post a 15 per cent annual decline in sales, while
struggling home builders
may see theirs fall by 30 per cent, it said.
Sales at major real estate companies slumped by 47 per cent in 2022, according to CRIC, a data tracker that follows China's property market.
The
bearish prediction
calls into question the longevity of a trade that significantly drove up shares of Chinese developers in the fourth quarter of last year.
Country Garden
jumped 47 per cent in the three-month period and its property management unit, Country Garden Services, surged 68 per cent, making them among the biggest winners on the Hang Seng Index.
Their rally
came after the stock market regulator lifted a six-year ban on refinancing, and commercial banks ramped up lending to ease the industry-wide liquidity crunch.
"Share prices have rebounded with a vengeance since November, pricing in supportive policies, the reopening [of China], and a degree of sales recovery," Lung Siufung, a Hong Kong-based analyst at CCB International, wrote in a research note on Tuesday.
House sales will be disappointing in January and February because of
Covid-19 outbreaks
, but the situation will gradually improve in the second and third quarters, when pent-up demand is unleashed and the government rolls out more supportive measures to bolster the economy and the property market, CCB International predicts.
Property stocks have held onto their gains so far in 2023. Country Garden has risen 8.2 per cent this year, Country Garden Services has advanced 11 per cent and Longfor Group has also climbed 11 per cent, beating the 5.1 per cent gain of the Hang Seng Index.
The resilience of the stocks will help some of the developers to proceed with their stock-sale refinancing plans, which will in turn improve their balance sheets, according to CCB International. At least four developers including Hubei Fuxing Technology and Shimao Group have unveiled stock-placement plans since the refinancing ban was lifted in November.
"We believe the reversion in investor sentiment has been sufficient to reactivate the equity fundraising activities of a handful of [developers] even in the absence of any improvement in fundamentals," said Lung at the brokerage.
CCB International prefers state-owned property developers, such as Greentown China Holdings and Yuexiu Property, which are more capable of withstanding the industry turmoil.
"The trade in property stocks is still driven by policy expectations, and the fundamental recovery will be lagging," said Xie Haoyu, an analyst at Guotai Junan Securities. "But the market focus will soon return to [housing] demand, given the progress made in the financing environment and home deliveries."