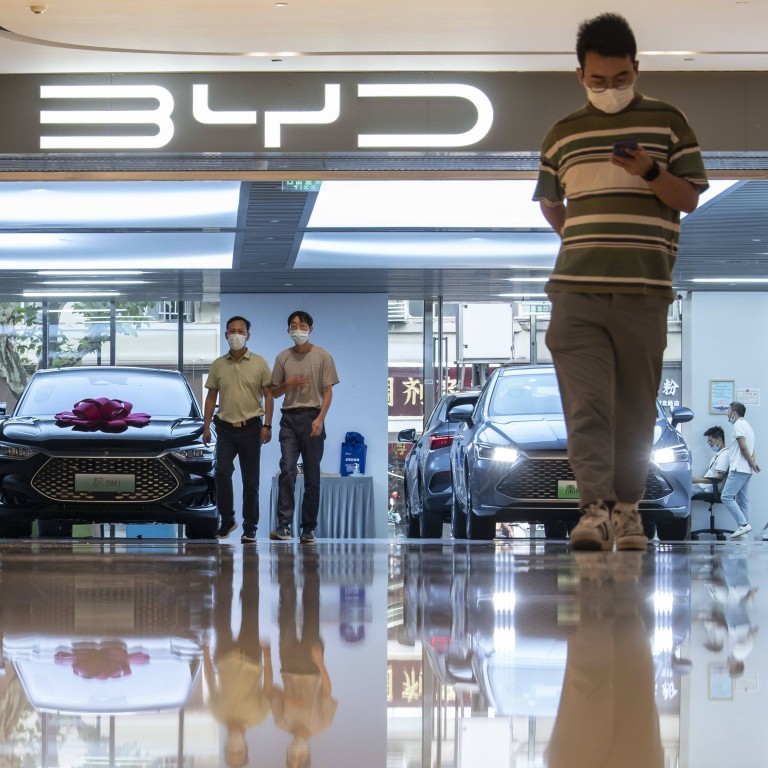 Electric cars: Chinese Tesla rivals stand to benefit as budget-cautious consumers opt for cheaper models in 2023
Domestic carmakers like BYD and Li Auto may become beneficiaries of a 'consumption downgrade', analysts say
'Chinese consumers' fondness for foreign car brands is history,' Guan Mingyu, a partner at McKinsey, says
China's home-grown electric vehicle (EV) brands have a good chance of increasing their market share this year as consumers tighten their purse strings and
opt for less expensive cars
amid a gloomy economic outlook.
Domestic carmakers like
BYD
, already the world's largest EV builder, and start-ups like Li Auto and Leapmotor, will become beneficiaries of a
"consumption downgrade"
as motorists drift down market towards cheaper models, battered by worries about their job prospects and wages, analysts and dealers said.
"A weak economy tips the balance in favour of carmakers assembling mass-market models for drivers," said Tian Maowei, a sales manager at Yiyou Auto Service in Shanghai. "Chinese car builders will see their share of the EV market rise this year."
China, the world's largest automotive and EV market, is expected to report a 30 per cent growth in deliveries of battery-powered vehicles in 2023, down from a 114 per cent year-on-year jump in 2022, according to the China Passenger Car Association (CPCA).
The Texas-based company, which was dethroned by BYD as the world's largest electric carmaker in 2022, slashed the prices of its China-made Model 3 and Model Y vehicles by as much as 13.5 per cent last week in a bid to maintain its market share.
Smart EVs priced below 200,000 yuan (US$29,247) became popular with Chinese consumers when Beijing's zero-Covid strategy ate into companies' profits and therefore employees' incomes last year.
China's automotive sector
has been dominated by foreign marques like Volkswagen and General Motors since the 1980s. The rise of home-grown vehicle builders over the last decade has not been enough to spoil their monopoly completely.
In the first 11 months of 2022, foreign brands still had a 50.8 per cent share of the mainland Chinese car market, according to data from the China Association of Automobile Manufacturers.
It is a very different story in the electric car sector, where Chinese brands enjoyed an 84.7 per cent share in the same period, according to CPCA data.
"Chinese consumers' fondness for foreign car brands is history," said Guan Mingyu, a partner at global consultancy McKinsey. "About half of the consumers in China believe that they do not have to pay more for a foreign-branded electric car because of their high quality and performance. They are rooting for emerging Chinese start-ups that produce smart EVs."
Goldman Sachs said in a research report last week that Shenzhen-based BYD, backed by Warren Buffett's Berkshire Hathaway, will gain market share in the mainland market this year as its products move up the value chain.
Most of BYD's vehicles sell for below 200,000 yuan, and its "blade" lithium iron phosphate battery packs have proved their worth to drivers and car assemblers. The battery cells are arranged in a manner that increases energy density while enhancing resistance to overheating. The blade batteries have also been supplied to Tesla's factory in Berlin.
Goldman Sachs also singled out Li Auto, a Beijing-based smart EV maker, as a rising star in the mainland market.
"We believe Li Auto is differentiating itself from the broader Chinese auto-making industry by envisioning and creating compelling EV consumer experiences – and showing a willingness to take on the risk of unconventional technologies and act innovatively," the report said.