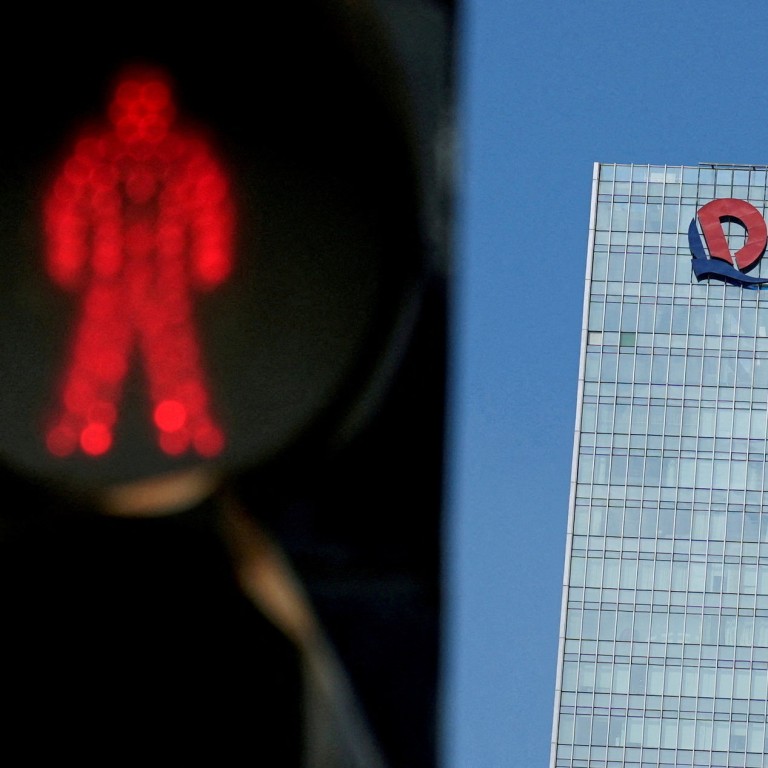 Hong Kong stocks plumb 10-month lows on soaring US Treasury yields with an intensifying China Evergrande crisis adding to the gloom
Troubled property developer China Evergrande slid further after its unit Hengda Real Estate defaulted on a 4 billion yuan ($547 million) principal and interest payment
The 10-year US Treasury yield rose to a 16-year high of 4.56 per cent during Asian trading hours on Tuesday and the US dollar index struck its highest since November
Hong Kong
stocks
slid to a 10-month low pressured by a rising US dollar and higher US Treasury yields, with the already fragile investor sentiment dented further by news that an onshore unit of the debt-stricken China Evergrande Group had missed a bond payment.
The Hang Seng Index fell 1.5 per cent to 17,466.90 at the close, its lowest level since November 28. The benchmark has lost more than 7 per cent in the July-September period, on course for a second consecutive quarterly loss. The Hang Seng Tech Index dropped 1.7 per cent and the Shanghai Composite Index slipped 0.4 per cent.
Chinese sportswear maker Li Ning lost 5.2 per cent to HK$32.05 and electric-vehicle manufacturer BYD shed 3.5 per cent to HK$239.20. Tencent Holdings dropped 1.5 per cent to HK$300 and
e-commerce platform JD.com
retreated 2.7 per cent to HK$112.30, closing at a record low for the second straight day.
Troubled property developer China Evergrande sank 8.1 per cent to HK$0.395 after its subsidiary Hengda Real Estate Group defaulted on a 4 billion yuan ($547.2 million) principal and interest payment due Monday, adding to its 22 per cent slump a day earlier, spurred by the cancellation of planned creditor meetings.
Rising capital costs also hurt sentiment. The yield on the 10-year US Treasury, a benchmark for corporate bonds, increased by as much as 2.86 basis points to a 16-year high of 4.562 per cent during Asian trading hours on Tuesday, and the US dollar index rose to its highest level since November. Higher bond yields and interest rates make equities less appealing, and eat into corporate profitability by raising funding costs, while a stronger US dollar spurs outflows from emerging markets like Asia.
"Global bond yields shift higher on fears that central banks will follow the Fed's lead and keep rates higher over the long-term," said Edward Moya, an analyst at Oanda. "Inflation flare-up risks are growing and that still suggests the Fed might have to do more tightening despite the trajectory of the economy."
Traders kept their positions light ahead of the weeklong Mid-autumn and National Day holidays that start on Friday. Mainland markets will remain shut on Friday and the whole of next week, and traders want to minimise the risk of being unable to trade during the closure. Trading volumes on the Hong Kong market were a quarter below the 30-day average on Tuesday, while those on the Shanghai and Shenzhen exchanges were more than a fifth lower, according to Bloomberg data.
Separately, HSBC cut China's growth forecast for this year to 4.9 per cent from 5.3 per cent in a Monday report, saying that the supportive measures unveiled by Beijing would need time to work through the economy.
Two companies made their trading debuts on Tuesday. Tuhu Car, which provides vehicle maintenance and repair services, rose 5.4 per cent to HK$29.50 in Hong Kong and rubber products maker Jiangsu Keqiang New Material dropped 1.3 per cent to 6.20 yuan in Beijing.
Other major Asian markets were weaker. Japan's Nikkei 225 slipped 1.1 per cent, while South Korea's Kospi retreated 1.3 per cent and Australia's S&P/ASX 200 lost 0.5 per cent.