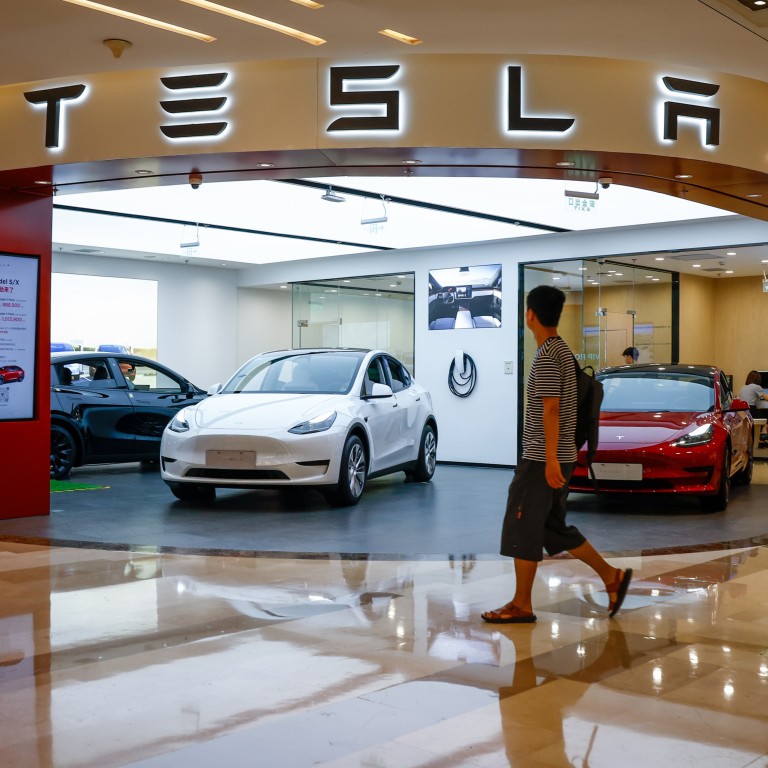 Tesla raises prices of Shanghai-made Model 3, Model Y cars again even as China sales slide
Tesla's deliveries in mainland China fell 34.2 per cent month on month in October, following a 32.8 per cent drop in September, according to CPCA
Analyst says the price increases will push consumers towards Chinese rivals Li Auto, Xpeng and Nio, which continue to post rising sales
Tesla continues to raise prices of its cars in mainland China despite sales in the world's largest electric vehicle (EV) market slipping further in October.
The US carmaker said in a post on Chinese social-media platform Weibo on Tuesday that it was increasing the price of its Shanghai-made Model 3 basic edition by 1,500 yuan (US$206), or 0.6 per cent, to 261,400 yuan. The price of the entry level version of the Model Y has been lifted by 2,500 yuan, or 0.95 per cent, to 266,400 yuan. The price adjustments are effective immediately.
"Some Chinese competitors will benefit from Tesla's price hikes, which are expected to attract some consumers away from Model 3 and Model Y vehicles," said David Zhang, a visiting professor at Huanghe Science and Technology College.
Tesla adjusts the prices of its locally built vehicles regularly based on production costs, according to Grace Tao, Tesla's head of communications and government affairs in China.
Li Auto, Xpeng and Nio, the three top Chinese EV start-ups that make premium battery-powered vehicles, reported rising deliveries in mainland China last month buoyed by their high-performance new models.
Tesla began selling revamped versions of the Shanghai-made Model 3 on October 19, delivering the first batch to mainland buyers a week later.
The US carmaker delivered 378,800 vehicles in China from January to October, an increase of 62.2 per cent year on year, according to CPCA.
The association predicted the country's EV industry would achieve a 50 per cent year-on-year sales growth in 2023, delivering a total of 8.5 million units to mainland Chinese customers.