Energy
Get more with myNEWS
A personalised news feed of stories that matter to you
Learn more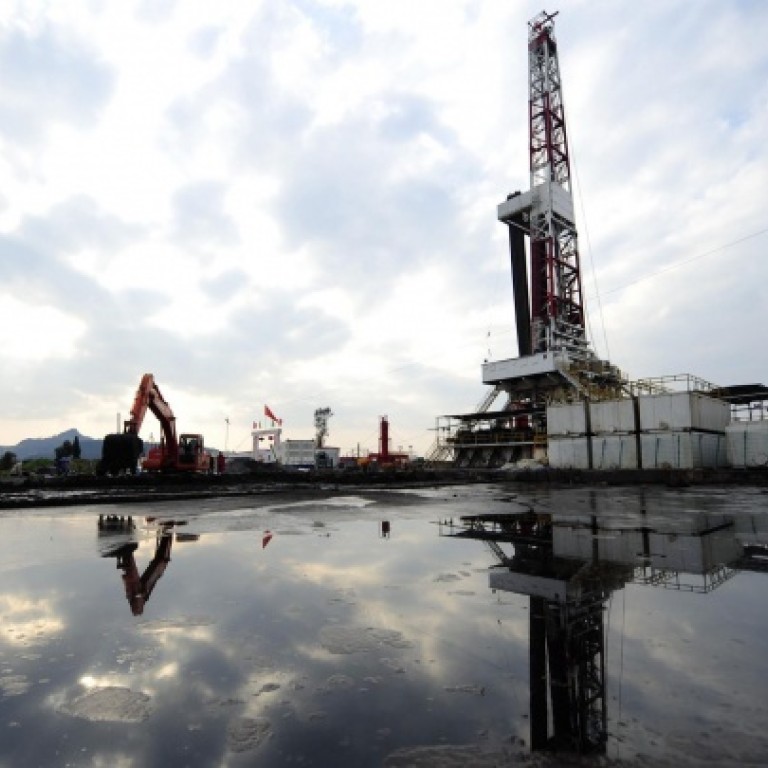 Halliburton eyes opportunities in China's shale gas industry
Financial incentives from Beijing to help companies cope with the challenge of extracting resource embedded in underground rock
Some of the barriers to faster development on the mainland of shale gas - natural gas trapped between shale rocks - can be mitigated by policy incentives, technology, and supply chain management, according to an energy executive.
Lamar Duhon, vice-president of business development in Asia at US-based oil services firm Halliburton, said Beijing's decision to give financial incentives to explorers of shale gas would help them cope with the challenges of exploiting the clean energy resource. The mainland has large shale gas reserves but the industry is in its early stages of development
"Some of these challenges are within the government's control, and the government has signalled a desire to accelerate unconventional energy development, specifically with the Ministry of Finance's operator production incentives," Duhon said in an interview with the last month.
The ministry said last November it would give shale gas producers a subsidy of 40 fen per cubic metre of gas sold. The handout lasts until 2015.
This amounts to 35 per cent of PetroChina's ex-gas-field selling price last year, or 1.13 yuan per cubic metre. The firm produces about 70 per cent of the nation's output of the gas.
Industry executives highlighted a water shortage, a lack of entrepreneurship in the state-dominated industry, a lack of private mining rights, a high population density, and underdeveloped gas pipelines as impediments to shale gas exploitation in China.
Fu Chengyu, chairman of oil and gas firm China Petroleum & Chemical (Sinopec), said in August the shale gas industry would still be in an early stage of development for the next five years.
China has the world's largest recoverable shale gas resources, some 36 trillion cubic metres, according to the US Energy Information Administration (EIA). This is about 50 per cent more than the reserves in the United States, where the world's second-largest recoverable resources of the gas lie.
After overcoming technical challenges, small US firms developed methods to extract natural gas that tightly adhered to underground rock formations. This was achieved by injecting pressurised water and chemicals underground to create fractures, so that the trapped gas was released.
US shale gas output has soared since 2005, and is projected by the EIA to account for 49 per cent of total gas output in 2035, up from 23 per cent in 2010, thanks to the ownership of resource exploitation rights by private land owners and the ease of their trading.
Duhon said some of the challenges facing China, such as water shortages, can be overcome with technology. He said Halliburton had the technology that could cut the amount of water required for fracturing in North America by half.
It can also treat contaminated water so some may be re-used.
Halliburton has worked on conventional projects in China for three decades, and started working with two state-backed firms on hard-to-reach unconventional oil and gas in 2011.
Duhon said experience in North America had shown that each shale gas project had its own geological features that determined cost and whether it would respond well to fracturing.
"Service firms in China's unconventional market that quickly adopt and tailor their technologies … will be able to rapidly gain the scale of work to accelerate the development learning curve and take a leadership position," he added.
Schlumberger, one of Halliburton's rivals, formed a joint venture last year with Anton Oilfield Services Group, a Beijing-based oilfield services provider, to work on mainland projects. Duhon declined to say whether Halliburton would do the same.
"Halliburton understands the various business models in China," he said. "We will evaluate them and use the model that best aligns with our expectations."
This article appeared in the South China Morning Post print edition as: Halliburton eyes mainland shale gas industry growth