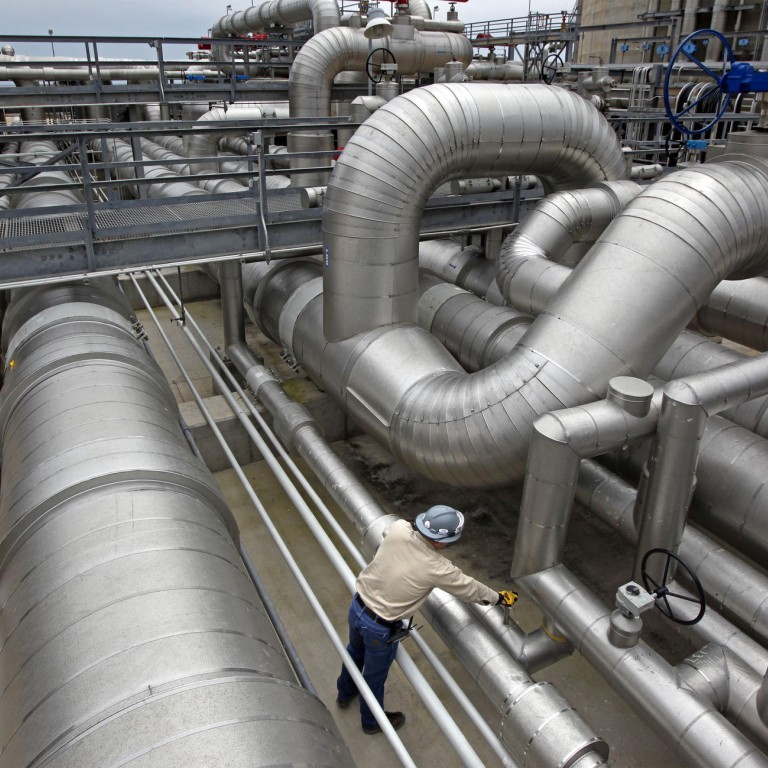 Canadian exports of LNG to Asia seen as enormous opportunity
With liquefied natural gas far cheaper in North America, oil and gas traders and banks expected to pick up lucrative business, forum hears
The huge price differential between Canada and Asia presents opportunities for Canadian exports of liquefied natural gas (LNG), speakers at the Asian Financial Forum in Hong Kong said.
"If Canada exports LNG to Asia, the potential for arbitrage is enormous. The price of gas and oil in Asia is significantly higher than Canada. It's an incredible opportunity for banks," said Kevin Lynch, vice-chairman of BMO Financial Group, a North American financial services firm.
Last year, the natural gas price in North America was US$3.71 per million British thermal units (Btu), much cheaper than the natural gas price of US$16.45 per million Btu in South Korea and Japan, Lynch cited.
The arbitrage opportunities for oil and gas traders leveraging the huge price gap between the two continents would be very lucrative for energy market players around the world.
A Credit Suisse report last year said Asian buyers were paying about US$15 per million Btu on long-term supply contracts with prices partially linked to that of crude oil. After deducting procurement, liquefaction and shipping costs, buyers are paying an "Asian premium" of about US$4 per million Btu, it said.
On July 10 last year, the Chinese government raised the price of natural gas on the mainland to 1.95 yuan (HK$2.48) per cubic metre or US$8.56 per million Btu, reported Xinhua.
From now until 2035, China's energy demand will soar 60 per cent and surpass US demand, Lynch predicted.
At present, there is no Canadian export of LNG to China, said Robert Kwauk, chief Beijing representative of Blake, Cassels & Graydon, a Canadian law firm. Kwauk estimated Canada will begin exporting LNG to China in five years.
Chinese state-owned oil companies including Sinopec, CNOOC and PetroChina are interested in building LNG pipes and gas liquefaction facilities in Canada, said Stephen Wortley, the Hong Kong chairman of Canadian law firm McMillan. Canada will require financing of US$500 billion to transport LNG to the country's west coast, where they will be shipped to Asia.
"Putting pipes in place is one of the largest potential projects in the world," Lynch said.
Plans to build LNG pipelines in Canada for export to Asia have already drawn opposition, similar to the Keystone pipeline controversy in the US which would link Alberta's tar sands to refineries on the Texas Gulf Coast.
In November last year, a protest by dozens of environmental groups took place in Vancouver against the Northern Gateway pipeline proposed by Enbridge, a Canadian energy firm, reported .
The protesters raised the prospect of oil spills from tankers possibly posing an environmental hazard. The 1,200-kilometre pipeline would carry 550,000 barrels of heavy oil a day from Alberta to a port in Kitimat for shipment to Asia. The Canadian government is expected to make its final decision on whether to approve the Northern Gateway pipeline by July, according to Enbridge's website.
At this time, there are eight to 11 LNG projects planned in Canada's west coast for exports of LNG to Asia including China, said Kwauk.
On November 13 last year, CNOOC announced its wholly owned subsidiary Nexen entered into an exclusive agreement with the government of British Columbia, Canada, to examine the viability of constructing an LNG plant and export terminal at Grassy Point in British Columbia.
"LNG export is the most attractive option for maximising the value of our Canadian shale gas business," said Li Fanrong, chief executive of CNOOC.
In May 2012, PetroChina, Shell, Korea Gas and Mitsubishi announced they would jointly develop an LNG export facility near Kitimat, British Columbia. The project might start operation by the end of this decade, and will initially have annual production capacity of 12 million tonnes of LNG.
This article appeared in the South China Morning Post print edition as: Canadian LNG exports to Asia seen as huge opportunity