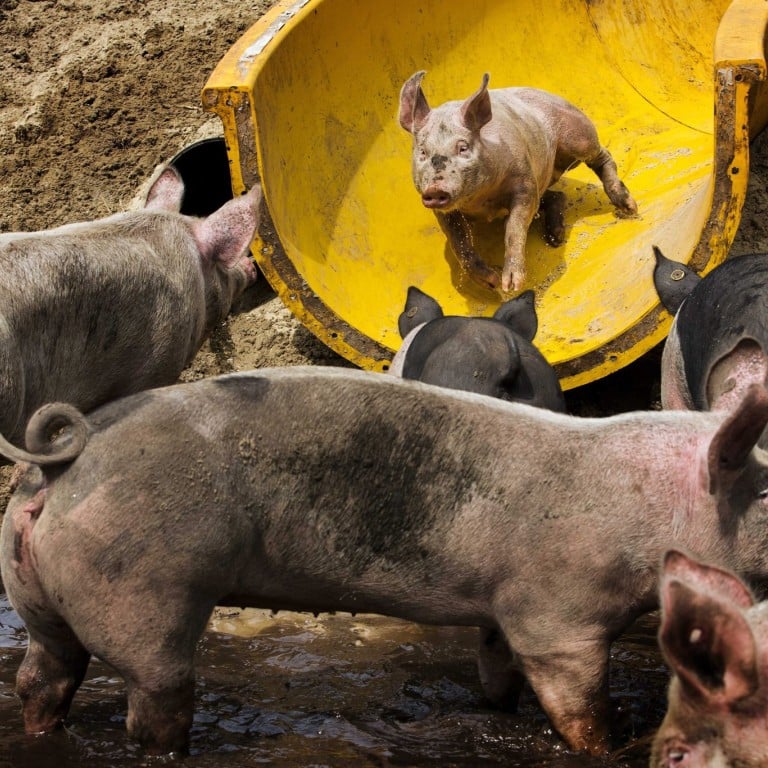 China's demand for meat to change the face of global trade in feed grains
Imports expected to soar 3,500 per cent by 2050, putting huge pressure on global grain supply to provide livestock feed
China's meat imports are predicted to skyrocket over 3,500 per cent to US$150 billion by 2050 as consumption of chicken, pork and beef surges on the back of the rising affluence of its growing middle class.
This would raise tough questions, ranging from the impact on the environment to where to find the feed for that much livestock, analysts said.
The massive increase in China's meat imports was forecast by the Australian government's agricultural research arm, the Australian Bureau of Agriculture and Resources Economics and Sciences.
"The shift from a rice to meat diet has already happened in China. Even small changes in the way China consumes can have a large impact overseas," said Patrick Vizzone, Asia head of food and agribusiness at National Australia Bank.
He said that between now and 2050, China would represent more than 40 per cent of the increase in world food demand.
For instance, if China switched just 2 per cent of its pork consumption to imports, this would equal 10 per cent of the US market and three times Australia's pork production, Vizzone said.
"Ripples emanating from China appear like a tsunami overseas," he said.
A report by the US Department of Agriculture's Economic Research Service tracked the explosive growth in China's demand for meat.
China produces nearly all of its own meat. Its output of pork, poultry, and beef rose from about 20 million tonnes in 1986 to more than 70 million tonnes in 2012, with the fastest growth from the 1980s into the early '90s, the USDA report said.
It said the USDA was projecting an increase in China's pork, poultry, and beef output to 90 million tonnes by 2023/24, an increase of about 30 per cent.
"Since about 3kg of feed are needed to produce each kilogram of meat, feeding a large and increasing population of animals will be a growing challenge", it said, with serious implications for the trading of grains such as corn and soya beans used to feed livestock.
The USDA report said China's soya bean imports were expected to reach over 70 per cent of the global total by 2023/24, while China's corn imports were projected to rise to 22 million tonnes by then.
China is expected to account for 40 per cent of the rise in the global corn trade over the coming decade, and the report said the USDA expected China to become the leading importer of corn by 2023/24.
The country's increased appetite for meat was seen last year when its biggest pork producer, Shuanghui International (now known as WH Group), acquired US pig producer Smithfield Foods for US$4.7 billion.
China's massive livestock production had depleted its water resources and increased its pollution from animal manure, said the Institute for Agriculture and Trade Policy, a US think tank.
"The Shuanghui-Smithfield deal from an environmental perspective is a trade of water for waste. Increased Smithfield exports to China translate into more water polluted in the US. This externalising of environmental and other negative impacts of livestock production has been one key reason to shift Chinese policy towards greater imports," the institute said.
The USDA report said: "China's livestock sector is under pressure from rising costs, disease, environmental regulations and resource constraints. China's meat imports could rise even further if production cannot sustain its current pace of growth, shifting from feed ingredient imports to meat imports."
It was becoming more expensive to produce agricultural products in China, which made imports more competitive, Vizzone said.
"This will drive outbound mergers and acquisitions."
China Investment Corp, the country's US$480 billion sovereign wealth fund, was looking to invest in overseas agricultural businesses, the reported on April 30.
So far, Chinese investments in Australian agriculture had reached a total of A$1.5 billion (HK$10.9 billion) in major announced deals, Vizzone said.
"For every large announced deal, we have multiple more deals in discussion or in the pipeline. The sector we're seeing the most interest in is beef," he said.
China accounted for 3 per cent of Australia's beef exports in 2012, which soared to 20 per cent by the end of last year.
"We're seeing a huge amount of interest from strategic investors from China and other countries in the Australian beef industry, looking to leverage this trend," Vizzone said.
"Consumption of ruminant meats like beef and mutton was traditionally concentrated in regions of western China where grasslands were abundant," the USDA said.
"As the broader population gains a taste for these meats, supply is falling behind demand, and prices are soaring."
"Imports of beef have grown sharply since 2010 and are expected to rise to over 750,000 tonnes by 2023/24."
The implications are staggering, and not just for the livestock sector. Grain markets stood to be affected the most, and pressure on the environment and already thin arable land would become more intense, analysts said.
"China's announcement [in February] to relinquish its historic grain self-sufficiency policy signals a major boost to the country's meat, dairy and feed sectors as Chinese companies go global. China's transition to an industrial, resource-intensive model of livestock production could have major implications around the world, impacting farmers, public health and the environment," the IATP said.
"China has become a critical actor in the global industrial meat complex that carries significant weight for global grain and meat production," said Shefali Sharma, the IATP's director of agricultural commodities and globalisation.
This article appeared in the South China Morning Post print edition as: China's meat demand a game changer