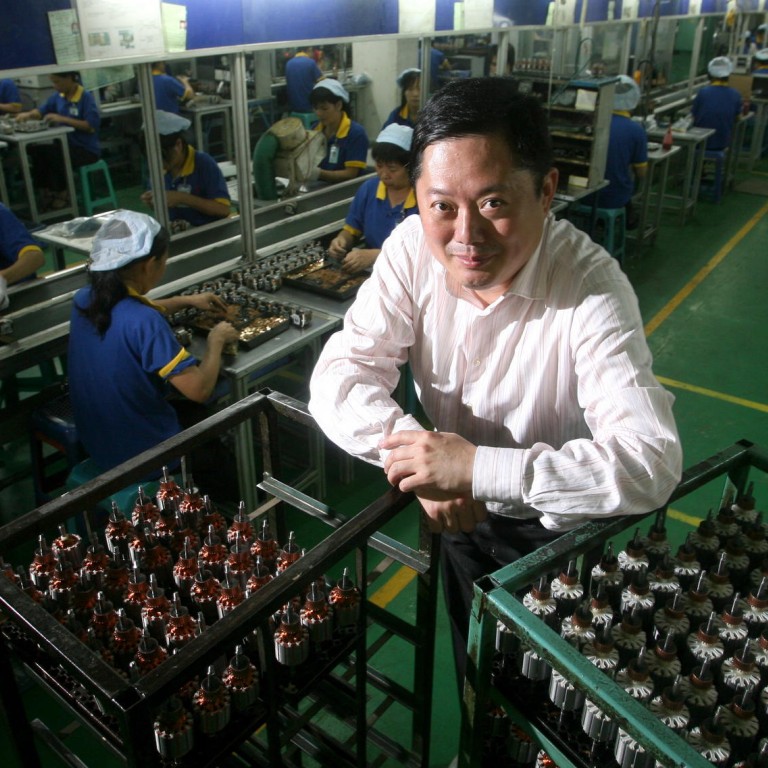 Efforts to revive Dongguan factories may be too little, too late
Dongguan factories are facing a bleak future with rising wages and lack of product innovation
When Yu Yongsan bit the bullet and plunged 1 million yuan (HK$1.27 million) into automating production in his small electronics manufacturing business, he hoped the move would keep his prices competitive and move the firm up the value chain.
Five years later, Hengjia Electronics has a workforce a third of its original size processing orders barely a tenth of the size they used to be. And his wage bill keeps rising. Yu is struggling to survive in the fast changing world of mainland export manufacturing.
Yu made the automation move when his factory, which makes connectors for phones and computers, was churning out 500,000 such products a month. "Now in good times we [deliver] 30,000 to 50,000 in a month," Yu told the during a visit to his factory in the southern Chinese city of Dongguan.
Once the undisputed capital of mainland export manufacturing, Dongguan and its companies are struggling to come to terms with a rapidly changing business environment - both in terms of technology and exports versus domestic orders. And all while annual wage costs rise at a double digit pace.
"I've hired the least people possible to keep the factory functioning, but as labour costs keep rising, the profits we make are not enough to pay workers' salaries," Yu said.
The global boom in electronics and mobile commerce has clearly taken its toll on Yu's business. Rarely do landline telephones and computers physically connect these days.
The loss of business momentum is deeply troubling in Dongguan, which last year generated economic output of 588.1 billion yuan - roughly the size of the economy of Ecuador - and where growth has averaged 11.7 per cent a year in the past decade.
Many bosses say their biggest obstacle to survival is the rising cost of labour.
Yu started his business in 2006 when a worker's monthly salary was the equivalent of less than US$100 a month. He says it is now more like US$650 - cheap compared to developed economies, but 10 times that of the average US$68 a month paid in Bangladesh, one of the many places to which mainland manufacturing jobs are moving.
Automation is seen by government planners as the answer.
The provincial government in Guangdong - home to the electronics manufacturing heart where Dongguan sits - earlier this year unveiled plans to invest 953 billion yuan over three years to boost automation.
Business owners aren't quite so confident.
Taiwan-born Yeh Cheun-rong, a veteran business owner in Dongguan and the former director of the city's Taiwan Business Association, says the initiative is coming far too late.
"Manufacturers that can use automation have already done so. Entrepreneurs definitely think ahead of the government. If their manufacturing process can be automated, they long ago adopted automation. But lots of production cannot be done by machines or robots," Yeh said.
Others point out that government subsidies rarely benefit the small, private sector manufacturers that proliferate in Dongguan - city officials say 99 per cent of all firms based there are small and medium sized enterprises (SMEs) - but rather stay concentrated in the hands of state-owned enterprises.
And that makes investing in automation when orders are dropping even less appealing.
"When you have a great number of orders, you would definitely consider buying automation equipment. But when you don't have many orders, automation is just too expensive and many factories have to close down," Simon Shi Kai-biu, the former president of Hong Kong SMEs Association in Dongguan, told the .
Professor Lin Jiang of Guangdong's Sun Yat-Sen University, who has served as an economic adviser to the Dongguan city government, says paying subsidies to replace people with machines to make the same products misses the point.
What's needed is innovation, not replication.
"Orders in Dongguan have been mainly from outside China. The research and design of the products has already been done," Lin said.
Businesses built on assembly line repetition have left Dongguan manufacturers weak in research and development (R&D), product design, marketing and innovation - enormous obstacles when trying to break into in an increasingly demanding domestic consumer market.
"For the domestic market, it's about innovation and an understanding of the consumer culture. Manufacturers have to understand the market expectations and then design and develop products, get market reaction and improve again, which is totally different from filling foreign orders," Lin said. "Manufacturers in Dongguan have never had to understand the market."
Hengjia Electronics' Yu is a case in point. He says he'd never consider turning to the domestic market - despite its huge potential.
"We'd need to hire people specialising in the Chinese market and we'd have to invest huge amounts of money in product design and marketing. I don't want to invest, especially when I don't see where my factory's future is," Yu said.
A dramatic shift in the structure of enterprises in Dongguan over the last decade has added another layer of difficulty.
Businesses owned by entrepreneurs from Hong Kong and Taiwan made up just 11 per cent of Dongguan enterprises in 2013. They were more than 45 per cent 10 years ago. Chinese enterprises made up nearly 85 per cent in 2013.
"Now that foreign companies have left, there are suddenly no models to emulate," Lin said.
That point speaks to a fundamental problem in the mainland economy; the lack of protection for intellectual property rights.
"Our products are not very innovative and we are just copying others. And even if we had an innovation, it would be quickly copied by others," said Peng Yue, factory owner making digital clocks and fingerprint scanners.
Peng says mainland manufacturing will not go far without innovation, before adding: "I lack the funds and talent that can help us innovate."
What appears to be left is a price-cutting rush to the bottom. Fewer foreign orders and narrowing profit margins have seen businesses in Dongguan engaged in a brutal price war - with inevitable consequences for quality.
"The selling price is so low that we can't make good products at that price. We have to use [lower quality] materials and the products are really terrible now," said Yu.
Taiwan veteran Yeh echoes the point.
"Now we have some factories that sell defective products all because the current price is not enough [to make good ones]. But under no circumstances would manufacturers survive by making those products," he said.
This article appeared in the South China Morning Post print edition as: Too little, too late