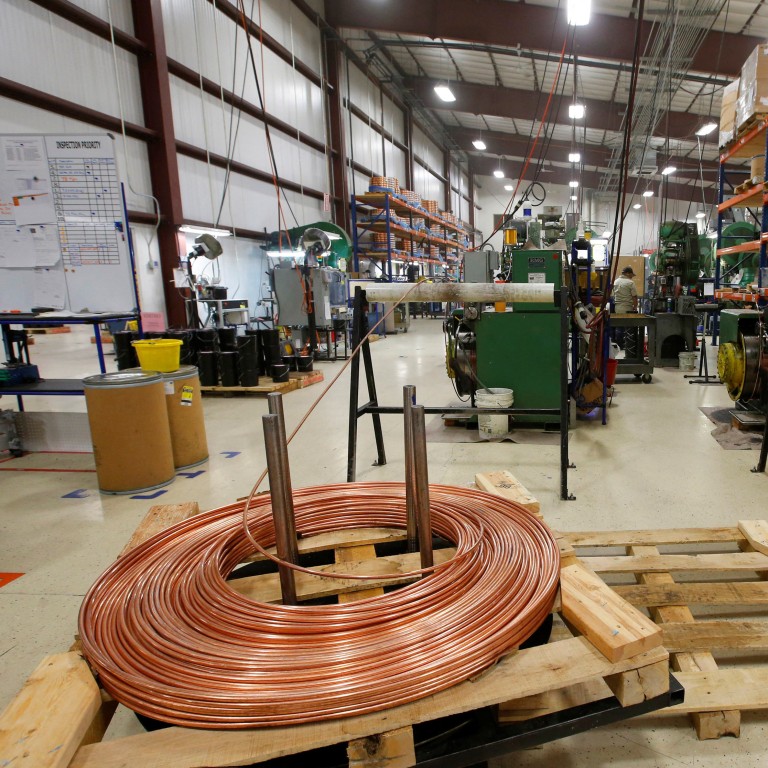 Copper sell-off deepens amid mounting concerns of a worldwide recession, dropping below US$7,000 for the first time since 2020
Copper's price fell below US$7,000 a ton for the first time since November 2020
That capped the 35 per cent decline from the all-time high it touched just four months ago over Russia's invasion of Ukraine
Copper, a darling of the global economic recovery from the pandemic, tumbled to its lowest level in 20 months as fears of a worldwide recession continued to mount, damping the outlook for demand of the metal used in everything from automobiles to homes to iPhones.
The red metal dropped below US$7,000 a ton for the first time since November 2020, capping a 35 per cent decline from the all-time high it touched just four months ago when investors worried Russia's invasion of Ukraine would further complicate users' ability to obtain copper.
The precipitous decline comes amid ongoing concerns that China, which accounts for half of the world's consumption, won't recover quickly from Covid-related shutdowns and as surging energy costs weigh on Europe's economy and cascading US inflation threatens a recession in the world's largest economy.
"Unfortunately, right now trying to locate a hard bottom in copper is proving to be a difficult task," Phil Streible, chief market strategist for Blue Line Futures, said by phone. "China, rates, recession fears and supply chain issues are still there. The dominoes are falling."
Copper traded on the
London Metal Exchange
is down more than 25 per cent this year and is on pace for its biggest annual decline since 2008, the height of the financial crisis. Goldman Sachs this week forecast the metal to trade at US$6,700 a ton in the next three months, a 22 per cent downgrade from its previous outlook, saying the surging US dollar will remain a headwind to copper until macroeconomic risks subside.
The decline is part of a broader sell-off in industrial metals. An index of the six metals traded on the LME, including aluminium, copper, zinc, nickel, tin and lead, is down 23 per cent this year. Benchmark steel prices in the US have dropped more than 36 per cent, while iron ore has declined 19 per cent.
Mining companies haven't been immune from the fall, with copper producer Freeport-McMoRan dropping about 40 per cent this year. Goldman Sachs warned that rising costs are also making about 300,000 tons of global copper mine capacity unprofitable. Capacity that was profitable at US$6,270 a ton a year ago, now won't be profitable at US$7,500 a ton.