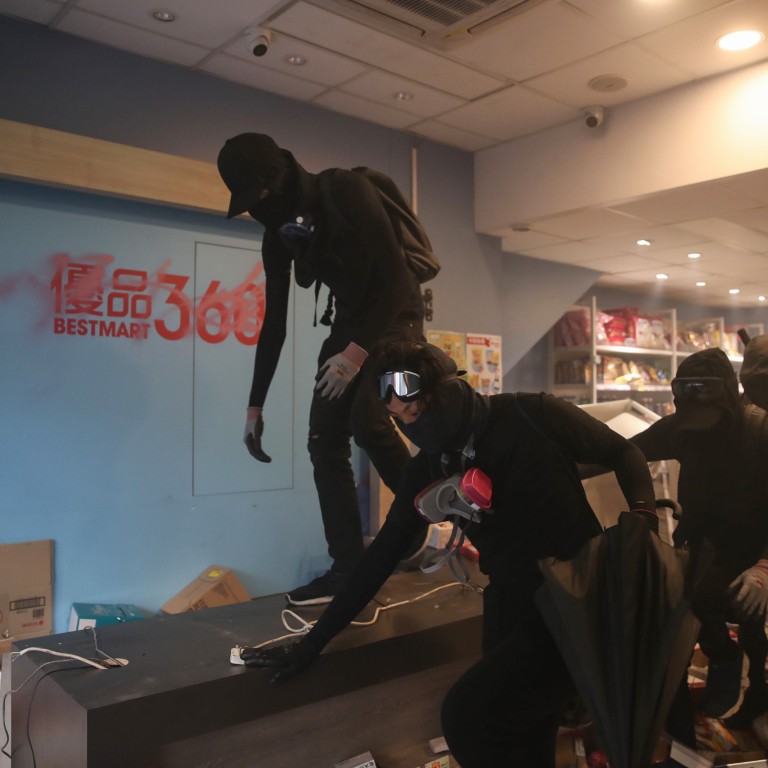 China Merchants may take control of Best Mart 360, a snack retailer frequently vandalised during 2019 Hong Kong protests
Controlling shareholders Lin Tsz-fung and Hui Ngai-fan are looking to sell a 49 per cent stake to the state-owned conglomerate
Best Mart's shops became the target of radical anti-government protesters who accused it of having ties to gangs that had clashed with demonstrators
Best Mart 360 Holdings, the Hong Kong snacks vendor which became a regular
target of vandalism
by anti-government protesters in 2019, could see control of the company transferred to a Chinese state-backed conglomerate. The stock surged by the most since its listing day in 2019.
Controlling shareholders and co-founders Lin Tsz-fung and Hui Ngai-fan have signed a preliminary agreement to sell a combined 490 million shares – representing a 49 per cent stake worth HK$1.3 billion (US$165.4 million) – to
China Merchants
Hoi Tung Trading.
"The possible transaction is subject to further negotiation and execution of a definitive sale and purchase agreement among the parties," Best Mart said in a filing to the Hong Kong stock exchange late on Wednesday. No prices or other terms were mentioned.
Lin and Hui each owns 37.5 per cent of Best Mart and the sale would reduce their combined ownership to 26 per cent. Its shares jumped 31 per cent to HK$$2.65 on Thursday, the most since a 43 per cent surge on its listing day in January 2019. The rally added HK$630 million to its market value.
Founded in 1872, China Merchants Group is one of the nation's biggest and oldest state-owned conglomerates.
Headquartered in Hong Kong, it is a major ports investor, developer and operator in China and overseas. It is the world's largest ports operator in terms of total cargo throughput.
It also has investments in the logistics, tollways, banking, insurance, property development and trading sectors, among others.
The retailer said at the time it would expand to mainland China to reduce its reliance on the Hong Kong market.
Its shares closed 4.7 per cent lower on Wednesday at HK$2.02, giving it a market capitalisation of HK$2 billion.