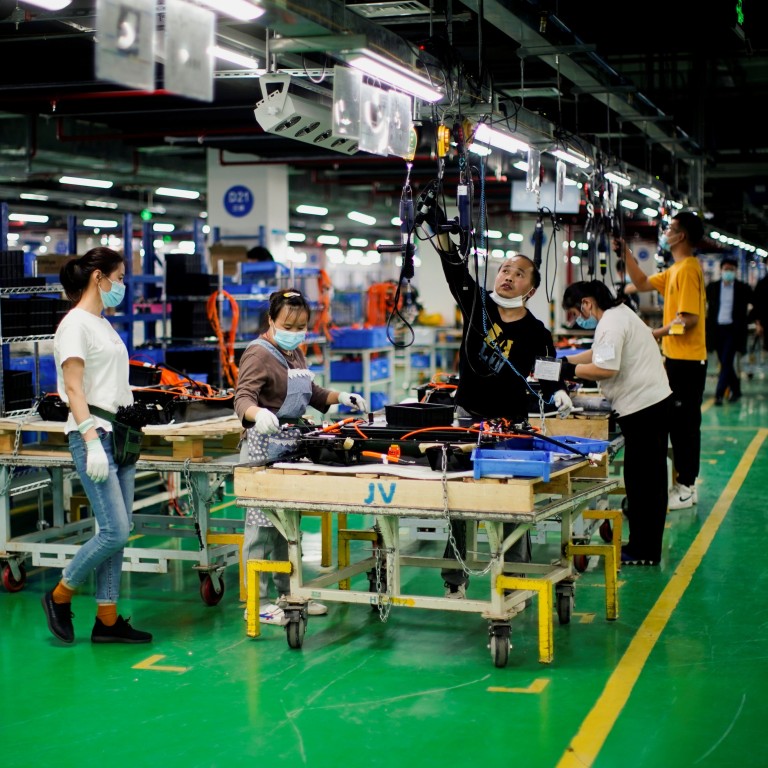 Higher electric-car prices unlikely to deter demand even as battery suppliers pass on costs to maintain profitability, Fitch says
Rising costs of key raw materials, such as lithium and nickel, have put pressure on the profitability of EV battery suppliers since the second quarter
Battery prices in China have risen between 20 and 30 per cent in the second quarter, forcing EV makers to pass on the burden to consumers
The prices of
electric vehicles
(EV) are forecast to rise over the next two years as battery suppliers pass on the rising costs of raw materials to carmakers to maintain profit margins, according to a report by Fitch Ratings.
However, the higher sticker prices are unlikely to hurt demand, as sales will continue to expand under the transition to vehicle electrification as part of the global commitment to reduce carbon dioxide emissions to fight
climate change
, the report added.
Since the second quarter of this year, rapidly growing costs of essential
raw materials
, such as lithium and nickel, have put pressure on the profitability of EV battery suppliers because of the supply-demand imbalance along the battery value chain, Fitch analysts Cathy Chao and Jing Yang said in a report on Monday.
"We expect profitability at leading producers to continue to recover after negotiating pass-through mechanisms to transfer higher costs to automakers," they wrote.
The spot prices of battery-grade lithium have risen from below US$20 per kilogram in the third quarter last year to nearly US$80 per kg in the second quarter because of surging demand for lithium carbonate fuelled by stronger-than-expected global EV sales and a lag in supply due to mining underinvestment, according to Fitch.
Lithium prices are expected to remain high at around US$65 to US$70 per kg till the first quarter of next year, according to London-based commodities consultancy CRU Group.
The cost inflation has driven Asia's EV battery makers, including Korean suppliers LGES and Samsung, to adjust prices and undertake more frequent price negotiations to pass the costs on to carmakers to increase their profit margins, Fitch said.
In China, EV battery prices were 20 to 30 per cent higher year on year in the second quarter, leading to a few rounds of price increases by manufacturers this year.
"The cost pass-through will reverse the trend of falling lithium-ion battery prices over the past decade, but higher prices should not significantly hurt demand," the Fitch analysts said.
According to the International Energy Agency (IEA), in order for the world to achieve net-zero emissions by 2050, electric cars should account for over 60 per cent of overall sales globally by 2030.
China, the world's largest car market, has plans to become carbon neutral by 2060. The China Passenger Car Association estimated this month that
EV sales
in China could reach 6 million units this year as demand for cleaner cars rises.
Fitch forecast that global demand for electric car batteries will grow at 23 per cent a year, reaching 2.7 terawatt-hours by 2030, as more consumers adopt EVs. Global EV sales are expected to exceed 34 million units by 2030, growing at an annual compound rate of 20 per cent from 2021 to account for 28 per cent of the overall market.
China is likely to remain the largest EV market, with a 33 per cent share of global electric car sales, followed by the EU and US, according to Fitch.
"Weak economic conditions, inflationary pressure and supply-side constraints could pressure overall passenger vehicle retail sales in the near term, but strategic moves by traditional auto manufacturers, high gas prices and consumer responses to supportive regulations should continue to support EV sales growth," the Fitch analysts said.