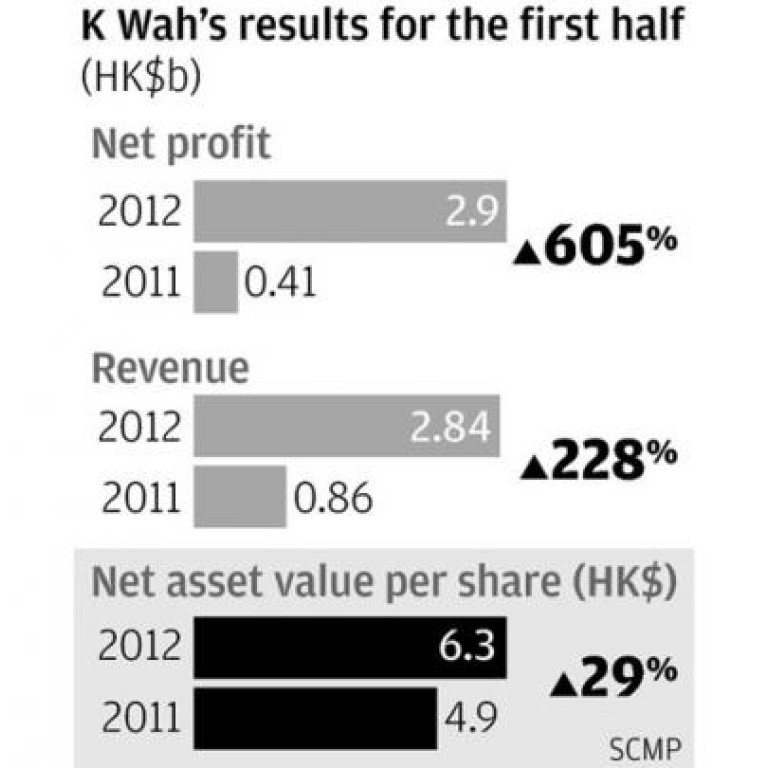 K Wah surges on stellar results
Shares in the property developer gain almost 10 per cent after it announces an interim net profit of 2.89 billion yuan
Shares in K Wah International surged almost 10 per cent yesterday after the property developer stunned the market with a seven-fold increase in interim net profit, from 411 million yuan (HK$502.86 million) to 2.89 billion yuan.
Shares in the listed property investment arm of the privately owned conglomerate K Wah Group rose 9.9 per cent to close at HK$3.33 after the result announcement for the six months ended June 30.
"As we are a medium-sized developer, our supply of flats will vary. It is difficult to make a forecast," chairman Lui Che-woo said. "But I think our performance will be good in the second half."
The developer generated revenues of HK$3 billion from contracted sales of four new projects in the first half. Three of the projects - The Coronation, in West Kowloon; and Providence Bay and Providence Peak, in Tai Po - are scheduled for completion in the second half and ready to make contributions.
Herbert Hui, K Wah International director of corporate finance, said most of the flats at The Coronation and half of those at Providence Bay had been sold.
There is a widespread expectation in the market that the government may release more measures to curb property demand and price growth, but Lui believed that whatever measures might be introduced would have a limited impact on the company. "We recently bought a site in Tseung Kwan O for HK$1.69 billion and we will continue to buy prime sites in Hong Kong."
In its result announcement, K Wah International said turnover surged 228 per cent to HK$2.84 billion. It proposed to declare an interim dividend of 5 HK cents a share, up from 2 HK cents a share in the same period last year.
The main driver of the rise in both net profit and sales, it said, was strong sales at its Shanghai development The Legend, which contributed to total mainland sales revenues of HK$2.31 billion in the first half, compared with HK$37.92 million a year ago. Its revenue from projects in Hong Kong dropped to HK$352 million from HK$671 million.
The developer has a total gross floor area of 300,000 square metres ready for sale in the second half and next year. It will launch five projects in Hong Kong and on the mainland.
Meanwhile, Century City International Holdings posted an interim net profit of more than HK$1.13 billion, up 3.6 per cent compared with the same period last year. It declared an interim dividend of 55 HK cents, up 10 per cent from 50 HK cents last year.
Its subsidiary Paliburg Holdings, a property development and investment company in Hong Kong and on the mainland, recorded a 21.2 per cent rise in net profit from HK$1.83 billion to HK$2.22 billion for the first six months. Paliburg said it would seek new acquisition opportunities to expand its property portfolio in Hong Kong and was negotiating some projects in prime mainland cities.
Paliburg plans to reward shareholders with an interim dividend of 2 HK cents.
This article appeared in the South China Morning Post print edition as: K Wah surges on stellar results