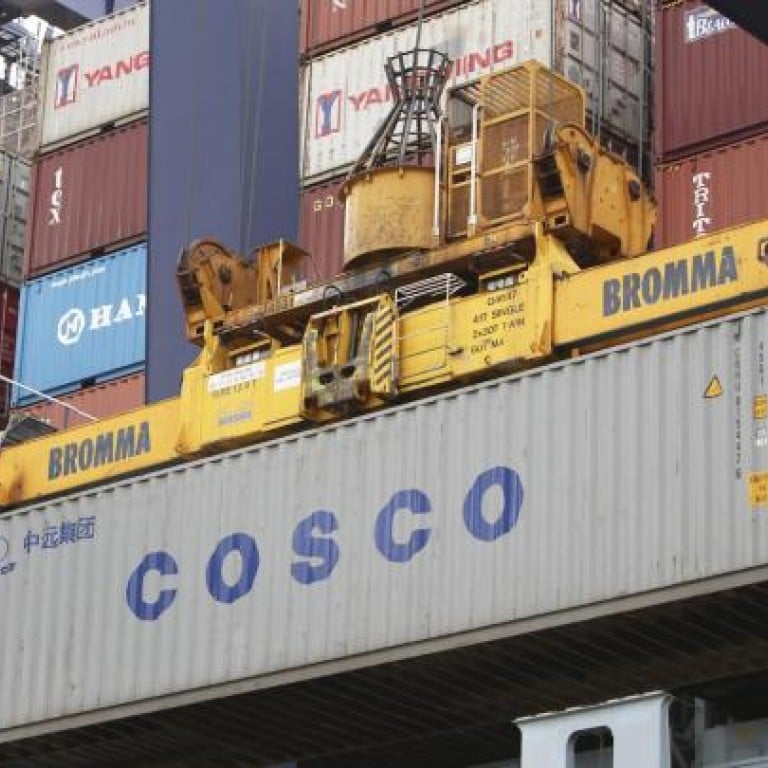 Euro debt crisis takes toll on China Cosco results
Losses grow by more than 76 per cent as overcapacity and slow recovery hit bottom line
China Cosco, the listed arm of the mainland's biggest shipping company, reported a first-half net loss of 4.87 billion yuan (HK$5.95 billion) late last night, 76.7 per cent higher than in the same period a year earlier.
It came as no surprise, since the company warned a month ago that its net loss would widen to more than 4.14 billion yuan. During the first six months, revenue reached 42.56 billion yuan, up 1.3 per cent from 42 billion yuan a year earlier. China Cosco, which controls the dry bulk, container shipping and terminals operations of China Ocean Shipping, had already reported a net loss of 2.69 billion yuan for the first quarter.
The company said its container shipping business, which contributed 23.1 billion yuan in revenue in the first half, was hindered by the slow recovery of the global economy and the spread of the European debt crisis. "The global demand for container shipping was moderate in the first half of 2012," it said in a filing with the Hong Kong stock exchange.
Cosco said excessive shipping capacity was also putting pressure on the market.
"The capacity of major routes has increased significantly due to the delivery of new vessels, reduction in idle capacity and the replacement of small vessels by bigger ones," it said.
The company's operating fleet comprised 166 container vessels by the end of June, representing an increase of 16.8 per cent year on year in terms of total shipping capacity.
Cosco said it planned to adjust its shipping route structure and would improve the allocation of shipping capacity between traditional and emerging markets, speed up the exploitation of emerging markets and explore potential inland sources of cargo through land and river transport to form an effective global transport network.
But, it warned that looking forward, uncertainties such as the sluggish demand for container shipping during the peak season and the euro sovereign debt crisis had led to the weak growth of the global demand for container shipping. Also, it predicted that "the pressure of excessive shipping capacity will remain".
The company did not recommend the payment of an interim dividend.
This article appeared in the South China Morning Post print edition as: Euro debt crisis takes toll on China Cosco results