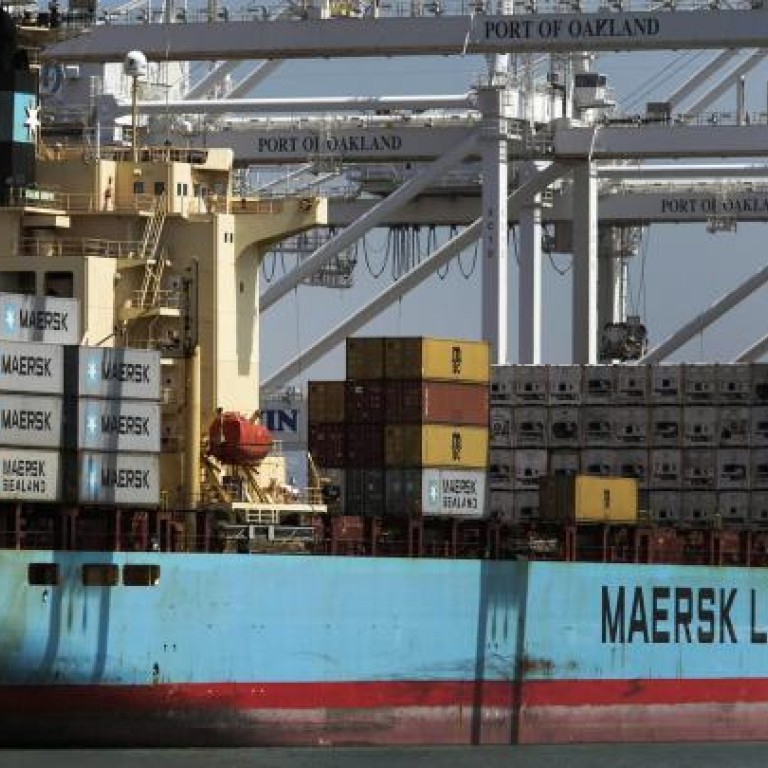 Exporters predicts more increases as Maersk orders higher box charges
Exporters and cargo owners expect more rate hikes as Maersk confirms it will raise its box rates on November 1 on key trade lanes
Exporters and cargo owners will see a further round of freight rate increases in the next two months as container shipping lines continue efforts to boost profitability after one of the worst downturns in the shipping industry.
Maersk Line chief executive Soren Skou confirmed the carrier, the world's largest box shipping line, would increase box rates from November 1 on key trade lanes including Asia-Europe services. Skou did not give details about the level of increase but was confident the increases would be successful. "We'll probably need further rate increases to get revenue up to a sustainable level," he said.
Exporter and manufacturing groups have criticised the level of increases. Sunny Ho Lap-kee, executive director of the Hong Kong Shippers' Council, said shipping costs were rising while export growth and Western consumer demand remained soft.
Ho said: "A general rate increase in November? He (Skou) must have lost his mind. The market is weak and November is the trough."
Other carriers, including the Tung-family controlled Orient Overseas Container Line and Cosco Container Lines, have either confirmed plans to raise rates or are likely to follow Maersk. It would be the sixth or seventh rise in freight rates on the Asia-Europe trade imposed by container lines since the beginning of this year.
OOCL will raise rates by US$250 per 20-foot equivalent unit (teu) from September 10 on shipments from Asia, South Asia and the Middle East to north Europe, the Mediterranean and the Black Sea. Cosco will increase rates by US$400 per teu from September 8 on the same routes.
The spot container freight from Shanghai to Rotterdam is currently about US$1,434 per teu, according to the Shanghai Shipping Exchange. This compares with a rate of about US$500 per teu in early December last year.
Maersk will also cut shipping capacity from China next month around the National Day holidays to reflect what was expected to be the end of the pre-Christmas peak shipping season.
Skou said a further round of "significant" capacity cuts was expected before the end of this year, as the container sector entered the slack winter period.
He gave no indication how much capacity would be cut, but Skou said the carrier reduced total container capacity by 9 to 10 per cent in the first quarter of this year in an effort to maintain freight rates and cut costs.
"As we will be taking capacity out we expect reasonable success" the latest rate increases would be effective, Skou said yesterday during a visit to Hong Kong, Beijing and Shanghai to meet staff and customers.
This comes as container lines have seen a generally weak peak season so far.
Skou said container volumes were very low in June and July, "which is why we say the third quarter will be better" with forecast 4 per cent growth in global box volumes in the third quarter.
This article appeared in the South China Morning Post print edition as: Freight rates continue to rise