SmarTone
Get more with myNEWS
A personalised news feed of stories that matter to you
Learn more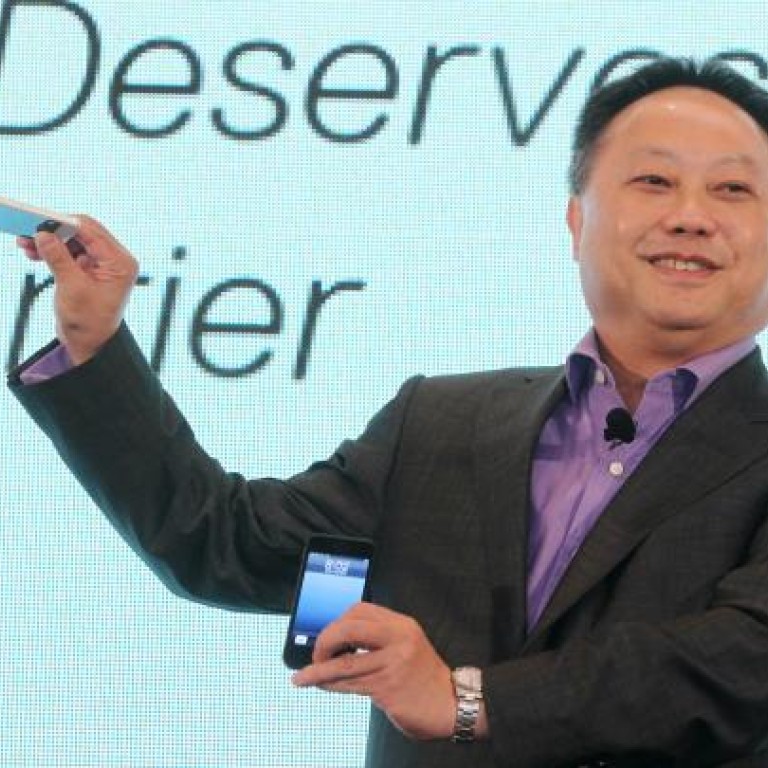 SmarTone's 4G bet pays off with iPhone 5 launch
SmarTone the first to deliver 4G network support for Apple's flagship product, with rival operators CSL and 3 Hong Kong say they will soon also deliver 4G network support for Apple's flagship product
SmarTone gives credence to the biblical saying: he who is last, shall be first.
About 3½ years ago the company bet that high-speed 4G mobile services and devices would be widely supported over networks on the 1800-megahertz radio frequency band.
SmarTone, a Sun Hung Kai Properties subsidiary, did not start its 4G service until last month. Rivals CSL, Three Hong Kong, PCCW Mobile and China Mobile Hong Kong launched their commercial 4G operations much earlier.
But yesterday SmarTone saw its efforts come to fruition, leading Hong Kong's launch of the iPhone 5 as Apple's first local 4G network partner.
"It has been a journey, but everything that we do is all about what's in the best interest of our customers," chief executive Douglas Li said. "I think the iPhone 5 will accelerate the adoption of 4G services in Hong Kong."
Networks providing 4G offer theoretical download speeds of up to 100 megabits per second. The fastest 3G networks run at 42Mbps.
While SmarTone was last to roll out 4G services in the city, Li said timing was key.
"This is what I've been saying over the last three years: Everything about 4G is simply noise until Apple comes up with its 4G iPhone," he said. "We were proven right."
Apple announced last week that SmarTone was its 4G mobile partner in Hong Kong.
HSBC Global Research said SmarTone had "a considerable marketing advantage" and could "take high-end market share from its competitors".
In markets where the 4G networks are not supported or are unavailable, the iPhone 5 works on 3G or 2G infrastructure.
CSL, the city's largest mobile network operator, with more than 3.2 million subscribers, expected to provide 4G LTE network support for the iPhone 5 in four to six weeks, chief marketing officer Mark Liversidge said.
Three Hong Kong, which introduced the iPhone 3G in the city in 2009, estimated its 4G network would support the new phone about the same time. CSL and Three Hong Kong primarily built their 4G networks on the 2600MHz band.
Li said the 1800MHz radio spectrum, previously used for 2G networks, provided "better coverage and in-building penetration than higher frequencies". He said all 4G smartphones supported that frequency, as did more mobile network operators worldwide.
This article appeared in the South China Morning Post print edition as: Delaying 4G rollout proves to be a Smart move