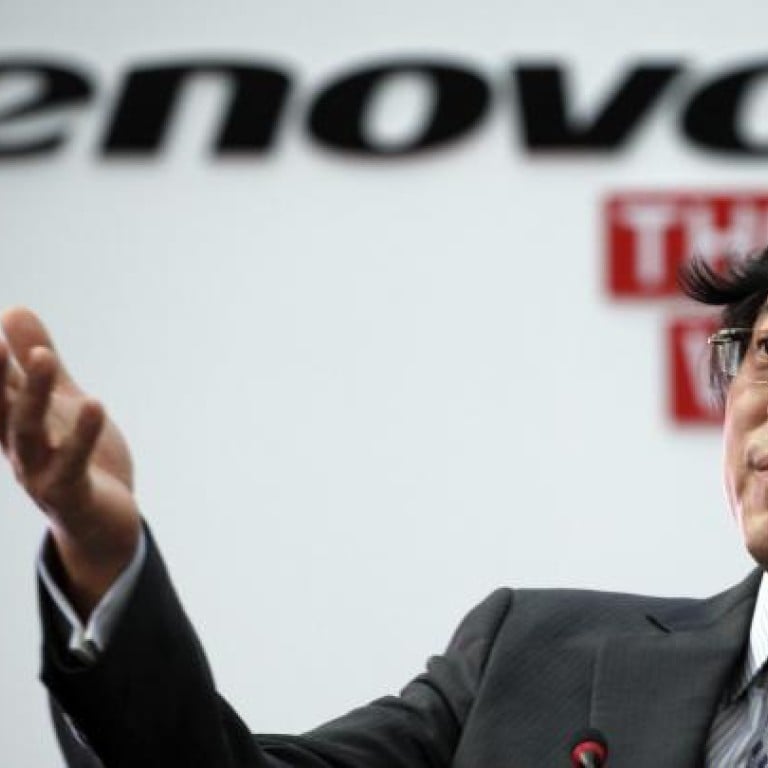 Lenovo to challenge Apple's smartphone
Poised this year to become the world's largest PC maker, mainland giant now aims to take command of the smartphone and tablet sectors
Lenovo Group, which is set to overtake Hewlett Packard this year as the biggest PC maker, now has its sights on the smartphone and tablet markets as it takes on Apple and Samsung Electronics in the mainland.
"We want to test the market, see the first steps towards success in China, then roll out to the rest of the world," chief executive Yang Yuanqing said. "We want to win in the smartphone area and even the TV area."
The maker of Thinkpad laptops, a business it acquired from IBM, has added tablets and phones to lessen its dependence on PCs, taking it into direct competition with Apple, the world's most valuable company.
Yang said Lenovo's brand name, product development and distribution in the mainland would give it an edge over Apple and other rivals that create devices elsewhere before selling them in the world's biggest PC and smartphone market.
Yang is not alone in that view. A China-first strategy gives Lenovo "the right balance between near-term profitability and long-term growth", said Masha Gordon, head of emerging-market equity portfolio management at Pacific Investment Management. "Lenovo is likely to leverage its global PC footprint to expand its global presence into these new areas."
Lenovo already outsells Apple's iPhone in China, where the Beijing-based company introduced its first touch-screen handset in 2010. The company's smartphone shipments outpaced its PC unit sales for the first time in the second quarter, overtaking the iPhone as well, according to researcher IDC.
Outside its home, Lenovo would struggle to sell products that were more distinguished by software they could use rather than the device itself, Jean-Louis Lafayeedney, an analyst at JI Asia in Hong Kong, said.
"I don't see Lenovo being able to do it, not in the foreseeable future."
Lafayeedney said the company lacked the software development power to lure users away from Apple's operating system and Samsung, which sells devices based on Google's Android.
Apple introduces its iPhone and iPad in the United States months before China.
The California-based company has yet to announce a debut date for its latest smartphone model in the mainland after starting sales of the iPhone 5 on September 21 in markets including the US, Japan and Hong Kong. The device would be available in China by the end of the year, the company has said.
Samsung controlled about 19 per cent of China's smartphone market in the second quarter, the biggest share. Like Lenovo, the South Korean company offers products through the top three mainland mobile-phone carriers. Apple's iPhones are not sold to market leader China Mobile's 693 million subscribers,
China will overtake the US as the world's largest smartphone market this year, with shipments climbing 52 per cent to 137 million, according to market researcher IDC.
Lenovo was spending 5 billion yuan (HK$6.1 billion) to set up a plant to research and produce mobile devices, it said in May. The factory will open in October next year and will have sales of 10 billion yuan by 2014, increasing to 50 billion yuan in five years, the company estimates.
"Our development cycle will be much faster than our competitors," Yang said. "Not only are we an innovative company, we understand emerging markets. We have a different strategy."
Lenovo intended to develop products across the price spectrum, from the latest high-functioning smart TVs to smartphones priced to compete in emerging markets, Yang said.
"I don't think every Chinese can afford US$400 to US$500 for a smartphone or tablet, but we will develop the appropriate product for those customers. That will be Lenovo's advantage," he said.
A 16 gigabyte version of the newest iPad with 3G service costs 4,688 yuan at Apple's mainland online store. Lenovo's Ideatab S2007A 16 gigabyte version with 3G service is priced at 2,499 yuan at
TMall.com
Yang has also said he intended to use acquisitions to build the global "four screens" business.
The maker of the Ideaphone smartphone this month agreed to buy Brazil-based PC, tablet and handset maker Digibras Participacoes in a US$147 million deal.
Lenovo said on September 18 that it had agreed to buy Stoneware of the US to gain cloud-computing products in its first acquisition of a software vendor. It did not disclose terms.
As more manufacturers competed for tablet sales, control of the operating system would offer an increasing advantage, Lafayeedney said. Companies including Samsung and Lenovo, which mostly depended on Android, would have a harder time distinguishing their products, he said.
"The edge has to come from control of the ecosystem, or part thereof," Lafayeedney said. "That will be the real challenge, in my view. Progression from a pure hardware player will be a most difficult leap for Lenovo."
This article appeared in the South China Morning Post print edition as: bite Apple