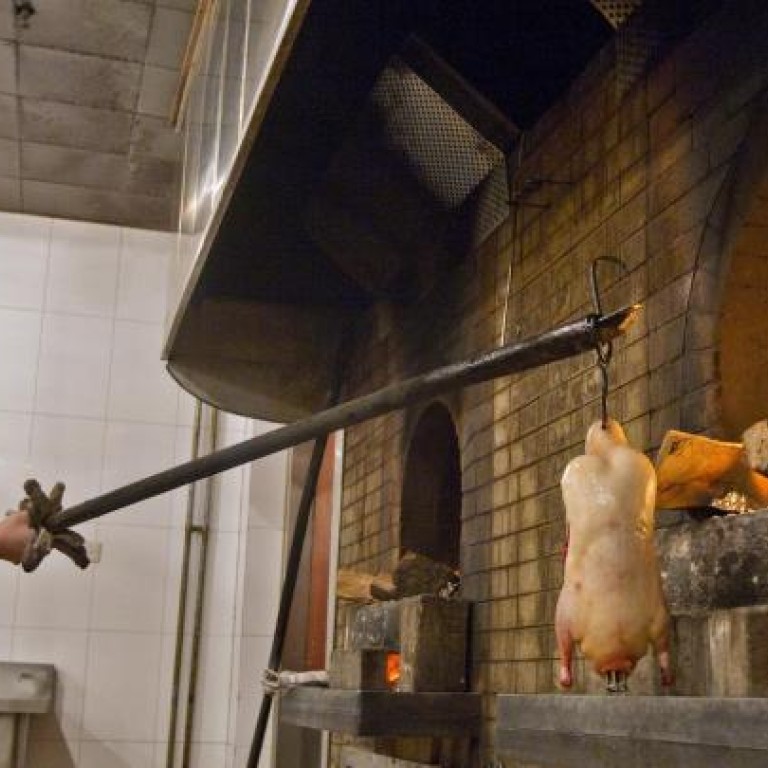 Roast duck restaurant Quanjude looks at multi-brand expansion
Quanjude, the almost 150-year-old restaurant chain famous for its Peking roast duck, is now looking at a multi-brand expansion
Since the middle of the 19th century, Quanjude has been known for its signature dish, Peking roast duck.
Now the owners of the 148-year-old restaurant plan to diversify into a multi-brand catering service provider that taps both high-end and mass markets.
"We have plenty of ideas on our plate," said Liu Xiaohong, vice-general manager of China Quanjude Group. "We have rolled out a detailed plan to diversify our business."
The traditional business survived four emperors, civil wars, and decades of state planning. Now a blueprint for the next three years envisages the opening of more restaurants and retail outlets, an expansion into fast food and food services, and building a new upmarket catering brand.
The company is less likely to speed up the pace of overseas expansion, because of import restrictions on poultry in many markets, and a lack of skilled chefs and managers to help run newly opened restaurants. However, Liu said, "we are still looking for partners who can bring our brand to a new market."
On a weekday morning, chefs in Quanjude's Hepingmen restaurant in Beijing were hanging ducks in a wood-fired brick oven. In 45 minutes or so, the crispy, brown-skinned ducks will be taken out, carved at the tables of diners, and laid out on plates with steamed pancakes.
The ancient ritual has not changed much since the first restaurant bearing the name of Quanjude opened during the Qing dynasty. Quanjude's founder, Yang Quanren, originally a poultry vendor, bought a dried fruit shop in Qianmen Avenue, near the Forbidden City, in 1864 and turned it into a roast duck restaurant. Thanks to its high standard and tasty dishes, the restaurant's fame spread quickly, and it later almost became a synonym for Peking roast duck, a must-try delicacy for visitors to the capital city.
In the 1950s, Quanjude was turned into a state-owned company and started to make its name known internationally, as state leaders treated foreign visitors to its roast duck. US president Richard Nixon and German chancellor Helmut Kohl were both fans.
Since the 1990s, Quanjude has acquired a number of traditional Chinese restaurants, making it one of the largest restaurant chain operators in Beijing. In 2007, China Quanjude was listed on the Shenzhen Stock Exchange. The group now has more than 90 mainland restaurants under its name and five outside the mainland, in Japan, Australia, Burma, and Hong Kong.
"Though we offer genuine Beijing cuisine in all our restaurants, we need to adapt to the tastes of customers in different places," Liu said. For example in Quanjude's Chongqing restaurant the dishes would be spicy; in Wuxi they would be sweet; and in Japan customers can order sushi and miso soup along with duck.
In recent years, a number of new restaurants in Beijing, the most popular being Da Dong, have also earned a reputation for serving Peking roast duck, posing a challenge to Quanjude's leading position in the market.
"Da Dong is a respected rival. It's very creative in producing new dishes, which we should really learn from," Liu said. Quanjude launched a new brand, Shiwangfu, in Beijing early last year, and offers both Western and Chinese cuisine to target high-end customers.
In addition, it is also planning to model itself after the US food service supplying giant Aramark Group and provide meals in large office buildings, hotels, or for big events. While it may be one of the oldest restaurants in the country, "Quanjude wants to be a young player in many new areas and we believe there's plenty of space for the brand to grow", Liu said.
This article appeared in the South China Morning Post print edition as: Teaching an old duck retailer new tricks