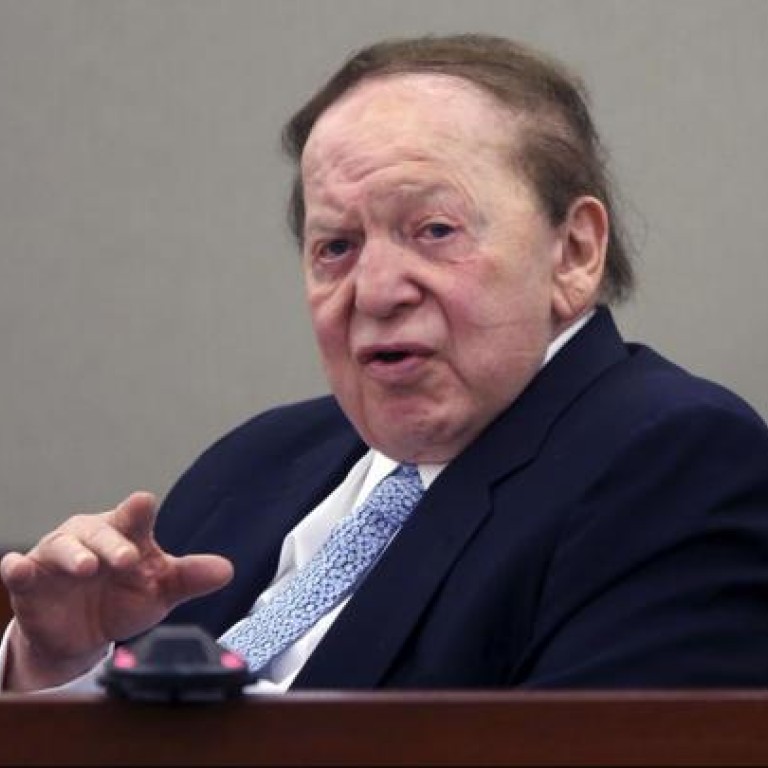 Suen 'couldn't deliver' on Macau gaming licence
Casino mogul testifies HK businessman's influence 'cut off' after 2001 tender launch
Las Vegas Sands' chairman Sheldon Adelson has told a jury a Hong Kong businessman who seeks US$328 million over claims he helped the casino operator get a Macau gaming licence could not deliver what he promised.
"I think he asked me whether or not, if he could deliver a licence, I would like it," Adelson testified on Thursday at a trial in the state court in Nevada, recalling his early meetings with Richard Suen, a business friend of his brother Leonard Adelson.
"He never said anything more than I know somebody who knows somebody who knows somebody," Adelson said.
Under questioning from Suen's lawyer, John O'Malley, Adelson said he didn't recall discussing the possibility of pursuing a Macau licence with Suen in 2000 because at that time nobody knew for sure whether the Macau government would discontinue the monopoly Stanley Ho Hung-sun had on gambling in the former Portuguese colony.
Suen alleged in his complaint that Adelson breached a 2001 agreement to pay him and his associates US$5 million and 2 per cent of the net income from the company's Macau casinos if it was awarded a permit.
This is the second time the claims have gone to trial. The Nevada Supreme Court in 2010 reversed a US$43.8 million jury award two years earlier in favour of Suen and sent the case back for a new trial.
The state high court found that the trial judge incorrectly allowed so-called hearsay evidence linking meetings with government officials in Beijing that Suen helped arrange with the award of the gaming licence
Adelson, said that after the Macau government in 2001 created a public tender process for gaming concessions, Suen's ability to get Las Vegas Sands a licence was "completely cut off" because it had become a "beauty contest". "He couldn't give us anything that wasn't available to us," Adelson said.
Clark County District Court Judge Rob Bare denied a request by Suen's lawyers for a mistrial after Adelson brought out brochures to demonstrate that he did not need Suen to lobby for him with the Macau government about Las Vegas Sands' ability to bring convention business in addition to gambling to Macau.
"This is exactly what the Macau government wanted," Adelson said, referring to the books he pulled out of a briefcase while on the witness stand. "These were our qualifications."
Bare instructed Adelson not to produce any further items he might have brought to court.
Suen claims that meetings he arranged between Adelson and Chinese officials, including the mayor of Beijing and the vice-premier responsible for Hong Kong and Macau, were instrumental in leading Edmund Ho, the former chief executive of the Macau Special Administrative Region, to award the company a gaming licence in 2002.
This article appeared in the South China Morning Post print edition as: Suen 'couldn't deliver' on licence