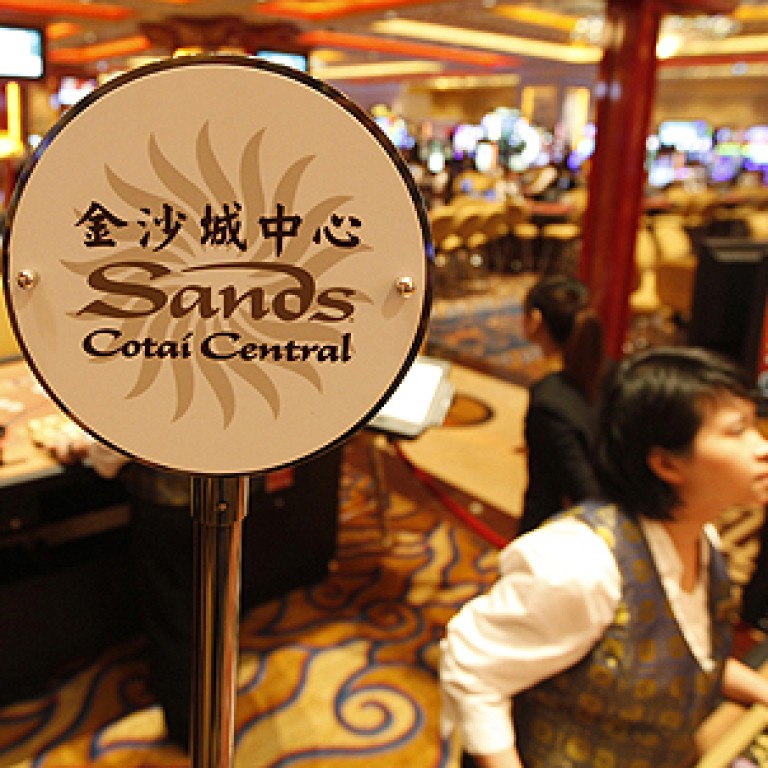 Wealthy mainlanders drive Macau casino revenue up 13pc
The gaming industry in Macau saw takings hit the second-highest level this year last month, though casino firms' shares fell yesterday
Macau's gaming industry revenue rose 13.2 per cent year on year last month, as strong demand from wealthy visitors from the mainland continued.
Revenue in the world's largest gaming hub reached 28.3 billion patacas, the second-highest monthly figure this year, after the record 31.3 billion patacas in March.
However, shares of most of the casino operators fell more than the Hang Seng Index yesterday. Galaxy Entertainment dropped 3.9 per cent to HK$33.40, and SJM fell 3.2 per cent.
The benchmark dropped 0.3 per cent.
Grant Govertsen, lead analyst at the Macau-based Union Gaming Research, looking at the share price fall, said: "It's possible that the stocks have sold off a bit on the ABC bank 'scandal'." Earlier this week, Reuters reported that Yang Kun, a vice-president at Agricultural Bank of China, owed Macau casinos three billion yuan (HK$3.78 billion), raising concern that Beijing will keep a closer watch on officials going to Macau to gamble.
Govertsen said: "I suspect [the decline in stocks] yet again falls under the category of the media creating news rather than reporting on it."
Yang's detention last summer has been widely reported. "Clearly if that person was coming to Macau, he hasn't done so in at least a year," Govertsen said.
"We don't think that gambling in Macau by Chinese public officials is commonplace, or even amounts to a significant amount of gaming revenue," he said.
Casino operators in Macau have been making efforts to woo middle-class visitors instead of high rollers, as growth in the VIP market is slowing in tandem with weaker economic growth on the mainland.
This month's revenues are expected to be strong because of the Labour Day holiday. "For May, we are expecting at least 10 per cent year-on-year growth to close to 29 billion patacas," Govertsen said.
He said he was sticking with a forecast first made in January of growth in full-year gross gaming revenue of 16 per cent.
"This contemplates VIP growth of around 10 per cent, as compared with 8 per cent in 2012 and mass market tables and slots growth of around 30 per cent," Govertsen said.
Credit Suisse said in a research note that revenue growth last month was in line with expectations, but this year's "golden week" national holiday, which included the last two days of April, was relatively quiet.
Sands China, the Macau subsidiary of Sheldon Adelson's Las Vegas Sands, reported a record 14 million visits to its Cotai Strip properties in the first quarter, which drove quarterly net revenue up 39.3 per cent to US$2.02 billion, compared with US$1.45 billion in the same period last year.
This article appeared in the South China Morning Post print edition as: Wealthy mainlanders drive casino revenue