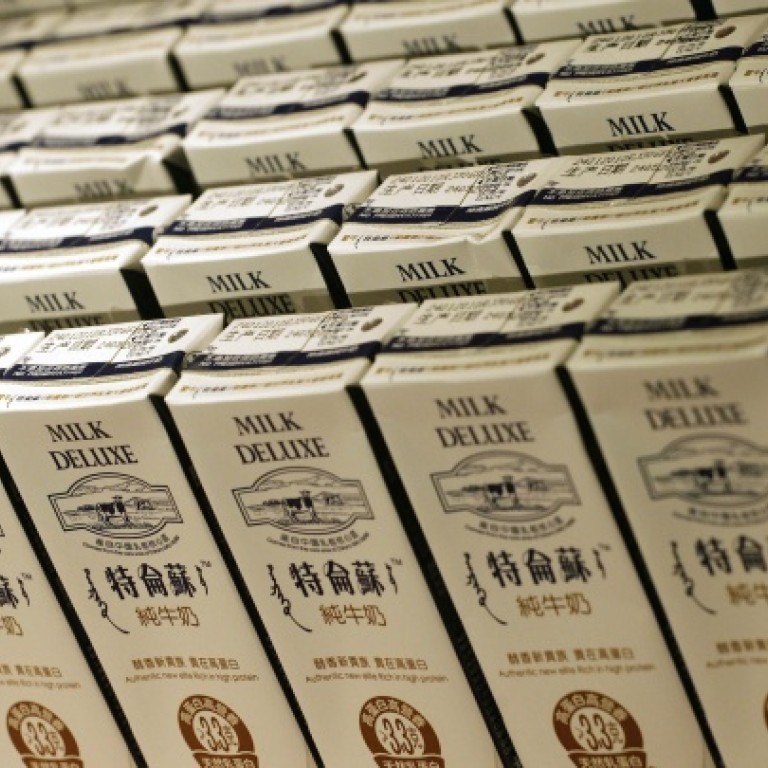 Mengniu Dairy to pay HK$3b for 27pc Modern Dairy stake
Firm in tainted milk scandals eyes 27pc slice of supplier to help secure raw materials
China Mengniu Dairy, the country's largest manufacturer of liquid dairy products, plans to pay HK$3.18 billion to dramatically boost its stake in China Modern Dairy, in an attempt to get a tighter hold of its raw milk supply.
The deal, if completed, will make Mengniu the biggest shareholder in the milk supplier, with a 28 per cent stake, and will help Mengniu boost its overall revenue, an analyst said.
Mengniu announced in a filing with the Hong Kong stock exchange yesterday that it had agreed to pay HK$2.45 a share to acquire 26.92 per cent of Modern Dairy from the private equity firms KKR and CDH Investment. The figure is 12 per cent lower than Modern Dairy's closing price on Monday.
Shares in Mengniu rose 0.2 per cent to HK$21.80 yesterday, while Modern Dairy fell 6.5 per cent to HK$2.61.
Modern Dairy is Mengniu's largest raw milk supplier, providing about 12 per cent of the Inner Mongolia firm's requirements.
Sunny Kwok, an analyst with Guotai Junan Hong Kong, said: "Mengniu has seen the raw milk percentage from Modern Dairy declining recently, as the cattle farm operator has expanded its business and launched its own dairy products on the retail market. It's probably a reason for Mengniu to buy it out, in the hope of better controlling its raw milk supply."
The acquisition is also expected to add to Mengniu's revenue in the 2014 financial year, he said.
Mengniu, which was involved in tainted milk scandals in recent years, has sought to improve milk source quality and enhance quality controls. Mengniu's operating profit dropped 16 per cent to 1.45 billion yuan (HK$1.83 billion) last year, while sales fell 3.5 per cent.
This article appeared in the South China Morning Post print edition as: Mengniu to pay HK$3b for Modern Dairy stake