Toyota
Get more with myNEWS
A personalised news feed of stories that matter to you
Learn more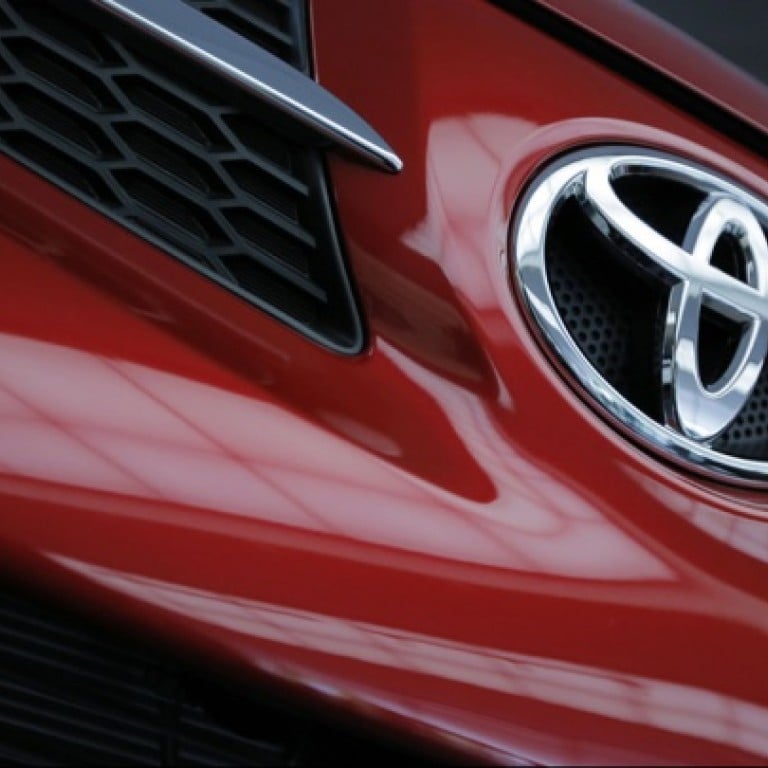 Weak yen to help Toyota beat forecast
Carmaker expected to gain edge in competition with US and European rivals
There's conservative and then there's Toyota Motor.
The world's largest carmaker forecast on Wednesday profit and revenue that missed analysts' estimates, based on outdated projections for the yen to trade at 90 against the US dollar and 120 versus the euro this fiscal year.
The Japanese currency is trading closer to 100 and 130, with analysts projecting it to weaken even further.
That means the firm has room to beat its forecast for profit to climb to a six-year high as Toyota estimates it earns about 40 billion yen (HK$3.1 billion) every time the Japanese currency weakens by one yen against the US dollar.
The weakening yen, the strength of which had shackled Japanese exporters for half a decade, is now giving Toyota president Akio Toyoda an edge to compete with General Motors and Volkswagen.
"They got a 400-450 billion yen buffer from their currency assumptions," said Ben Williams, a London-based fund manager at GAM (UK).
Shares of the firm have rallied more than 90 per cent since mid-November as Prime Minister Shinzo Abe helped reverse the appreciation of the yen, adding about US$100 billion to Toyota's market value.
Toyota calculated the yen forecasts by averaging exchange rates in March and rounding them, a spokesman said. The projection does not take into account business conditions or domestic production levels, he said.
"We want to be as conservative as possible," he said. "If we're conservative, keep the currency rate high and actual profit beats the estimate, that's fine. But if we're too optimistic in the forecast and if something happens, and we're forced into cutting forecast, that's really bad."
Even with conservative yen projections, Toyota is looking forward to its highest profit in six years. Net income will probably increase 42 per cent to 1.37 trillion yen in the 12 months ending March next year after tripling last fiscal year, the company said.
Toyota's improving prospects illustrate how fast Japan Inc is reversing its fortunes. Six months ago, the yen was still roiling corporate earnings by trading near 68-year highs, and Toyoda was warning that manufacturing in Japan was hollowing out.
For Toyoda, relief can not come soon enough. Since he became president in 2009, he has dealt with a strong yen, the recall of millions of vehicles, as well as natural disasters in Japan and Thailand. Sales in China have been falling since September.
"With the weaker yen, this should be a good year for Toyota," said Edwin Merner, the president of Atlantis Investment Research.
This article appeared in the South China Morning Post print edition as: Weak yen to help Toyota beat forecast