AIA
Get more with myNEWS
A personalised news feed of stories that matter to you
Learn more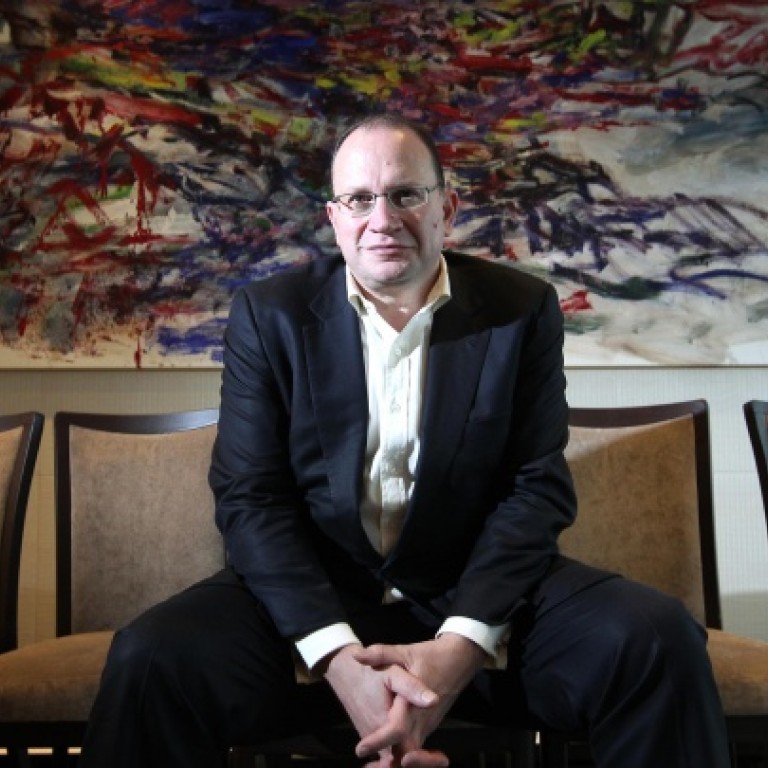 AIA's long-term assurance
After the trauma of separating from its parent, AIG, the Hong Kong-based insurance firm AIA is unfazed by short-term fluctuations in the market
AIA, the world's fifth-largest insurer, is undeterred by volatile investment markets and low interest rates in its push for further expansion in the region.
The company's chief executive, Mark Tucker, said AIA was keen to seize the business opportunities from Asia's growing middle class, and taking a long-term view.
"We are not managing for the short term but we are running our business with a long-term, 10- to 20-year view. As we are taking such a long-term view, any short-term volatility of the investment market does not really hurt our business," Tucker told the in an exclusive interview.
The insurer, Asia's third biggest by market capitalisation, reported last month that its new business to the end of February rose 25.4 per cent in value year on year. Life insurance sales accounted for the bulk of this. The company's annualised net premiums recorded robust year-on-year growth of 37.2 per cent during the quarter.
Brokers share AIA's confidence. "Looking ahead, we expect AIA to demonstrate faster annual net premium growth but a smaller value of new business margin improvement, which should not be read negatively, as AIA should be able to grab rapidly growing opportunities in Korea and other markets where margins are relatively lower than Hong Kong and Singapore," CCB International said in a research report.
It has a target price of HK$38.20 for the insurer's shares, which closed at HK$36 on Friday.
The company's shares have risen more than 70 per cent from their listing price of HK$19.68 three years ago, while the Hang Seng Index dropped 1.6 per cent over the same period. Tucker said: "We look relentlessly at ways to enhance the profitability of the business and increase shareholder value."
A Credit Suisse report said AIA and its rival Prudential "possess a durable competitive advantage in the region, due to the strength of their agency and bank distribution channels and the ability this gives them to capture profitable growth from continued economic development of the Asian region to underpin rising household incomes and hence, solid long-term growth for life insurers".
Prudential has better diversified markets, the report said: in addition to its Asian business, it also has exposure to the US and Britain. But this also leaves it vulnerable to economic challenges in those markets.
AIA, in contrast, is a clear Asian investment, the report said, with operations in 16 markets including Hong Kong, the mainland, Thailand, Singapore, Malaysia and South Korea.
Tucker, who ran Prudential until 2009 before taking over as head of AIA in 2010, said the company had no intention of investing outside Asia.
"AIA was set up in Asia and grew up in Asia. We are a pure Asian insurance company with headquarters in Hong Kong. We believe in the Asian strong economic growth stories and we have been in Asia for almost 100 years. We know the culture and markets well, which is our advantage over our rivals," he said.
Tucker said many Asian markets were underinsured in medical and life cover. Similarly, these markets lagged in the development of long-term retirement savings, adding up to growth opportunities for AIA. In addition, he said, Asia's growing middle class boosted demand for a range of insurance services. As well as life and medical products, this included the need to fund school education and retirement planning.
AIA listed in Hong Kong in 2010 as an independent company after the US government's US$182 billion bailout of its former parent, American International Group. AIG sold its final tranche of AIA shares in December last year.
Tucker played down the impact of AIG's final sell-down, pointing out that AIA had operated entirely independently of AIG since the 2010 listing. The move reinforced the Asian identity of the company, he said.
At its listing in October 2010, the firm said it had a network of 320,000 agents covering 23 million policy holders in Asia. It is the largest insurer in Hong Kong, with a market share of 16 per cent, more than two million policies and around 10,000 agents. The company has not provided updated figures.
For agents, the listing is positive. Raymond Wong, an executive district director of AIA, who has been selling the company's policies to high-net-worth clients for 35 years, said: "After the listing, the policyholders are getting more confident in AIA, as the company is now a listed company with high transparency and a solid financial position."
In September 2008, at the start of the global financial crisis, Wong said, his phone kept ringing with anxious customers concerned about the impact on the company of the then parent AIG's financial woes.
"I am proud none of my clients lapsed their policies, as I asked them to trust me and they have trust in me and my company," he said.
Wong said he had stayed with the firm for so long because he shares its values: "Like my company, I also keep an eye on long-term relationships with my customers.
"For any new agents I recruit, I require them to share the same values and not to chase short-term profit. AIA is not the place for you to make quick money, but if you want a long-term career, this is where you should go, as it provides an unequalled training for agency."
This article appeared in the South China Morning Post print edition as: AIA's long-term assurance