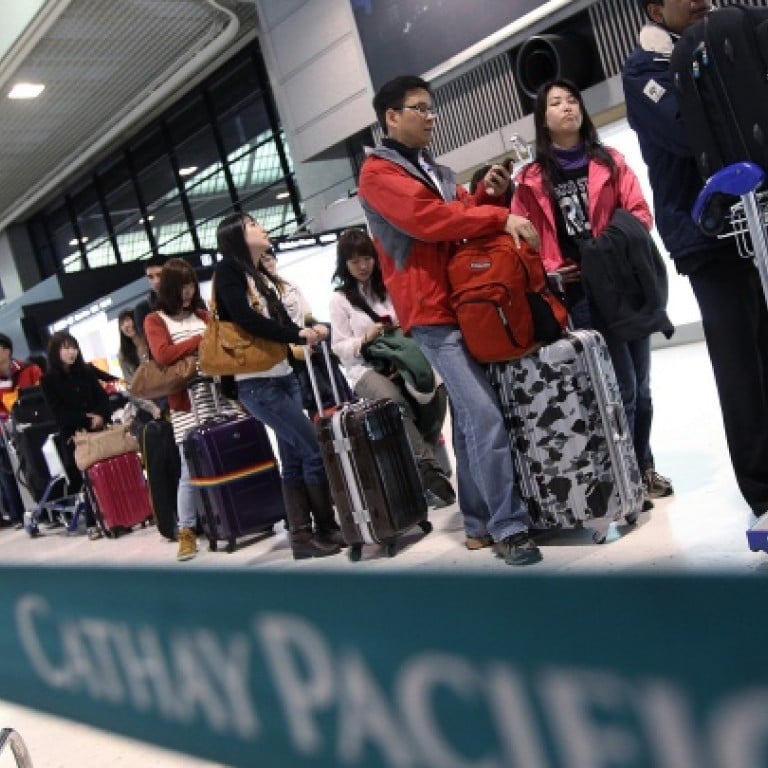 New check-in system in the bag for Cathay
Passengers will benefit from streamlined procedures enabled by integrated IT network, the airline says, as it catches up with rivals
After years of underinvestment in its information technology, Cathay Pacific Airways will migrate to a new check-in system by the end of next year.
Cathay's decades-old check-in system will be phased out from September to November next year and replaced by a common platform, dubbed Customer Management (CM), powered by Amadeus, a US-based travel technology company.
"Now, if a passenger asks for an upgrade [at check-in], we have to call someone [from the ticketing department] and ask the passenger to go to another desk," said Adrian Harley, the airline's airport general manager.
After the implementation of the new system, the customer can obtain a seat upgrade and process payment at the same counter.
Hong Kong, as a typhoon-prone city, must cope with flight disruptions during the storm season, often resulting in chaos at the airport.
Cathay hopes the new system will allow stranded passengers to receive flight updates, alternative flight choices and even book the next possible flight through smartphones or tablets. That will help alleviate the stress caused by long queues and the questions that often go unanswered about delayed or cancelled flights.
"Passengers will benefit if information can be given to them through e-mail or messages, allowing them to change from one flight to another by simply pressing a button," Harley said.
In addition, since the CM system is a shared platform, more flight information updates could be available across the airlines and enable quicker responses in the event of service disruptions.
Cathay is also looking into self-service bag drops and a self-service boarding gate with the Airport Authority. "Document checks are a challenge for self-boarding and self-bag drops, but it's the future," Harley said.
Cathay is under pressure to catch up with its Oneworld alliance partners, Qantas Airways and British Airways, which have already launched self-service bag drops.
Passengers print the bag tag either at the airport kiosk or at home and drop their luggage on the conveyor. Airlines can cut the number of ground staff, while waiting times for check-in are supposed to be reduced.
Ian Rasmussen, an executive vice-president of Bagdrop Systems, told the Future Travel Experience Conference last week that ground staff deployed by Brussels Airlines at Brussels airport were cut to two from eight after the implementation of its "scan and fly" programme.
The self-tagging procedure took 60 to 65 seconds in most cases, compared with 90 seconds at the traditional manned check-in counter, Rasmussen said.
But some would query the time reduction for the tagging progress, when compared with services provided by experienced check-in staff, as passengers may need more time to print, peel off and attach the bag tag to their luggage.
KLM, which installed bag-drop machines at Amsterdam's Schiphol Airport in 2010, encountered problems with the new system.
Travellers preferred the manned desk over the machine in the beginning, said Victor Vaessen, the director of product development at KLM.
"To solve this problem, we don't give passengers a choice and divert them to the bag-drop point in the first place," Vaessen said.
Ground staff were available for assistance and were trained to offer help proactively when passengers were in need, he said.
However, the management at other airlines said the biggest problem was how to persuade the airport authority to accept the bag-drop model, given the concerns for security issues associated with luggage control.
This article appeared in the South China Morning Post print edition as: New check-in system in the bag for Cathay