Coffee
Get more with myNEWS
A personalised news feed of stories that matter to you
Learn more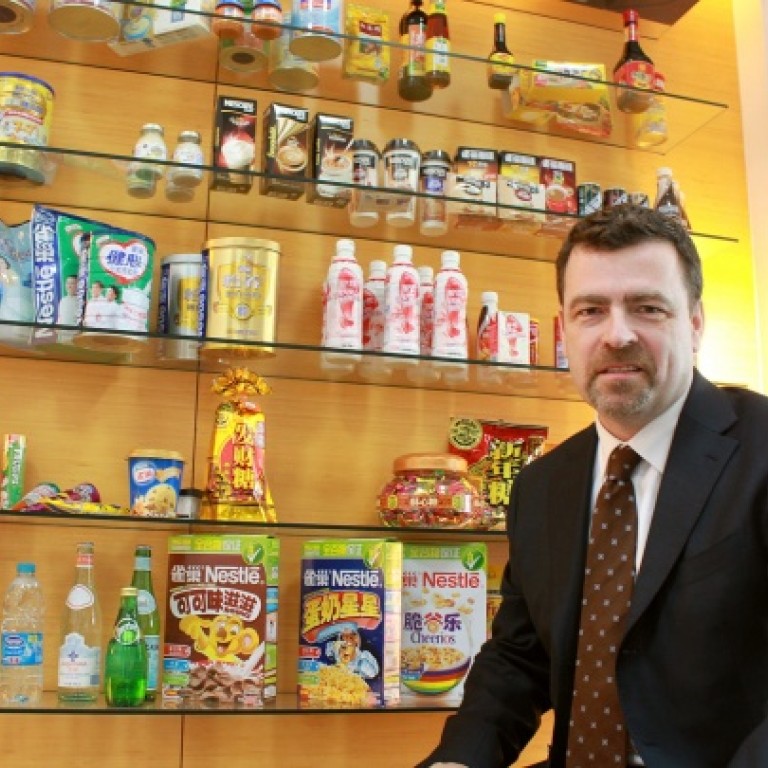 Nestle banks hopes on coffee culture
World's largest food company sees demand for nutrition products and potential in a beverage market that has extremely low consumption
Nestle, the world's largest food company, has pinned its hopes on a strong expansion of its coffee business on the mainland by fostering a coffee-drinking culture, while it also expects its adult nutrition products to see the fastest growth in the food category amid the background of an ageing population.
"The coffee business is growing nicely in China," said Roland Decorvet, the chairman and chief executive of Nestle China.
Rosy prospects for the business are based on the currently extremely low coffee consumption on the mainland, which Nestle believes is set to increase significantly.
"If you look at the average, Hong Kong people drink 150 cups of coffee per person per year. In Japan, the average is 400, in northern Europe, it is 600 and in Taiwan, it is 100," Decorvet said. "In China, the current per-capita consumption per year is just four."
The company sells a variety of coffee, from a premium brand to instant coffee.
According to market research firm Euromonitor, the market share of Nescafe, Nestle's coffee brand, on the mainland was 72 per cent last year.
The coffee-drinking culture had been growing in some big cities, Decorvet said, noting that in Shanghai per-capita coffee consumption was about 30 to 40 cups a year.
"The number (per-capita coffee consumption in China) should grow from four to seven in the coming three to four years," he said. "Within 10 to 20 years, dozens of cities in China will be like Hong Kong today."
The Swiss company is poised to capitalise on the huge potential by boosting investment in growing coffee on the mainland. Last month, it signed a memorandum of understanding with the government of Pu'er, in Yunnan province, with plans to invest 100 million yuan (HK$126 million) in a Nescafe coffee centre.
Yunnan was the only place on the mainland that was suitable for growing arabica coffee, which was refined and less bitter with a higher quality, Decorvet said.
Nestle will open a coffee factory in Qingdao, Shandong province, in July. The other factories are in Shanghai and Dongguan.
The firm's greater China sales more than doubled last year to 5.1 billion Swiss francs (HK$40.6 billion) from 2.5 billion francs.
Decorvet said the revenue contribution from coffee was still small at just 10 per cent, but the company expected a lot from the business, which would maintain double-digit sales growth in the coming years. "Coffee is becoming very fashionable," he said, adding that the company would target the younger generation.
Nestle has a diversified portfolio on the mainland under its own brand, from beverages to dairy and nutritional products.
Under the food category, nutritional products for adults and the elderly would probably see the fastest growth, Decorvet said. "There are 300 million people who are older than 55 in China and they want to live a healthier life and longer life," he said.
Decorvet also said Chinese consumers were becoming more sensitive to food safety and Nestle had been attentive to sources of milk for dairy products. Nutritional products made on the mainland used local milk that was tested everyday to guarantee quality, while infant nutritional products used imported milk.
Decorvet said Nestle would continue to look for acquisitions of Chinese brands in other product categories. "I have been here for 14 years, and I believe I understand a little about China, but the taste is totally different," he said.
Co-operation with local brands would help Nestle match the taste of local consumers. "If we are to develop in the Chinese market, we need to develop the same taste," he said.
This article appeared in the South China Morning Post print edition as: Nestle banks hopes on coffee culture