Apple
Get more with myNEWS
A personalised news feed of stories that matter to you
Learn more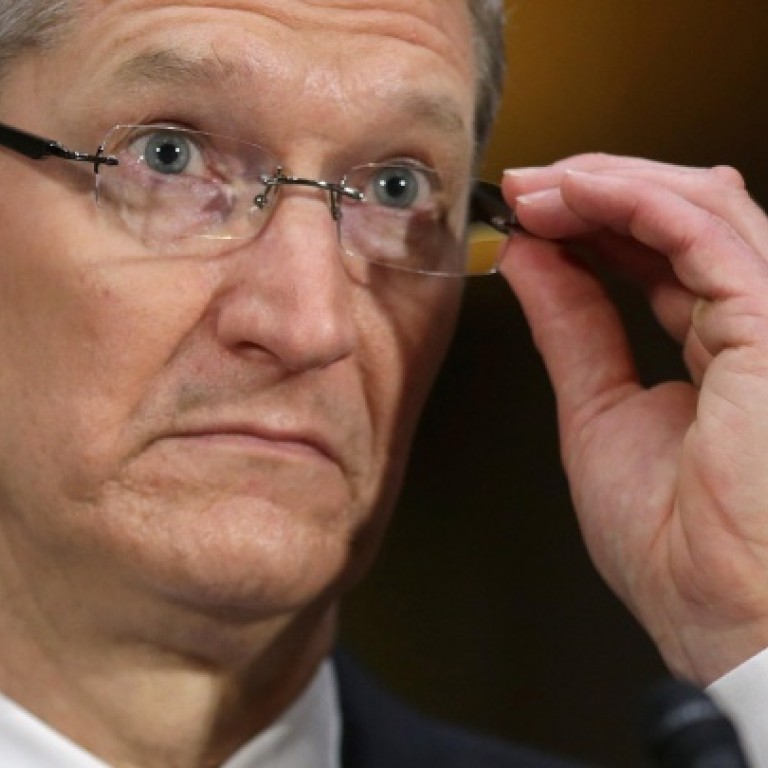 Apple taxes turn into Cook's latest firefighting job
Investor concern mounts as technology firm's CEO is forced to attend to yet another crisis
Tim Cook's tenure at the helm of Apple has been a crash course in crisis management.
In almost two years since Cook became chief executive, Apple has lurched from one reputation-threatening public-relations predicament to the next - from criticism of its labour practices in China, to faulty mapping software that marred the release of the iPhone 5. Most recent case in point: Cook testified yesterday before Congress to defend Apple against allegations that it dodged US$9 billion in taxes in 2012.
In two hours of testimony, Cook calmly parried questions from a Senate subcommittee, urged reform of US corporate tax code and even shared a laugh with Senator John McCain about the hassles of iPhone updates. Even so, continually coping with crises threatens to divert management's attention from building better products and reversing a share slump. The accusation that Apple shifted billions of dollars to offshore affiliates to avoid paying taxes will alienate some consumers, said Jack Ablin, chief investment officer of BMO Private Bank in Chicago.
"There is a reputation risk," Ablin said. "Being in the news, testifying before Congress and sound bites about avoiding billions of dollars in taxes has the potential to ruffle their customers' feathers. This issue is on the front page, not the business page."
That helps explain why Cook went to Washington, to face questioning by Senator Carl Levin and other members of the Senate Permanent Subcommittee on Investigations, which said that Apple relied on loopholes and a web of offshore entities to avoid paying US taxes.
"It's important to tell our story - and I'd like people to hear it from me," Cook said in testimony. "We pay all the taxes we owe - every single dollar."
The remarks exemplified how Cook has handled other crises - quickly and personally - when they crop up for Apple.
"They are happening in every dimension of the business, whether it's taxes, offshore production or product design," said Stephen Diamond, a law professor at Santa Clara University who has worked with technology firms and studies corporate governance. "He's had to dive in personally and manage these."
While management can shrug off perceived missteps when the going is good - as was often the case under co-founder Steve Jobs - Apple's leadership has lately had to cope with a stock price that's declined 37 per cent since reaching a record high on September 19. The shares have fallen amid concern about slowing growth and that the company will not quickly be able to produce a blockbuster gadget that can build on the success of the iPhone and iPad. Apple rose 0.4 per cent to US$441.35 at Wednesday's close in New York.
"Investors are struggling to see what's next, and you didn't have that problem with Steve Jobs," said David Walker, a technology analyst at Trillium Asset Management.
Jobs also faced crises, including the investigation of Apple by the US Securities and Exchange Commission and Department of Justice over backdating stock-option grants for executives. That probe and the controversy surrounding the disclosure of his health issues were more drawn out than the crises Cook is currently facing.
In 2010, Jobs cut short a family holiday to take the unusual step of hosting a press conference to explain connectivity issues related to the iPhone 4 antenna.
Cook had been handling several unforeseen incidents even before taxes took centre stage. He was forced to respond after hedge-fund manager David Einhorn sued the company as a way to pressure it to return some of its cash to shareholders. Cook issued a public apology after Chinese regulators criticised the company's warranty policies, and he oversaw a management shake-up last year that included firing senior executives Scott Forstall, who oversaw the company's mobile software, and retail head John Browett.
Then there was the botched introduction of Apple's map software that elicited a public apology from Cook.
Apple makes for an easy target because it's big and popular.
Focusing on Apple can attract greater attention to an arcane issue, such as tax reform, said Santa Clara's Diamond. Apple was singled out in Congress for practices used by many companies, he said.
"If your nose is particularly big on an issue that they care about, your odds go up to get punched," he said. "They got punched in the nose on this one."
This article appeared in the South China Morning Post print edition as: Apple taxes turn into Cook's latest firefighting job