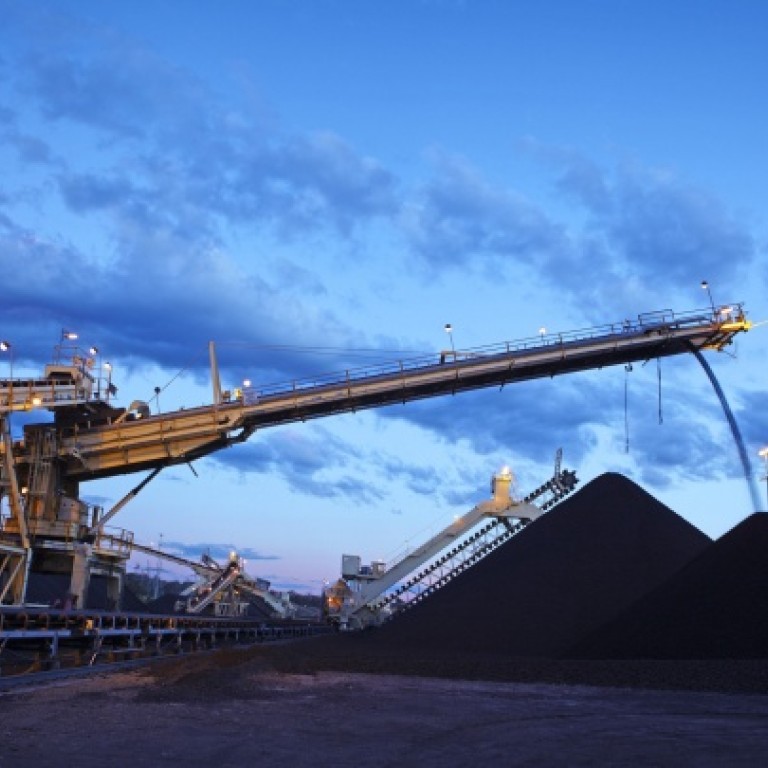 Australia coal firms dig in for years of mine closures, job cuts
UBS expects Australian coal exports to drop around 5 per cent to around 162 million tonnes, after increasing 31 per cent to 171 million tonnes last year
Australian coal miners are steeling themselves for years of production cuts, job reductions and asset sales as swelling shipments from international rivals lower hopes of a recovery in prices for coal.
Prices have slumped around 30 per cent since their peak two years ago as coal flooded global markets, especially from the United States where cheap gas has cut domestic demand and led to a nearly 50 per cent jump in thermal coal exports last year. Even robust Chinese and Indian demand growth is failing to soak up the plentiful supply.
To boost their thinning margins, miners in Australia such as BHP Billiton, Rio Tinto, Glencore Xstrata and Peabody have trimmed output and laid off thousands. Clinging to barely profitable operations, coal producers now face the prospect of further cost-cutting, which they fear could benefit rivals when the market recovers.
"Everyone is waiting to see who blinks first," said Tom Sartor, an analyst with Morgans Stockbroking in Brisbane. "You don't want to be the one curtailing production knowing that it's going to benefit your competitor."
Australia's coal industry has become a victim of its own success. In its rush to meet growing Chinese demand, producers churned out more and more coal, and miners are now stuck with more than they can sell.
This has been compounded by the dramatic ascent of shale gas production in the United States, whose displaced coal has headed to the rest of the world.
About a fifth of the United States' 56 million tonnes of thermal coal exports last year went to Asia, Australia's main market, according to the US Energy Information Administration.
Australian thermal coal exports could even fall this year and growth rates are likely to remain weak in the next few years. UBS expects Australian coal exports to drop around 5 per cent to around 162 million tonnes, after increasing 31 per cent to 171 million tonnes last year.
"The market is chronically oversupplied at the moment ... current supply capacity is adequate enough to take care of demand growth over the next couple of years," said Prakash Sharma, Wood Mackenzie's senior coal markets analyst for Asia Pacific.
As a result, analysts estimate Australian thermal coal prices through the end of the decade to range from around $90 per tonne now to $105 per tonne, with a $130 per tonne record high in 2011 seen as an anomaly.
While top miners have big balance sheets to help them weather the storm, junior miners face a bleaker outlook, with the funding environment the worst in a generation.
"The market's pretty much dead. For many of the small coal companies, it's just not going to happen unless you have very deep pockets and even then nothing is certain," said Warwick Grigor, executive chairman of Canaccord BGF, a stockbroker specialising in the emerging mining sector.
Aquila Resources was dealt a blow last month when Japan's Sumitomo Corp pulled out of their coal exploration partnership, in one of the latest examples of a setback for smaller miners.
And global companies are bracing for more cutbacks as well, with BHP last week announcing its capital and exploration expenditure would be slashed, while Glencore Xstrata stopped work on a planned 35 million tonnes-per-year Australian coal export terminal.
Rio Tinto is looking sell of part of its stake in its Coal & Allied subsidiary, which produces mostly thermal coal, as well as several other mines.
According to the Australian Coal Association, the country's coal industry directly employs 50,000, and the downturn is already clear in its eastern coal towns.
Just a year ago it was nearly impossible to rent an apartment in Queensland's Blackwater, whose name had become synonymous with the boom in coal as workers rushed there for jobs in mines run by firms such as BHP.
But rents have since plummeted around 75 per cent after the wave of miners and contractors receded, leaving the boom years a fast-fading memory to many of the permanent residents of the town of 5,000.
Efforts to reduce supply and slash costs have been hampered, however, with some producers locked into long-term contracts with port and rail companies.
Under 'take-or-pay' agreements, miners must either ship a minimum amount of coal or pay a hefty fine.
"I don't see the supply-demand dynamic changing quickly, particularly in Australia with so many companies with take-or-pay commitments with ports," Whitehaven Coal Managing Director Paul Flynn told Reuters in an interview last month.
"That really is an impediment to a rebalancing of the supply-demand equation in the short term ... You'd have to be losing more than your take-or-pay commitments to shut a mine down."
The good news for miners is that appetite in China and India, the two biggest drivers of global coal demand growth, will cushion the sector's decline.
The two nations currently account for around 30 per cent of the world's global coal demand, with that figure remaining relatively steady through the latter part of the decade, according to a UBS forecast.
"We'll never really go back to the bad old days because (China and India) are two new kids on the block that aren't going away," said Tom Price, an analyst with UBS in Sydney.
But as substantial producers of coal themselves, the two may also add volatility to the market as they swing between domestic supplies and imports, depending on price differences.
China, the world's largest producer as well as consumer of coal, dug a whopping 3.1 billion tonnes of thermal coal last year, and had to import more to meet demand.
"People forget just how much coal China produces. You're not getting that continuing stream of buyer demand," said Don Barnett, whose AustCoal consultancy has worked with numerous Australian coal producers.