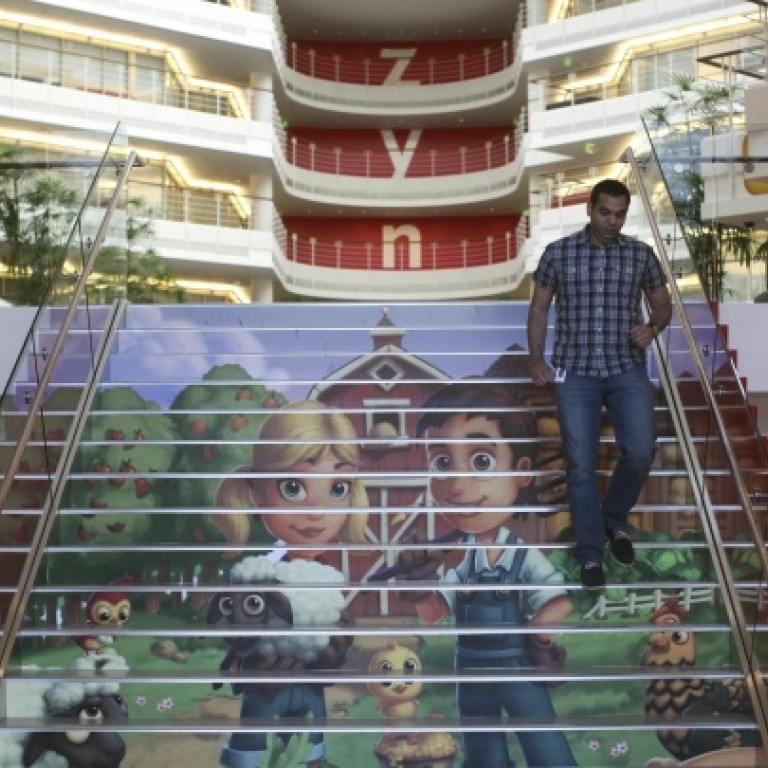 Zynga slashes workforce by a fifth in its biggest ever round of layoffs
Farmville developer's shares slide as doubts raised over its recovery
Zynga announced on Monday its biggest ever round of layoffs and warned of weak bookings for the current quarter, raising doubts about the social game developer's attempt at a recovery.
Zynga said it will cut about 520 jobs, or roughly one-fifth of its work force, and close some offices in the United States.
Analysts said the latest warning on quarterly bookings, a measure of sales, boded poorly for the "FarmVille" developer, which began trimming staff late last year.
Zynga's shares slid as much as 15 per cent in frantic trade before closing down 12 per cent at $2.99, near its four-month low.
"I admire them for aligning costs with revenue," Wedbush analyst Michael Pachter said. But Monday's bookings forecast, following a series of downward revisions in the past year, prompted new and increasingly urgent questions about Zynga's ability to retain players, he said.
Investors "thought they were already guiding to a low number that they would sail over, but it's coming in even lighter," Pachter said. "Are they in a state of persistent revenue declines? One quarter doesn't tell the story, but we need to hear what else they're doing."
One of the first firms to seize upon Facebook as a game-publishing platform years ago, Zynga has struggled to keep hold of players as people increasingly turn to their mobile devices - and games from Zynga's rivals - for entertainment. Zynga's chief executive, Mark Pincus, has shut studios, retired more than a dozen games and laid off hundreds of employees as part of a turnaround effort that focuses resources on developing mobile games.
As the company began notifying laid-off employees on Monday afternoon, Pincus issued a company-wide memo that acknowledged Zynga's ongoing struggle to adapt to the mobile world.
"The scale that served us so well in building and delivering the leading social gaming service on the Web is now making it hard to successfully lead across mobile and multi-platform, which is where social games are going to be played," said Pincus, who founded the company in 2007 and still maintains majority control.
The series of cuts contrast starkly with Zynga in early last year, when it paid $183 million to acquire game studio OMGPOP, which became its New York studio, and total headcount ballooned to nearly 3,000.
Zynga has lost 70 per cent of its market value since its 2011 debut.
Trading was briefly suspended twice on Monday afternoon, and the stock drop marked Zynga's largest single-day loss since July 26, when it badly missed earnings expectations and shares plunged 37 per cent.
The new wave of cuts will bring headcount down to around 2,300 and will see the shuttering of the New York, Los Angeles and Dallas studios, according to people with knowledge of the matter. In October, Zynga closed its Boston office while cutting staff by 5 per cent.
"None of us ever expected to face a day like today, especially when so much of our culture has been about growth," Pincus said in his memo. "But I think we all know this is necessary to move forward."
The company said its second-quarter bookings are expected to be in the lower half of the outlook range it provided in April, of $180 million to $190 million. Bookings, which account for the vast majority of Zynga's revenues, are the sales of virtual goods bought by game players in order to enhance game play, such as the purchase of virtual cows used in farm games.
Zynga does not charge for playing its games. It also derives revenue from advertising.
Zynga said it now sees a second-quarter net loss of between $39 million and $28.5 million, reflecting restructuring charges due to the job cuts. It had previously projected a net loss of $36.5 million to $26.5 million. Despite the revised outlook for the second quarter, the company reaffirmed its full-year outlook.
The job cuts will save $70 million to $80 million, according to the company.
In a research note after Zynga's announcement, Macquarie analyst Ben Schachter said the company's challenges remained unchanged.
"Despite today's pullback, we see no turnaround on the horizon," he said.