BMW
Get more with myNEWS
A personalised news feed of stories that matter to you
Learn more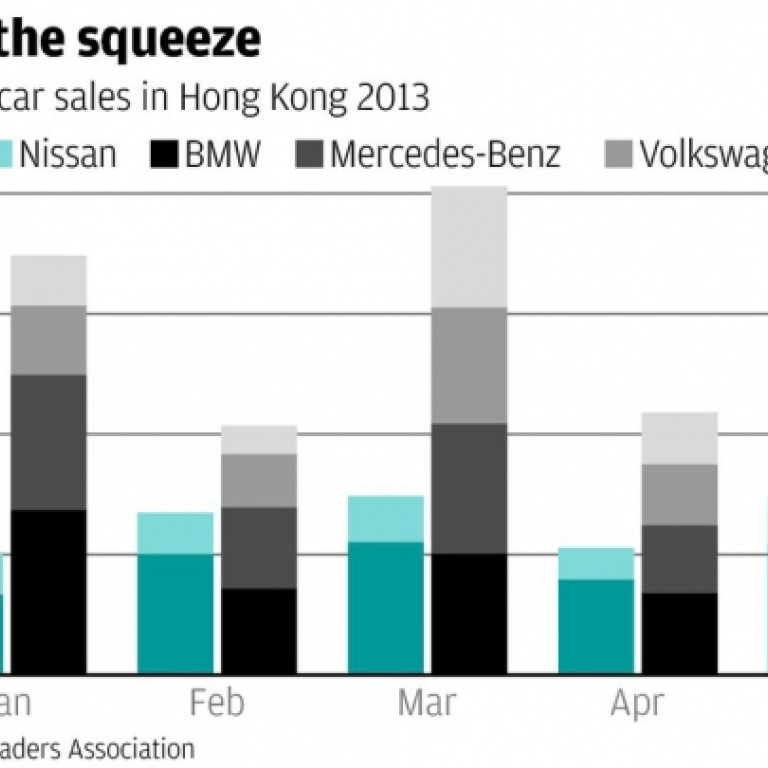 German carmakers lose Hong Kong market share after tax break ends
German car brands are losing market share in Hong Kong as a weaker yen and a new emissions rule that has squeezed European cars out of a tax incentive scheme since April have made their Japanese rivals more competitive.
The market share held by BMW, Mercedes-Benz and Audi fell to 11.2 per cent, 11.5 per cent, and 7.1 per cent, respectively, last month from 16 per cent, 14.4 per cent and 8.3 per cent in December last year, internal sales data compiled by the Motor Traders Association shows.
Toyota, which topped the city's sales last year, gained a larger slice of the cake in May, 18.7 per cent, up from 17.5 per cent at the end of last year.
Traders and dealers said the fall in the share of the European brands was expected, since most buyers purchased their cars before April 1 - the day when all but one of the 74 European "green" vehicles lost their entitlement to a tax break of up to HK$75,000, as the government raised the bar on what qualified as a "green" vehicle.
Although many Japanese models also failed to make the revised "green" car list, many Toyota, Honda and Nissan models continued to qualify for the break.
"European cars performed really well in the first quarter, as buyers wanted to catch the 'last train' of the tax waiver scheme. But Japanese cars are quickly catching up now," said Johnny Ng, managing director of car dealer Inchcape. "The removal of the tax break did not put the price of European cars up by much, as the carmakers and dealers absorbed some of the increase."
Volkswagen's Hong Kong managing director, Thorsten Jaede, said launching new models was the best solution to the change. The Golf 7, launched in March, helped boost local sales to 401 cars last month - up 21 per cent from the average 331 of sales each month in the first quarter.
Sales at BMW, Mercedes and Audi fell between 13.35 per cent and 37 per cent last month, compared with the average between January and March.
Michael Lee, chief executive of Zung Fu, sole distributor for Mercedes-Benz in Hong Kong, said despite a slowdown in April, sales rose 13 per cent year on year in the first five months. He expected full-year sales to exceed last year's despite cancellation of the tax waiver.
The European Chamber of Commerce is pressing the government to review its tax incentive scheme, which it said is not entirely fair to European players.
From April 1, the Environmental Protection Department considers cars "green" if their emissions are at least 75 per cent below the maximum allowable level. Before then, cars that emitted less than 50 per cent of the level would qualify.
This article appeared in the South China Morning Post print edition as: German brands miss out on tax break