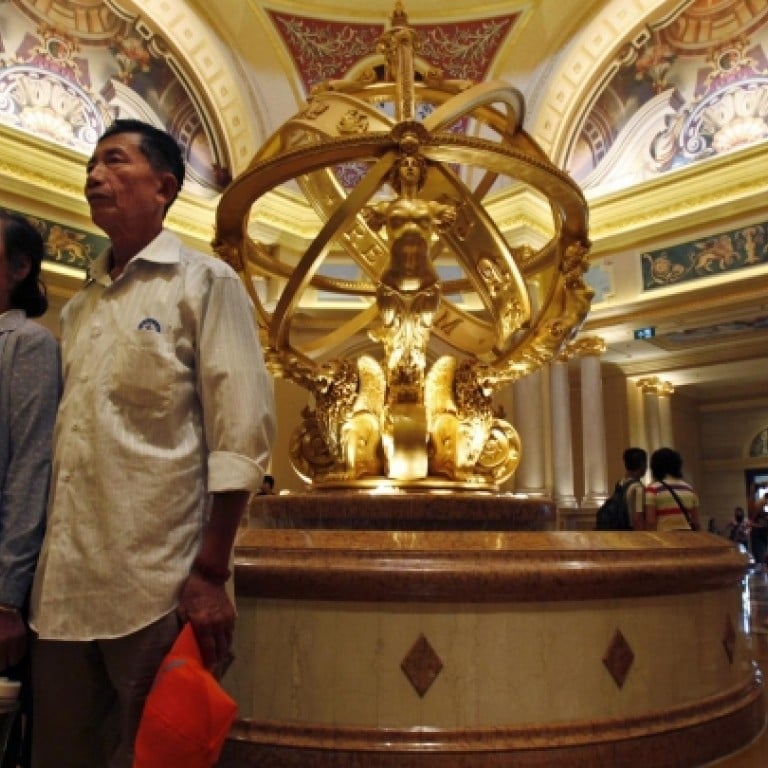 China slowdown fails to hurt Sands in Macau
Sands China, the Macau casino operator controlled by the American Sheldon Adelson, has not suffered any decline in revenue from high-stakes gamblers as the mainland's economic growth slows.
The firm's business is expected to be "very strong", and the second half is traditionally better than the first, chief executive Edward Tracy said. Mainland public holidays in the latter half of the year would boost growth, he said.
"We don't see anything on the horizon that's troubling," Tracy said.
Improved transport infrastructure on the mainland, including a high-speed rail network, will also have a positive effect, he said.
Shares of Sands China and rivals including Wynn Macau and Galaxy Entertainment dropped in Hong Kong trading earlier this week over concerns that slower economic growth on the mainland may hurt demand from high rollers in the world's largest gambling hub.
Sands China's sales are expected to rise by almost a third this year to US$8.56 billion, the average of 26 analyst estimates compiled in a survey.
Mainland economic growth slowed to 7.7 per cent in the first quarter, from an average 10 per cent annual growth rate over the past decade, despite record loan growth.
High-stakes gamblers, or VIPs, contribute about two-thirds of Macau's casino revenue, according to statistics from the city's gaming authority. Goldman Sachs has cut growth projections for the economy to 7.4 per cent this year, below the government's 7.5 per cent goal, as a cash squeeze has driven up mainland money-market rates.
Deutsche Bank cut its rating on Galaxy, Sands China, Wynn Macau and Melco Crown Entertainment to hold from buy on Tuesday.
Sands China rose 0.28 per cent to close at HK$36.15 in Hong Kong yesterday after rising as much as 3.3 per cent earlier. Wynn Macau was unchanged at HK$20.95 after rising 1.7 per cent earlier, while Galaxy fell 0.91 per cent to HK$38.15 after rising 1.1 per cent, and Melco Crown fell 0.17 per cent to HK$57.50 after rising 0.4 per cent. The Hang Seng Index rose 0.5 per cent.
This article appeared in the South China Morning Post print edition as: Mainland slowdown fails to hurt Sands in Macau